Crazy Ex-Girlfriend Season 1 Episode 6 Review: My First Thanksgiving With Josh!

Christine Laskodi at . Updated at .
Well, that was certainly a crazy Thanksgiving. 
This time, however, Rebecca wasn't the woman with crazy eyes, though she definitely still has some serious issues. 
The craziest behavior on Crazy Ex-Girlfriend Season 1 Episode 6 went almost exclusively to Paula, who has officially crossed into some serious crazy behavior of her own.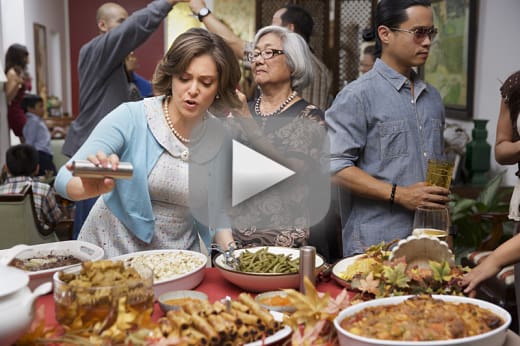 You are getting close to Josh; I can feel it. And if you could just get into that turkey dinner, you would be set.

Paula
Rebecca plans to go home for Thanksgiving and watch the dog show with her mother, as she does annually on the turkiest day of the year. Paula isn't a fan of Rebecca's plans and arranges a meet-cute for Rebecca and Josh's mom, with the sole intention of getting Mrs. Chan to invite Rebecca over for the Chan family Thanksgiving feast.
Here's my biggest issue with Paula's deranged attitude; she started out as a friend.
An enabler, yes, but also someone who was pretending to have a teenage daughter in Rebecca. While I don't love all of those traits, they make for excellent comedic scenarios and I can overlook the glaringly obvious issues in Paula's life that make her behave this way.
When Paula's behavior starts to affect Rebecca's character growth it becomes a problem I can't ignore. 
Crazy Ex-Girlfriend Season 1 Episode 5 ended on a high note for Rebecca. She did something kind for her boss Darryl, felt true remorse for hurting Greg, and it led to a sweet, but still tense, moment of reconciliation between the should-be couple. 
Rebecca's growth continued into the beginning of "My First Thanksgiving with Josh!" with her plans to fly back home for Thanksgiving to drink wine and watch the dog show with her mother. This is a big deal for several reasons, but the most important is that Rebecca wasn't conniving her way into Josh's life for a change. 
Would I like to go to the Chan's? Would I like to be surrounded by the unconditional love of a hundred Filipinos? Of course I would.

Rebecca
Obviously Rebecca would prefer to dine with the Chans, they have a family dynamic that she's never had the fortune of experiencing. But I give Rebecca a lot of credit, in that she had no intention of trying to score an invitation to Josh's. For her to suddenly end up in this crazy scheme to spend the day with the Chans was completely on Paula. 
If it stopped there, I might be willing to make a case for Paula's behavior. 
In preparation for the big day, and to avoid her own dinner, Paula gives Rebecca a brooch that has a hidden camera inside of it. Does Paula want to coach Becks as she sucks up to the Chans? No. Paula just wants to watch Rebecca on her cell phone. She sits through her own family dinner glued to her screen, ignoring her family. 
Oh, Paula. I think you might actually be the crazy one. At the very least, Paula is the creepy one. I'm starting to lose all of the sympathy I had gained for Paula early on. 
I'm at the point here in the series where I want to see positive changes for Rebecca and if Paula is going to keep sucking her back into crazy it's really going to hinder any growth for the show's heroine. 
You don't know? The Chans don't like Valencia because Asians don't like dumb people.

Chris [to Rebecca]
Of course the Chans hate Valencia. I think the only person who likes Valencia (and not in a creepy way like Rebecca,) is Josh. However, it's easy to feel sorry for Josh's girlfriend as she's ignored in favor of a stranger. She's blunt and generally awful, but Valencia is (aside from Greg,) the only person who calls Rebecca on her outlandish ways. 
The entire Rebecca vs. Valencia passive-aggressive battle presented us with "I Give Good Parent," a Niki Minaj inspired rap that gave Rachel Bloom yet another opportunity to show us how ridiculously talented she is, both musically and as a comedian.
With each week that passes, I can't help but wonder why more people aren't tuning in just for Bloom's comedic genius. 
I belong with Valencia. On that note, and in front of the people I love the most, and who love me the most. V, I wanna ask you something. Valencia, will you move in with me?
Paula's big plan for Rebecca to win Thanksgiving backfires when Josh and Valencia get into a huge fight about Rebecca's place in Josh's life. It led to a big moment for Josh. He chooses to ignore all of his attraction to Rebecca and move in with Valencia, their relationship artificially strengthened by this fight. 
After listening to the pair have a LOT of sex to celebrate, Rebecca is back where she belongs, alone at home, regretting her bad choices. (Oh, and Paula is STILL watching her on the cell phone camera. Is this turning into a Single White Female scenario?)
Hey, West Covina, why won't you let me break free? Am I doomed to stay here pouring my high school friend's beer for the rest of eternity? Hey, West Covina, you know just where to find me. I'll never go far, so pull up to the bar. Hey, West Covina, what'll it be?

Greg
The story that actually left me in tears belonged to Greg, the guy who we've been rooting for all along. Greg has always showed signs of self loathing and a lack on confidence, hence his "Settle for Me" song to Rebecca. So the idea of him finding the courage to quit his job and actually improve his life sounded wonderful.
Finding out that Greg cares for his father, who is losing a battle with emphysema, is heartbreaking and also gives us a little more insight to Greg's, "I really need this" moment in Crazy Ex-Girlfriend Season 1 Episode 1. Greg's been dealing with a lot and it only makes me feel even more empathy for him because of the way Rebecca treats him.
Greg's "Piano Man," inspired ballad,"Hey West Covina," showcased Santino Fontana's incredible voice and helped Greg cement a place in our hearts. We don't care what happens between Greg and Rebecca, we just want him to be okay. 
Luckily, in the end, our new favorite will-they/won't-they pair end up watching the dog show together on Rebecca's couch, eating tacos, and having an adorable pillow fight. Quite a lovely ending for these characters who both suffered major losses on Thanksgiving. 
I'm thankful for Crazy Ex-Girlfriend and sincerely hope it finds its audience soon. It has so much to offer for those who are willing to give it a chance. 
High Notes:
The entire story involving Rebecca's need to poop was taken to another level by the clever use of farting sound effects. 
Rebecca's conversation with the Boba Tea guys about the word "very." 
Greg's unsuccessful attempt at quitting in a dramatic fashion. Good thing that guy got a tongue scraper. 
Low Notes: 
Paula. Let's change the name of the show to "Crazy Paralegal."
What did you think of "My First Thanksgiving with Josh!"? Leave us a comment below!
Missed a moment? You can watch Crazy Ex-Girlfriend online here at TV Fanatic! Catch up on everything you've missed and experience the comedic genius of Rachel Bloom!
Be sure to come back next week for Crazy Ex-Girlfriend Season 1 Episode 8, "I'm So Happy That Josh is So Happy!"