Brooklyn Nine-Nine Season 3 Episode 7 Review: The Mattress

Stacy Glanzman at . Updated at .
There were all kinds of metaphors on Brooklyn Nine-Nine Season 3 Episode 7 as Jake and Amy worked their first case together and Boyle and Holt argued over a parking job.
Okay, yes, it was Holt's fault that Boyle scratched his car because he parked horribly, and it really drives me crazy when people do that. But, was there really no where else Boyle could have parked? 
If it were me, I would have been annoyed, but I still would have parked somewhere else, if for no other reason than to protect MY car.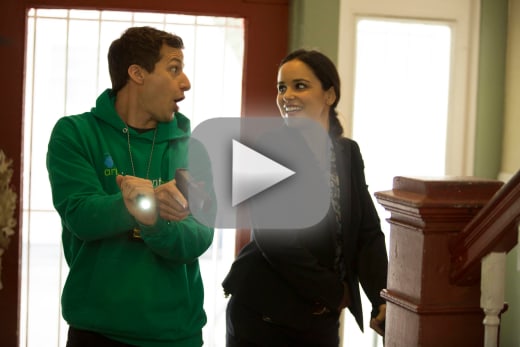 Gina over-explaining the metaphor with her $14 cupcake was hilarious, though. It was even better when Holt did the same thing, comparing his relationship with Kevin to Jake and Amy's. 
I know cupcakes are a big fad these days – and overpriced – but for $14 those better be the best cupcakes on the planet. 
Jake and Amy not only worked their first case together, but they also had their first major fight. It all started with Jake's lumpy mattress keeping Amy up all night. I can't blame her for insisting he buy a new one. 
Jake: Ames you're two minutes late, I called all the emergency rooms.
Amy: I know, I went home from your place to shower and I was so tired that I fell asleep while shaving my legs.
Watching them go shopping was adorable. I loved the mattress montage. 
Their fighting caused them to lose their suspect, and they realized they can't let their personal lives get in the way of work. They made up, and it was funny that they almost lost their suspect again because Jake wanted to buy the mattress right then on his phone. 
I'm an optimist, so I'm going to assume they caught the guy. 
Rosa as a big brother totally makes sense. She's a great role model for a kid, but I don't really picture her connecting with a young girl as much as a boy. The fact that she got so upset over Sam shoplifting shows that she obviously really cares about him. 
Good for Terry for helping her calm down and realize that kids make mistakes, even if he did have to enlist the help of her old ballet teacher. 
Terry: Don't let Rosa fool you, she's not that scary. She used to do ballet.
Sam: No way.
Rosa: Which gave me the physical skills I need to strangle you with my feet.
That's right, Rosa took ballet lessons. Who saw that coming? Too bad we couldn't have gotten a longer demonstration. Gina's not the only dancer in the precinct!
Holt's story to Jake was actually really sweet. I'm glad Jake took it to heart and made the gesture with Amy. It would be really sad if they broke up over something as petty as a mattress. Even Boyle offered to buy him a new one. 
Amy also agreed to tell her mom about Jake, which is a much bigger move than buying a new mattress. 
I have to say, I was really expecting Jake to pee in a mason jar as a practical joke to see if Scully would drink it. The fish thing was not where I saw that going. 
What did you guys think of "The Mattress"?
Don't forget, you can watch Brooklyn Nine-Nine online any time! 
Stacy Glanzman was a staff writer for TV Fanatic. She retired in March, 2019.