Bones Season 11 Episode 8 Review: High Treason in the Holiday Season

Christine Orlando at . Updated at .
When are secrets a good thing? That was the question behind Bones Season 11 Episode 8 as the secrets kept ended in both wonderful and dire consequences.
The murder of political journalist Vivian Prince had members of the team debating whether leaking information, even when it was considered treason, was ever the right thing to do.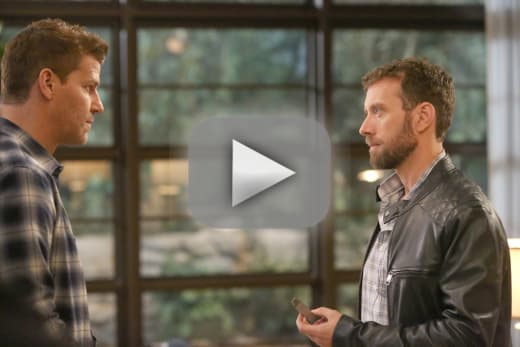 Hodgins, of course, has always distrusted any government entity. The irony there is that he works for one. Brennan took the long point of view in that the makers of such decisions would not adequately be judged until history had the time to weigh their actions against the consequences. 
Booth saw the practical and personal effects of leaking information about operatives in the field. People who were risking their lives to protect our country would most likely be killed when their identities were revealed. 
What was fascinating was that people with such opposing viewpoints could argue them and still respect and like one another and work together. The world should have more of those kind of relationships. 
Cam believed that the man leaking the information was indeed guilty of treason, but that didn't change her stance with the NSA when Ryan Gill showed up at the Jeffersonian…
I don't work for you. I don't answer to you and until I see a court order saying I have to share information with you I am going to have to ask you to leave the building.

Cam
The moment she had that conversation, I suspected that Ryan was the killer. Turns out that keeping him out of their investigation was a good idea. 
I always love how Cam is consistently polite and professional yet can't be pushed around. 
There were no heroes in this story. In the end, even Vivian was more worried about her career than who might be killed when she leaked that information to the public, and that's what got her killed. 
The most interesting twist was when Hodgins found the jump drive. I had no doubt he'd unearth it once he began looking, but I was surprised when he tried to turn it over to Booth. I was downright shocked when Booth gave it back to him. 
Now the question becomes, will Hodgins actually destroy it?
Brennan had been keeping her own secret from her husband but it was the best kind. She helped arrange for Parker to visit for Thanksgiving and even got Booth and his eldest son hockey tickets for Friday night. As Booth himself might say, Sweet.
Having the entire gang sharing Thanksgiving dinner together was perfect. I wish we could have lingered with them longer despite Brennan's description in this Bones quote…
Human and turkey tissue share a remarkably similar texture.

Brennan
I'd still prefer the turkey to Fauxfurkey…whatever that may be. 
Check in on Monday to see what our Bones Round Table team has to say about this episode. Then we've got three week until the Bones two-hour fall finale on Thursday, December 10th. 
If you simply can't wait for more, you can watch Bones online here at TV Fanatic.
C. Orlando is a TV Fanatic Staff Writer. Follow her on Twitter.