The team at the Jeffersonian took on the world of magic and the importance of the tooth fairy on Bones Season 11 Episode 7. 
Below, TV Fanatics Ashley Bissette Sumerel and Christine Orlando are joined by Pam from Castle and Bones Radio to debate whether Cam should move on, Brennan relenting on the tooth fairy and their favorite moments from "The Promise in the Palace."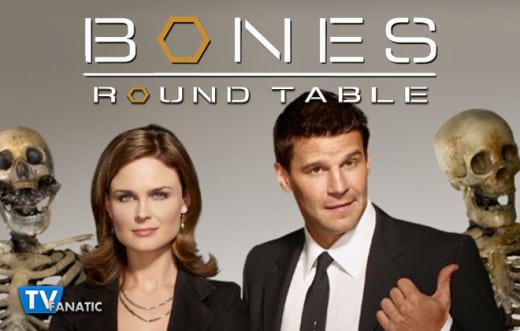 Is it time for Cam to move on with someone new?
Pam: No, I think it is still to soon. She isn't quite over Aristoo. She still loves him but in her mind she is trying to move on, her heart isn't so sure.
Ashley: I think it's actually way too soon. She and Arastoo were serious, and they didn't break up because they didn't love each other any more. 
Christine:  I agree that it's way too soon. Supposedly it's been three months. They were planning on getting married. This feels much to fast to get involved with anyone else and expect it to go anywhere. 
Were you surprised that Brennan relented about the tooth fairy?
Pam: Happy to see Brennan being more Mama then scientist in this case. Christine will grow up quickly and these childhood traditions will soon be a thing of her past.
Ashley: Not at all. I think it makes sense that she was willing to budge on this one. That's one of the reasons I love her relationship with Booth. 
Christine: Surprised but happily so. Being a mom and being married to Booth has softened her and helps her see the magic in life, even when the scientist in her scoffs at it. 
Are you a fan of magic? Do you have a favorite trick?
Pam: I like magic more so as a child. I always liked when they would get into a water tank and be handcuffed and then get out of the cuffs or locked chest and free themselves and make it up and out of the water tank.
Ashley: I wouldn't say I'm a fan, but it can certainly be entertaining. My favorites were probably everything Barney Stinson ever did on How I Met Your Mother. 
Christine: I never liked it because I don't like being deceived or watching someone putting themselves in danger just to pull off a trick. Life has plenty of real magic that I enjoy much more. 
Was there anything in "The Promise in the Palace" that disappointed you?
Pam: No not really I always like hugs and kisses with Bones and Booth but give up on that happening now, it was a strong and fun episode for me. 
Ashley: Just in general, I think this one missed some opportunities. It was fun to see everyone trying to show Brennan magic tricks, but I think more could have been done there. 
Christine: I too found the magic a little lacking. I kept expecting to see someone try and pull of the Drunken Monkey but it never happened. 
What was your favorite quote or scene from this episode?
Pam: I liked Booth's magic trick at the end of the episode when he played the paper trick on Bones even she was impressed!
Ashley: My favorite was probably Booth impressing Brennan with magic. That was priceless.
Christine: Brennan's thoughts on the tooth fairy really made me laugh. Only she could deliver this Bones quote about a beloved childhood myth…
Check back on Thursday for our review of Bones Season 11 Episode 8 and if you can't wait until then, you can watch Bones online here at TV Fanatic. 
C. Orlando is a TV Fanatic Staff Writer. Follow her on Twitter.