Family is complicated, even more so when the family business is the law. Blue Bloods Season 6 Episode 7 had Erin facing off with Frank over an old NYPD tradition…fixing tickets.
It was obvious from the start that the DA was looking to pick a fight. If he weren't, he could have put out a mandate to the NYPD ahead of time saying that fixing tickets for friends and family would no longer be tolerated and laid out the consequences.
Instead he blindsided the department by hauling unsuspecting officers in and charging them with misconduct.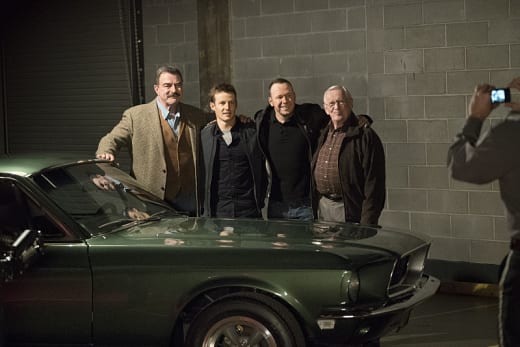 Frank was furious but, as usual, civil. Even Garrett was in awe as he said in this Blue Bloods quote…
Garrett: You got through that whole conversation without dropping a single curse word. How the hell do you do that?
Frank: I was partially raised by nuns.
It may have been the DA's decision to play politics with ticketing, but it was Erin who took the brunt of the blow back. Should she have taken on the case?
Alex was trying to be a good friend when he told Erin what other people in the office thought of her and that they believed she played a game of "selective justice" when it came to the NYPD. 
So Erin learned that her colleagues didn't trust her, her boss was testing her, and then ended up going head to head with her father while taking flack from Henry, Jamie and Danny over dinner. 
Talk about a lousy birthday. 
Sometimes it feels as though Erin is becoming just as miserable with her job as Frank appears to be with his. They certainly don't seem to be enjoying the family business.
Jamie and Eddie pulling over the judge was petty, but certainly fun. When he called Eddie Jamie's "cute little partner," I was hoping they could have done worse than ticket him. 
Frank's visit to the precinct had everyone paying attention. As with many of the old traditions, Frank realized that fixing tickets was on its way out and that the best he could do was deal with it and protect his officers from the current fallout as best he could. 
Danny and Baez took on the case of the stolen Ford Mustang from the Steve McQueen movie "Bullitt"
I'll admit, I've heard of the classic film but have never seen it, which may be why this storyline didn't pack much of a punch for me. By the time the car was driving up to the hauler, I had figured out that Owen had stolen his own car. 
The mystery of the car seemed kind of silly; that his dad bought a replica and hid the real one from everyone, even his son and his mother continued to do so after her husband's death. Talk about a wacky family. 
Check back in next week for our review of Blue Bloods Season 6 Episode 8 and if you need to see more of the Reagan family, you can watch Blue Bloods online here at TV Fanatic. 
C. Orlando is a TV Fanatic Staff Writer. Follow her on Twitter.