Welcome to the Round Table discussion for Arrow Season 4 Episode 5!
Did you love John Constantine's visit? Wonder why he didn't address Thea's bloodlust? Happy to see Oliver and Laurel air their grievances and worry about Diggle's investigation into his brother?
Then join in the fun and chat about it with TV Fanatics Lindsay MacDonald, Hank Otero, Liz Estey and Caralynn Lippo. Let's do this...
Share your thoughts on John Constantine's visit to Star City.
Lindsay: I thought it doubled down a little too hard on the mystical stuff in order to make Constantine's presence make sense, which didn't exactly feel like a flawless fit. Everything else about the visit was amazing though, and I definitely want to see #ConstantineOnArrow again!
Hank: Constantine was the perfect character to restore Sara's soul. Not only was Matt Ryan phenomenal, but hearing Arrow composer Blake Neely tinker with Bear McCreary's Constantine score brought tears to my eyes. I never imagined we'd see Matt as Constantine again so soon. How about the little dig with the dead peacock feather? How far down his back do you think John scratched that itch. hahaha
Liz: I agree with Lindsay and Hank. The Constantine crossover worked surprisingly well. Matt Ryan and Stephen Amell have great chemistry together, so it was incredibly entertaining to watch. (I also loved Constantine's point about how Oliver is surrounded by beautiful women.) I hope we don't have to wait too long to see Constantine on Arrow again.
Caralynn: I liked it a lot! I didn't watch much of Constantine, but from what I did see, it was mostly great because of Matt Ryan's portrayal of the character. I agree with Lindsay that it didn't feel like a flawless fit. They seemed to cram in a lot in a small amount of time. I think I would have preferred to see the buildup and unfolding of the mysticism over a longer stretch of episodes.
What did you think about Laurel and Oliver finally working out their issues?
Lindsay: After working together so flawlessly for nearly a year now, it was a bit sudden to have these issues crop back up again. But a lot of what Laurel was saying was actually very true, so I think that their 'fight' and its resolution was well earned.
Hank: I loved that Ollie acknowledged he's not one to talk when it comes to keeping secrets. Sure, Laurel resurrecting Sara was a bonehead move, but thanks to her, we've got White Canary on Legends of Tomorrow. All is forgiven Black Canary, thanks for that. I loved when she kept raising her voice and mentioned Oliver being the Arrow and Stephen Amell's reaction to that. It was a great scene, and hopefully it's all water under the bridge now.
Liz: This scene was long overdue. The amount of bad blood between Oliver and Laurel defies logic. Let's all just take a moment to remember that Oliver and Laurel slept together at the end of Arrow Season 1. They seriously have colossal emotional problems, but I'm glad the writers finally addressed it.
Caralynn: Yeah, it really needed to happen. I always thought it was odd that they never fully addressed their issues, instead just kind of sweeping it all under the rug. It was a great scene, and I liked that in the end, Oliver admitted he was in no position to ever judge anyone for keeping secrets because seriously, he's like the master of keeping huge secrets.
Sara's soul has been restored. Why do you think Constantine left without addressing Thea's bloodlust?
Lindsay: Because it's an overarching plot that will carry Thea through the rest of the season.
Hank: Because Thea's probably going to end up underneath that tombstone. Seriously, aside from bringing Ra's back from the dead for Thea to kill him, there wasn't much Constantine could do for her. I think John was focused on Sara's situation, since she was the most out of control.
Liz: My hypothesis is that Sara was simply missing her soul, so it was a straightforward task (within the context of magic and other realms). Thea, on the other hand, is in a constant battle where her soul is partially still connected to her, and partially not. I think solving Thea's problem would be a lot more difficult, plus Sara was on a killing spree in Star City, so it was more urgent to fix her problem.
Caralynn: I still really don't think Thea is going to wind up dead, so I'm more with Lindsay on this one: the bloodlust is going to be Thea's albatross/her storyline to reckon with for the rest of the season. I don't really care for that storyline, so it really would've been preferable for John to do a little magic thingamajig and cure Thea.
Diggle received some unwelcome news about his brother. Do you expect him to stop digging? Why or why not?
Lindsay: No way! We've gone way too far down this road to stop now. Vengeance never rests!
Hank: I don't expect him to stop digging either. Though Lance assured Diggle the file was authentic, I don't trust Damien Darhk. It's possible he left out important details, or that Andy was working undercover for the government. I'm not sure where the writers will go, but this is not the end of this arc.
Liz: There is no way Diggle will stop. As a character, Diggle is determined and driven to find out about what happened to his brother. I think if anything, Diggle will be even more obsessed with getting answers since this information is completely contrary to what Diggle believes about his brother.
Caralynn: Heck no. I think if anything, this information (true or not) just makes the whole thing more complicated. If anything, there's more of a reason for Diggle to keep digging (excellent choice of words, haha) than ever.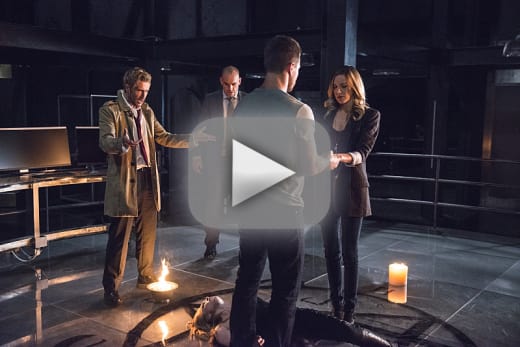 What else about "Haunted" impressed you or fell flat?
Lindsay: I liked that Oliver got his Chinese symbols tattoo magically from Constantine. It's an easy part of the show's original DNA to alter for crossover purposes, and it was a great physical reminder that Constantine has been in Oliver's orbit for years even though we're just finding out about it now. Plus... free tattoo!
Hank: I've got to say, one thing that really impressed me about this episode was that the flashback actually connected to the present. The moment I realized Constantine had been captured on Lian Yu, I thought, "Yeah this is going to be cool." I can't even remember when a character from the island flashbacks crossed into the present. I'm probably mistaken, but Slade Wilson/Deathstroke is the only important one that comes to mind. I'll be honest, I would have loved more Constantine, but beggars can't be choosers.
Liz: I have to agree with Hank. The main reason "Haunted" worked so well as an episode is because they established Oliver's previous interaction with Constantine on Lian Yu. Also, side note, I think being on Lian Yu is the right call for the flashbacks. Part of what made the flashbacks in Arrow Season 3 so frustrating was how far out of left field it felt to have Oliver suddenly get off the island.
Caralynn: I agree with Liz and Hank! This has been the only flashback sequence that hasn't bugged me so far all season. It was a smart choice and helped to tie together Constantine's abrupt appearance on the show (much as I liked it, it was super out of left field to have him just show up like that). In terms of what fell flat, I think I'm over Oliver's mayoral campaign already, and it hasn't even really gotten off the ground yet.
Make sure you tune in Wednesday, Nov. 11 at 8/7c for Arrow Season 4 Episode 6, "Lost Souls."
Carissa Pavlica is the managing editor and a staff writer and critic for TV Fanatic. She's a member of the Critic's Choice Association, enjoys mentoring writers, cats, and passionately discussing the nuances of television and film. Follow her on Twitter and email her here at TV Fanatic.