Hi, I'd like to make a dedication, please. 
I'd like to dedicate Wicked City Season 1 Episode 1 to everyone who's got a wild side that they keep hidden. To those who find some sadistic joy in squishing bugs. And to those who find pleasure in others' pain.
Okay, maybe you aren't quite that intense and just like a good drama with sex, drugs, rock and roll, and murder.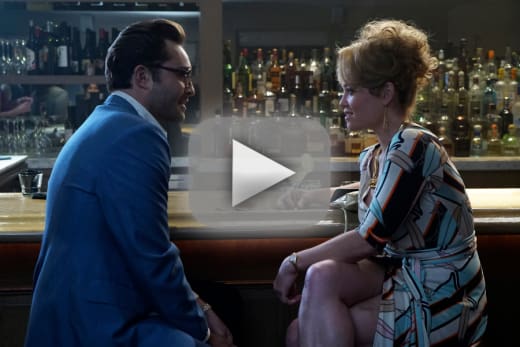 Become the very thing you want to be loved for.

Kent Grainger
Either way, Wicked City is a killer good time and this is going out to you!
The show is set around the fictional Hillside Strangler Murders in Los Angeles in 1982. The Sunset Strip is known today as a place where Hollywood dreams come true, and the same was to be said back in the early 80s.   
I know what you're thinking; does the world really need another crime drama? The answer is no. But Wicked City doesn't necessarily fall into the typical crime drama category. This isn't another CSI or True Detective. 
Wicked City sets itself apart from the others by being a narrative on society and its desperate need for fame. We see it in the victims, first and foremost. Young girls, noses full of cocaine, looking for a way to get famous; they'll go to any lengths to make a connection that might help get them on screen.
This works perfectly in the favor of Kent Grainger, a man wants to be anonymously famous himself for murdering these naïve dreamers. 
Kill me, I like to give back.

Kent
Oh, Kent. Where do I begin?
Kent is a man who is a trusted neighbor, babysitting the kids on the block by day. By night, he finds himself in L.A.'s hottest clubs on the Strip, a VIP who lures eager girls, dedicates songs on the radio to them, engages in some pleasurable activity, cuts off their heads, and then engages in more pleasurable activity with them.
Sex. He has sex with dead girls. Kent is a necrophiliac.
It's a far cry from good old Chuck on Gossip Girl for Ed Westwick. 
Westwick's duality as Kent is incredible to watch. He switches between Kent's sinister and sweet personalities with chameleon-like ease, each side of his personality feeling like a separate character.
On Kent's trail are Detectives Roth (Suburgatory's Jeremy Sisto) and Contreras (Gabriel Luna), both of whom have some wicked backstory of their own. Reluctant partners, Roth holds a grudge against Contreras for getting his first partner fired from the force. That partner later committed suicide. 
Before you feel sorry for Roth, know that he is no saint either. He's having an affair with Detective Dianne, who is undercover herself, as a stripper, working on a case involving cocaine. It's an interesting parallel to draw against Kent. Kent is building a foundation for family with Betty while Roth is surely destroying the foundation of his own family.
The detectives analyze the Strangler's behaviors. They can only assume that he is a man with Mommy issues, based on his M.O. with these young girls he is preying on. They seem to be a little off on that theory, however. 
Kent: You've got kids?
Betty: Yeah, a boy and a girl. Five and eight. Um, I should go, I'm sorry.
Kent: Where's the father?
Betty: He left when I was pregnant with my boy.
Kent: I know how that feels. My dad left me and my mom when I was seven. You must be very strong.
Things about Kent's usual routine change when he picks up Betty Beaumontaine, a nurse and mother of two small children. Just as Ken is about to cut off his new lady friend's head, her beeper (it's the early eighties guys, beepers are a thing!) goes off, and it's her sitter. 
Kent's soft spot goes off. Remember? By day, he loves kids. 
He spares Betty. He doesn't seem to have Mommy issues at all. Based on what he's shared with Betty about himself, I'd say this is a guy with some serious Daddy problems, ones that he hasn't seen a therapist to delve into.
Erika Christensen is definitely shaking her former persona of being a Braverman on Parenthood. Julia was never as interesting or wild as Betty is.
Then again, Julia was pretty tightly wound, so, who knows what she might've been into if the situation ever presented itself. 
First, do no harm.

Betty Beaumontaine
Nurse Betty is as sadistic as they come, taking pleasure in her patients' pain. She gleefully pulls out stitches and is more than happy to squish a rather large spider in her bare hands…after bringing it outside and reminding her children, "First, do no harm." 
Kent and Betty seem perfectly matched. Their intense sex-scene, in which he asked her to essentially pretend to be dead so that he could "reach his peak," was somehow both awkward and exciting.
Serial killers in love...it's surprisingly sexy and sweet.
Betty, of course, doesn't know why her new beau is making these odd sexual requests from her but, being a sadist, is more than happy to oblige. 
Kent decides to take advantage of this new exciting relationship with Betty by making her his partner on his next murder. He's setting up a date with Karen, a young square music journalist who is doesn't quite fit into the industry's inner circle. She's too plain to get backstage but she's pretty enough to catch Kent's eye.
Kent realized quickly that Karen was working with the detectives who are trying to catch a predator and then she disappears.
What's to become of her? It's unclear as of now, but I hope that she sticks around because Taissa Farmiga (American Horror Story) is the perfect embodiment of a young girl trying to make it in Los Angeles.
She's wide-eyed, naïve enough to trust any nice guy who buys her a drink, and resourceful enough to follow a good story. Fingers crossed that Karen makes it to the end with her head intact.
Hi, I'd like to make a dedication, please.

Kent
What would a good story about the '80s be without a killer soundtrack? The heavy metal hair bands and punk rock create the perfect soundtrack to accompany Kent's peculiar and perverse activities.
The absence of technology is an interesting aspect to Wicked City. Without internet access, security footage, and digital fingerprints of phone calls, it's pretty easy for Kent to get away with murder. I almost forgot what decade the show was set in until I took one look at Roth's very old and large computer. 
Here's what Wicked City did right in its inaugural outing: they've told me everything I need to know to be interested and didn't drag on while setting up the premise. I find myself rooting for Kent despite his dubious behavior.
This is a show that could easily be torn down for violence against females, however, I'm sure that as their murders become more frequent, we'll see them taking on a variety of victims and not just young girls with dreams. 
I can't wait to go along for the ride. But I'll stick to the backseat, thank you very much.
What are your first impressions of Wicked City? What do you think of Kent and Betty? Was this a killer hit, or are you already ready to sever your ties? Sound off in the comments and tell us what you thought! 
Remember that you can watch Wicked City online right here at TV Fanatic. You don't want to miss a moment of this one!