Rosewood Season 1 Episode 5 Review: Necrosis and New Beginnings

Rachel Miller at . Updated at .
Could Villa possibly have feelings for Rosewood? As much as she tries to hide, the look on her face says it all. Villa has an erotic dream about Rosewood and it totally freaks her out. Rosewood is nice to gawk over, so Villa shouldn't be too upset at the feelings she's trying to suppress. 
On Rosewood Season 1 Episode 5, Villa and Rosewood work together to solve the murder of ex-con Lavetta Serrano. But with Villa's lusty thoughts about Rosewood, things get a bit tricky making it hard for her to be professional.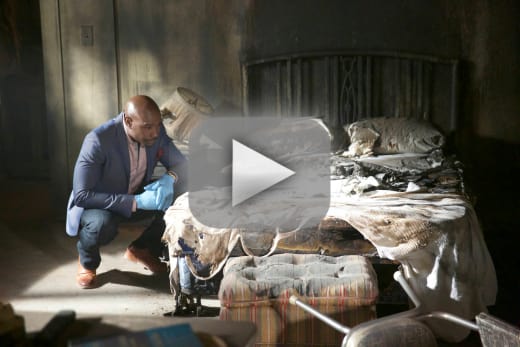 Why are you everywhere?

Villa
Villa is right. Rosewood is indeed everywhere, including her dreams. With Rosie being the best pathologist in Miami, Villa is forced to work with him on a daily basis. When you're working close with someone and often share intimate details about your life, you will most likely develop an attachment to that person.
That's exactly what's happening to Villa. 
After her husband's death, Villa hasn't opened up to anyone which is something she mentioned in her therapy session with Kat. Villa was stuck in a conflicting situation between getting over her husband and attempting to start something fresh with someone new.
I'm not ready to move on.

Villa
Villa finally came clean about the thoughts in her head. While she may not be ready to move on from her husband, it doesn't change the burning desire she has for Rosewood, or so she thought. She finally confessed to Kat about the possibility of having feelings for her unofficial partner. Kat being the smart lady she is, figured out Villa had a thing for her man Rosewood.
It was heartbreaking to see Villa walk in on Kat and Rosewood kissing after their brief break up. Villa jumped to conclusions and assumed both Kat and Rosewood were making fun of her personal problems during pillow talk. Villa finally had the courage to open up to someone and she felt betrayed. 
You're trying to drive me away just like you do everybody else in your life.

Rosewood
Rosewood just assumed that Villa wants absolutely nothing to do with him, which honestly isn't the case. If Rosewood knew that Villa was possibly developing feelings from him, his attitude towards her in Kat's office would've been completely different.
Now that Villa feels betrayed by someone she trusted, she will most likely never tell Rosewood how she truly felt.
This will definitely hinder the way the two unofficial partners will be able to solve the crimes in Miami. Villa and Rosewood were finally able to get a long and it'll be sad to see their potential friendship or partnership diminish due to a simple misunderstanding.
I made you worry and I'm sorry for that.

Rosewood
Aside from the Rosewood and Villa drama, Donna continues to stick her nose into her children's business. Donna takes it upon herself to randomly pop up at Rosewood's house to check up on him. In order to keep his mom occupied and out of his personal life, Rosewood offers Donna a job at his lab.
This actually turns out to be an unexpected good thing. 
Didn't Beaumont tell you I'm working here now?

Donna
Donna turns out to be something Rosewood and crew need; a peace of mind. She is able to offer them wisdom and advice that they most likely wouldn't be able to get anywhere else. As much as Rosewood and Tippy like to act as if Donna irks their nerves, their mother provides unconditional love to anyone she comes across.
Donna will provide the crew with a sense of reality to make them realize that they should be true to themselves and live life the best way they know how.
So, what did you think of "Necrosis and New Beginnings"?  Now that Villa confessed her feelings to Kat do you think she will eventually tell Rosewood how she feels? Will Rosewood and Villa continue being the dynamic duo they were slowly becoming?
Do you think Rosewood has the same feelings towards Villa? Don't forget you can watch Rosewood online right here at TV Fanatic?