Rosewood Season 1 Episode 4 Review: Vandals and Vitamins

Rachel Miller at . Updated at .
Det. Villa and Rosewood join forces on Rosewood Season 1 Episode 4 to solve a mysterious murder. While they race against the clock to solve the murder in time, Rosewood's life could change forever after receiving some shocking news. 
Starvos' son, Stevie, died unexpectedly after visiting the night club. With the case hitting so close to home, Capt. Hornstock decides that it's best for Villa and Rosewood join together to solve the crime.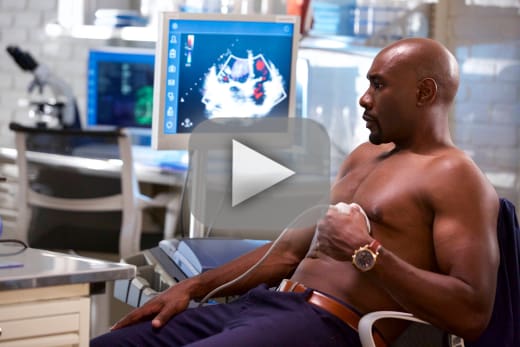 With all of the craziness that has happened with Villa, Capt. Hornstock still wants her to win, which is why he chose her specifically to solve the crime.
Hornstock knows that if Villa works with the best pathologist in Miami, there is no doubt the case will be solved.
No one in the bullpen even likes you.

Hornstock
For whatever reason, Villa still has a hard time connecting with other people. Capt. Hornstock knows this and calls her out on it. When Hornstock makes this statement, you could see a lump form in Villa's throat. Villa's already aware that after her husband died, she has no one to turn to in a time of need.
She's in a constant battle with her work and her personal issues. I hope her therapy sessions with Kat will help her come to terms with her inner battles.
Who took you in as a rookie? Who took you back when your husband died?

Hornstock
Hornstock made Villa know that if it wasn't for him, she wouldn't be the Detective she is today. This feels like something Hornstock will constantly hang over Villa's head to assure that she owes him. It was nice of Hornstock to give Villa the chance she needed, but I don't like the fact that he continues to belittle her.
She is still getting over her husband's death while trying to be the best at her job. Villa is going to the therapist Hornstock suggested, which shows her attempt at trying to get better.
I'm takin care of my boy. Why do I want to stop this?

Donna
In the midst of the murder solving drama, Rosewood received an interesting letter that he could have fathered a child. Donna is thrilled at the possibility of having a grandchild. She truly wants her son to stop worrying about his health issues and for once, enjoy his life as a man.
The problem with Rosewood is that he continues to be unsure of his future which is hindering the idea of him settling down with anyone.
Now that Donna is retired, she takes it upon herself to meddle into Rosewood's personal live more than ever. Like any sane person, Rosewood is annoyed with Donna's antics. Although it's nice of Donna to be so concerned with Rosewood's personal life, she has to realize he has to make decisions for himself.
Just because Donna has a certain vision for Rosewood, he doesn't have to feel the same way she does.
Ultimately, Rosewood finally confronted his nosey mother and the two hashed things out. Donna and Rosewood know where they stand and it's safe to assume Donna will let Rosewood chose his destiny. 
I'm not going to judge you based on all of the exes, because I'm here now.

Kat
The real shocker to me was Rosewood and Kat finally admitting they were a couple. Kat even accompanied Rosewood on the hunt to find his potential baby mother. Rosewood has let Kat in on a lot about his personal life, but I'm still surprised that he has yet to introduce her to Donna and Pippy.
Rosewood may really be in love with Kat but there's still that lingering thought in his mind about committing.
This real life stuff that you can't control, it scares you.

Villa
Could his health issue be the reason? Maybe. Like Villa, I don't think Rosewood knows how to deal with real life situations. He constantly goes on about how he loves life, yet he was afraid of the thought of possibly having a child. If Rosewood learns to live a little and not constantly let his health hinder his thought process, he would be so much happier.
I'm glad that Rosewood and Villa are continuing to get a little personal with each other. They both need someone to vent to and make a great unofficial team. Villa and Rosewood are unstoppable when they are getting along. Hopefully Villa will overcome her personal issues and we will learn more about the life she had with her husband. I also would like for Rosewood to finally invite Kat over to family dinner.
Rosewood going up against Dr. Foster was fun to watch. It showed that Rosewood is truly great at his job. Dr. Foster was confident that he was going to get away with Steve's murder but with Rosewood and Villa around, it wasn't going to be that easy.
So what did you think of 'Vandals and Vitamins'? Do you think Hornstock was a little too harsh on Villa? Will Donna stop sticking her nose into Rosewood's love life? Will Kat ever meet Rosewood's family?
Don't forget you can watch Rosewood online right here at TV Fanatic!