Once Upon a Time Preview: Amy Manson on Merida's Future, Fabulous Hair & More!
Jim Halterman at .
Nothing like having your heart held captive to stir up the drama, right?
As you Once Upon a Time Fanatics know, when someone holds your heart, they also control you - and that's exactly what's happening since Dark One Emma has the heart of Merida.
Merida just wants to save her captive brothers but, for now, she's stuck helping Emma on her own plans, which includies giving courage to Gold. But why do I think Merida probably has a few tricks up her sleeve in how to defeat the Dark One?
Let's check in with Amy Manson - who has brought Merida to live on Once Upon a Time Season 5 - and see what's she'll tell us about kidnapping Belle in Once Upon a Time Season 5 Episode 6, along with the upcoming two-hour episode where we meet the Brave One's parents.
TV Fanatic: How's the experience been for you playing Merida? I mean, you're taking a cartoon character and bringing her to life!
Amy Manson: Well, she's quite like her hero I think. In a sense unruly and wild, and it's been fun to play her. I think initially, because Jen Morrison, she's going on the Dark Swan journey, I kind of felt maybe I was being too big in making choices and things, but having seen it on these episodes, I think, no, it definitely fit.
I also have to remember that I'm playing a Scot as well. We are quite animated and full of life creatures. So, in that sense, I'm tapped into a lot of people I know or my own qualities I think. It actually has been fun to play. Absolutely.
TVF: How difficult is it for Merida to be under Emma's spell when she's such a strong-willed person herself?
AM: Yeah, it is because she doesn't agree with what Emma's doing and how Emma is controlling her, but I think, in a sense, she has to get the job done quickly for Emma for her to get back her heart and for her to carry on her journey in saving her brothers. So I guess it's just do the job and then hopefully it'll happen that she'll get her heart back.
TVF: I know this coming episode that we're teasing, Merida is with Belle so how are they together, these two women?
AM: Merida kidnaps Belle and uses Belle to help her own quest and she uses Belle because Belle's got something special and she finds out about it. She uses Belle to help her avenge her brother's kidnappers. So, through that, they strike up a friendship by the end of it but it's not all love and friendship. It's quite a rocky journey throughout…
TVF: The scenes in the last episode with you and Robert Carlyle were really fun. I have a feeling she's got a plan in the back of her head as well to get out of Emma's clutches. Is that safe to say?
AM: Absolutely. Gold and Merida have a united front against Emma by the end of [last week's] episode. So she's accomplished that and also something else comes out of spending so much time with Gold. She's not going to lie down and let Emma walk all over her. There's something else. There's another game plan.
TVF: Will Merida have to do some things that she doesn't really want to do but is forced to?
AM: There are a few...I'll say yes.
TVF: There's so many different romantic entanglements on the show with the various characters. Is there any room for that with Merida at all?
AM: It definitely doesn't come into play. Yeah, definitely not.
TVF: I know in the upcoming two-hour episode, we're going to meet Merida's parents. Will that be flashback since we know her father is dead?
AM: Yeah, it's Merida's episode. It all happens in the world and it also happens in flashbacks too when her father was alive, and the mission in it is for Merida is to find out who killed her father, and then in flashbacks you meet the father and you find out how he passed, who was the killer, and then the present day, is Merida going to avenge that killer.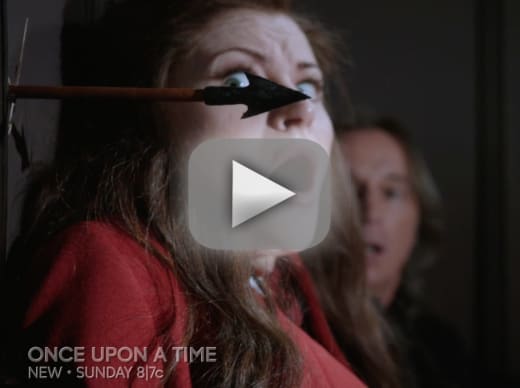 TVF: You're paired up with Ruby and Mulan for that episode as well. What's that dynamic like between all three of those characters?
AM: It's familiar, isn't it? Merida sees a lot of strength in Mulan. We actually find that in that episode, episode nine, in the flashbacks that Merida's known Mulan for a long time and we find out in the flashbacks how and then she goes in the present day in episode nine to go and find Mulan and acquire Mulan's help to go and avenge her father's killer. So they've always been friends and we find out through flashbacks.
TVF: Do you think we'll be surprised at all about that backstory with Mulan?
AM: No. I think you'll be pleased. It's lovely when you found out how they met and all those years ago, and Mulan's taught Merida a hell of a lot of what she knows well in life and also in the sense of using a bow and arrow and a sword. You'll find out how that happens and who introduced them.
TVF: I love Merida's hair. The color's very rich so how are you enjoying it?
AM: Oh, my golly, I think I might actually dye my own hair because I've got quite a big afro curl anyway. I think that's quite a good thing because you know when you put on a wig, there's actors that obviously have never worn wigs in their lives and then they act like they're wearing a wig and don't move their head so much or this and that. I'm so used to having such a thick big head of hair that, yeah, it just felt like me. It feels so free when I've got it on.
Once Upon a Time Season 5 airs Sundays at 8/7c on ABC.
Jim Halterman is the West Coast Editor of TV Fanatic and the owner of JimHalterman.com. Follow him on Twitter.