NCIS: New Orleans Season 2 Episode 6 Review: Insane in the Membrane

Kathleen Wiedel at .
Last week, folks were wondering if Steven Weber would be returning as the unsavory politician Councilman Douglas Hamilton this season. Well, wonder no more, for here is Hamilton, in all his disreputable glory!
I don't think anyone seriously thought that NCIS: New Orleans Season 2 Episode 6 would end with him being the culprit. That would be a waste of such a good shady villain!
And he's running for mayor now, too. Amazingly, though, Hamilton's opponent, Mr. Singh, managed to come off even shadier than Hamilton! Unfortunately, that just made it a bit obvious that Singh would somehow be behind everything.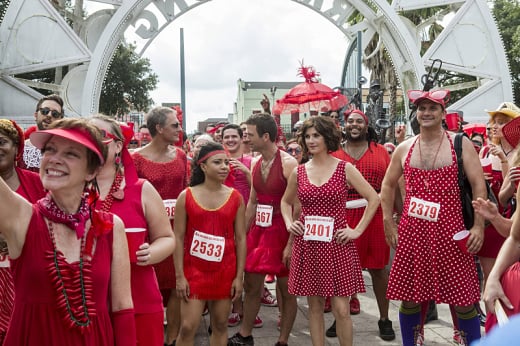 Happily, the episode is strong enough for that to be forgiveable. Shalita Grant's Sonja Percy is the heart and soul of "Insane in the Membrane," and the viewers got some intriguing insight into the background of the team's newest member. About time, too!
As it turns out, Percy was one of a trio of close friends who got into trouble in high school, resulting in one in the hospital, one in the morgue, and one who "lost touch." I hope that we find out if Percy's attempt to reconnect with the remaining musketeer is successful or not. It definitely looks like Marion's life did not turn out as well as Percy's.
It's clear that Percy's background greatly informs who she is today, as evidenced by the way she treats Sofia Velez, the surviving friend of their original victim.
She made a choice, and choices have consequences.

Percy
Percy learned this lesson the hard way. Though I have to say, Velez really didn't seem all that broken up about the sudden horrible death of her friend, Petty Officer Weaver. Maybe the Captain's Mast would bring her troubles home to roost.
I also really enjoyed how Percy and Kendrick made their escape from Liu by diving into the water. Mythbusters (RIP!) demonstrated that water is a fantastic shield for bullets. In this case, it gave Percy and Kendrick cover long enough for the team to move in and take down Liu and his muscle.
Speaking of Liu, it was oddly easy for the team to identify and take down a guy that the FBI and the DEA couldn't even get a lead on. I know they're the heroes of the story, but it took a remarkably short amount of time! You'd think a guy called "The Ghost" wouldn't be quite so easy. I think that the story would have been more compelling overall if Liu had managed to evade capture, even if the man-behind-the-man, Singh, was taken down.
As it was, it was pretty much a happy ending, except that with Singh's arrest there was no one to challenge Hamilton for the mayor's office. Yeah, Pride was clearly annoyed over that one. Can't have everything in life, it seems.
In other news, Sebastian finally made some headway in the mystery of Brody's altered pictures! Turns out, there were hidden numbers that lead to the IP address of a website dedicated to cold cases. And someone seems to think that Brody's sister wasn't just killed by a drunk driver, but was deliberately murdered. The plot thickens!
This secondary storyline has been developing nicely. They've managed to not let it get forgotten, but also maintained the mystery over multiple episodes. Hopefully, we're building to something truly intriguing.
A few extraneous thoughts in closing before I turn the discussion over to you, fellow viewers:
I am assured by a network administrator that IP addresses aren't necessarily nine digits - they can be as few as four. My first thought when Sebastian said nine digits was actually Social Security Number.
The cast clearly had way too much fun filming that red dress run at the start of the episode. Who do you think looked best in their lovely attire?
I wonder if they're setting up Kendrick to be a recurring character. The fact that they didn't just kill him seems to indicate that he'll be back sometime in the future... and owing a big debt to Percy for saving his life!
Hamilton went out of his way to help Pride. Makes you wonder what he's really up to behind the scenes.
Flakka, also called alpha-PVP, is a real drug with seriously dangerous side effects.
So, what do you think? Did any of you suspect/wish Hamilton was behind the flakka threat? Was Liu a disappointment as a villain? Why would someone murder Brody's sister? Let us know what you thought of the episode in the comments section below!
NCIS: New Orleans Season 2 Episode 7, "Broken Hearted," is scheduled to air on Tuesday, November 3 at 9/8c on CBS. You can always watch NCIS: New Orleans online to catch up on or relive the excitement!