NCIS: New Orleans Season 2 Episode 5 Review: Foreign Affairs

Kathleen Wiedel at . Updated at .
Relationships were the name of the game in NCIS: New Orleans Season 2 Episode 5 – fitting, of course, given that the title of the episode is "Foreign Affairs."
There were a number of different relationships highlighted throughout the episode, thanks in part to a guest appearance by Shanley Caswell as Pride's daughter Laurel.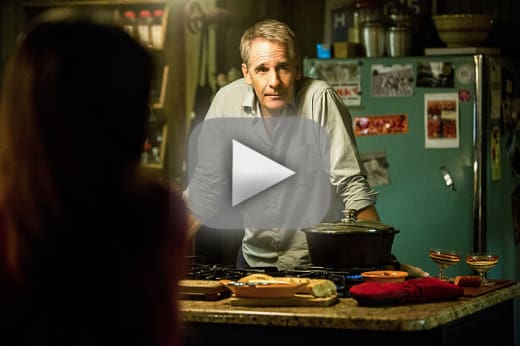 Laurel seemed determined to hook her father up with the feisty (I hate that word!) Australian investigator, Naomi Parsons, apparently out of concern for Dear Old Dad coming through the divorce in one piece. To be perfectly frank, I'd much rather see Pride end up with Abigail Borin than Naomi Parsons.
If they were aiming to have Parsons appear stubborn and driven, they succeeded... all too well. I was feeling Pride's pain when she bulldozed over him to take over the investigation. I was so annoyed by her single-minded behavior that her "folksy" tale about a lawyer for the 1% came across as trite more than meaningful.
She claimed that she wanted to find answers for the family, but she was going about it in ways that were obviously counterproductive, to the point where Pride called her on it more than once!
So, can someone explain to me why does Pride inexplicably seems happy to potentially see Parsons again in a couple of months? I'd have thought he'd rather have thrown her in a canal after all she did to torpedo the investigation.
Brody: What the hell was that?
Pride: That was what my mother would call a tornado riding on the back of a hurricane.
The victim of the week was a Royal Australian Navy exchange officer, which immediately reminded me of another RAN character, Mic Brumby, from JAG, the series from which NCIS was originally spun off.
Interestingly, one of Brumby's long-term storylines on JAG was as one side of a love triangle with two of the main characters on the show, similar to what the unfortunate Lachlan Colston did with Cheryl (and Ryder... and Luke...). Brumby, fortunately, did not meet such a tragic end as Colston did here.
I am always a little frustrated when I can so immediately identify the killer right off the bat when he/she is introduced. I even correctly predicted that the motive was jealousy.
A large part of the problem rests in Ebert's Law of Economy of Characters: in other words, a show usually won't introduce extraneous characters that have no importance to the plot. (Think Chekhov's Law, but with characters instead of objects.)
When Luke inserted himself into the interview with Cheryl at the bar, he might as well have been wearing a sign that read, "I'm Probably the Bad Guy!"
Don't get me wrong, this is not by any means a terrible episode. There were a lot of things I enjoyed about it, especially that downright hilarious interrogation scene between LaSalle and the incorrigible Ross P.
Ross P.: I'm really tryin' to walk on the straight side of the street here. I mean, a leopard can change his stripes, huh?
LaSalle: Only problem with that is leopards have spots.
Ross P.: Change those, too!
The look of utter incredulity on LaSalle's face throughout the interrogation was totally priceless, and Martin Bats Bradford really sold the it in that scene.
I also loved Pride's studiously polite verbal smackdown of Naomi Parsons after she blew into the NCIS office and acted like she owned the place, and later when he (quite rightly) criticized her for hijacking the investigation and denying them access to Lt. Ryder. It was well played by Scott Bakula there. Finally, I really wish I could have seen the look on Percy's face when she discovered her pens had been replaced with disappearing ink! That would have been absolutely hilarious.
On a different note, I have to wonder about Pride; he's seemingly taking his divorce very well. So well, in fact, that I'm actually with Laurel in questioning whether or not he might be hiding from his feelings on the matter. As Pride said in this episode, his (now ex-)wife was one-of-a-kind. Pride may be more even-keeled than LaSalle, but that doesn't seem like the sort of relationship you just get over by cooking bouillabaisse and buying a bar.
Some final thoughts before I turn the discussion over to you:
Sonja Percy did not appear in this episode due to "counterintelligence training." Just when someone with ATF skills would come in handy, she's nowhere to be found!
Does the Royal Australian Navy keep dossiers on foreign federal law enforcement officers? Parsons's knowledge about the team seemed weirdly specific and detailed for someone who could only have know for a few hours at most that she'd be dealing with this group of people.
What will Lt. Ryder think when he finds out the reason behind the whole mess? Should he forgive her for her role in the fiasco?
Speaking of Cheryl, she was scared that her long-distance relationship with Ryder would fail, so she pretty much ensured that it would by hooking up with Colston. Sadly, but likely accurately, human.
Finally, Colston. Dude, I know you're far away from home and lonely, but surely a good-looking man in uniform with a sexy Australian accent could find female companionship easily enough without hooking up with the girlfriend of the man in whose home you're sleeping!
So, what did you think of "Foreign Affairs"? Would you like to see Naomi Parsons return to the Big Easy? Did you predict the motive behind the murders-for-hire? Let us know your thoughts about this episode in the comments below!
NCIS: New Orleans Season 2 Episode 6 will air on October 20, 2015. Until then, you can watch NCIS: New Orleans online to relive all the excitement, via TV Fanatic!