Modern Family Season 7 Episode 4 Review: She Crazy

Liz Estey at . Updated at .
Thank goodness for Lily. She finally got some screen time, and it was very entertaining.
Pairing up Phil and Lily on his duck village project was incredibly smart. Lily's sass brings energy to every scene she's in. The interactions between Lily and Phil are hilarious to watch, and anytime Phil has a project, it works well for the show.
One of the highlights of Modern Family Season 7 Episode 4 is Phil's undying devotion to the duckling eggs. There is a child-like optimism that makes Phil an endearing character, and the ducklings really highlight his best traits.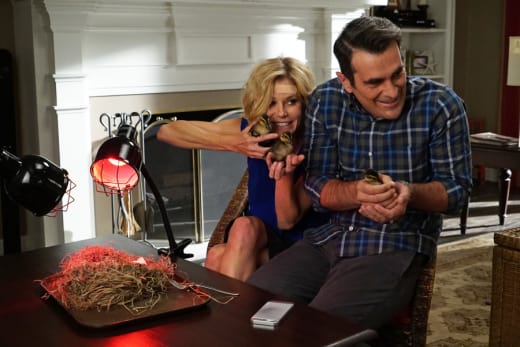 Manny's storyline with Gloria was nothing new. It was nice to see their relationship evolve from Manny idolizing her, to seeing her as a human being. The problem is that they have had many similar moments in previous episodes. There was very little happening to make it original.
Overall, Modern Family Season 7 Episode 4 is one of the funniest episodes in recent seasons, and certainly the best episode of Modern Family Season 7. While the "back to basics" idea failed in execution for Gloria and Manny, it worked incredibly well in the relationship dynamics of the other characters.
Claire's struggle to earn Jay's respect has always been a driving force for her character. She had one of the best scenes in the episode when she attempted step up professionally (and prove herself to Jay), but instead was attacked by pigeons attracted to the spilled bird feed on her clothes.
Mitchell and Claire also got to share some of their quality moments, when they observe the craziness around them, and share a certain understanding of their chaotic families. Mitchell's obliviousness to his surroundings when he's preoccupied with Cam is a valuable comedic tool.
Luke and Mitchell got to share a car ride of miscommunication, where they had entirely separate conversations. The ultimate culmination of their trip was seeing Cam dressed as a pizza delivery man walking with a goat and having his pants fall down. It's not that much of a leap to say the show is better when there are more animals involved. Jay's scenes with Stella are proof of that.
The only real misstep was the inclusion of Dylan at all. At this point why bother putting him in?
What are your thoughts about Dylan? Did you enjoy Phil's duck village project? Let us know when you watch Modern Family online, and be sure to check back next week for Modern Family Season 7 Episode 5!