Modern Family Season 7 Episode 3 Review: The Closet Case

Liz Estey at .
Why isn't Lily getting more screen time? So far she's only gotten about two lines per episode this season.
Cam and Mitchell's storyline's have been almost entirely about their individual struggles. It's sad that the writers have yet to return to Cam and Mitchell's parenting. From the very beginning of the show on Modern Family Season 1 Episode 1 their best moments center around Lily.
In Modern Family Season 7 Episode 3 Mitchell's accidental foray into Jay's professional rivalry is definitely entertaining. Jay and Mitchell had a very strained relationship at first, and it's been nice to see their relationship evolve over the seasons. Also, who knew closets could be so funny?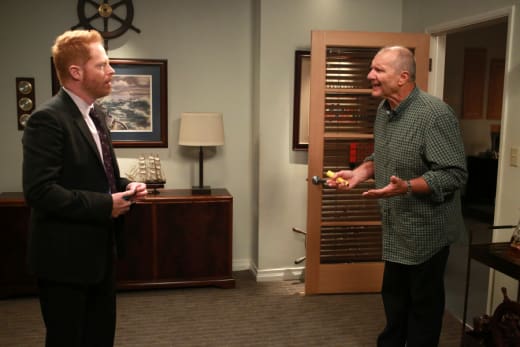 As Jay has developed into a more accepting and tolerant person, the storylines around him had to shift. Both Jay and Claire now have some of their funniest material because of the closet business. The best part of Jay's fight with Earl is when Mitchell points out how ridiculous their fight is because it's about closets.
Phil has some of his best moments when he switches from being a goofy friend to his kids to overprotective dad. Watching Phil attempt to remain calm is consistently hilarious. However, Dylan seems to be a tool that the writer's use whenever they're unsure of how to incite action in the Dunphy house. Dylan is funniest in small doses but he's already shown up twice in three episodes.
We've seen Gloria be an overprotective mother already. She always meddles in Manny's personal life, but this time it felt forced. If we must see Gloria's mama bear instincts again, can it at least be with a different kid?
Luke and Manny are typically a winning combination, but their story this week was pretty flat. The preteen antics of Manny and Luke were far more entertaining than the teenage angst it has become.
Speaking of angst, Alex's break-up with Sanjay was really boring. It was difficult to care at all about their relationship, and it's even more difficult to care about it being over. Hopefully their break-up will allow Alex to go in a different direction as a character. Don't hold your breath though.
Cam and Gloria typically have a very natural, witty repartee, but the whole locker thing completely sucked the life out of their relationship. Their entire interaction was argumentative without any playfulness. Sadly, the playfulness is what makes it watchable.
Are you sick of Dylan? Let us know your thoughts when you watch Modern Family online . Check back next week for Modern Family Season 7 Episode 4.