Law & Order: SVU Season 17 Episode 5 Review: Community Policing

Jack Ori at . Updated at .
Stories about police shooting unarmed suspects, especially suspects with dark skin, have become all too common in both real life and television. It's hard to do this kind of story justice, and I'm not sure how well Law & Order: SVU Season 17 Episode 5 succeeded.
More about that in a minute. First, I want to talk about how thrilled I am that Declan Murphy is the father of Rollins' baby!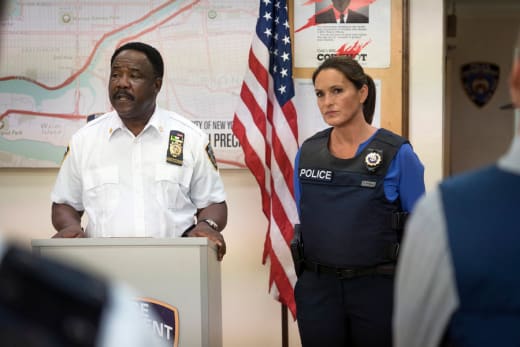 I have always enjoyed Murphy, from the moment he saved Rollins' butt during her last gambling slip. I was sad when he left SVU to return to undercover work (presumably because Donal Logue was starring in Gotham). So I'm very very happy to see him again.
I have to admit, though, I'm a bit surprised. Murphy's relationship with Rollins always seemed to me to have more a mentor/student or father/daughter vibe than a romantic or sexual vibe. But maybe that's because their relationship began with what looked like a forced sexual encounter that turned out to actually be an undercover assignment!
I like the conflict here too. It's not often that we see pregnancy stories where "it's my choice" means leaving a father out of his child's life because he's not available enough and the mother feels she can provide a good life for her child without him. Murphy's work is dangerous and takes him away for long periods of time, so it makes sense Rollins would have some reservations.
Nevertheless, I liked Murphy's sincere desire to be as much a part of his child's life as he is able and to provide for the child. 
This is my phone. You need me, call and I'll be on a plane in an hour.

Murphy
I wonder how much time is supposed to have passed between each hour of SVU. It seems to me that Rollins is quite far along now compared to the reveal in the pilot. How long will it be til she has the baby?
Incidentally, isn't Rollins supposed to be working a desk because of her pregnancy? What is she doing helping brief another police precinct?
As for the actual case of the hour, I was a little bit underwhelmed. I'd like to see a more nuanced story. This story just seemed to me to be a case of cops overstepping their boundaries all over the place, culminating in the shooting of an unarmed man who, of course, turned out to be innocent. It was pretty obvious how this was going to turn out from the second Captain Reese, the leader of the 1-2 precinct, gave his instructions.
I don't care if this scumbag makes it through the night. I care if you do.

Reese
The cops' behavior throughout "Community Policing" just seemed so stereotypical. The second the shooting occurred, Sonny got busy intimidating the victim's roommate into allowing him to search without a warrant, while neighbors looked on and protested about how inhumanely they are constantly being treated.
Hey! You just gonna leave him there? Another black man shot by the cops and you just gonna leave him there to die?

Woman
These kinds of things can and do happen, and I suspect the reasons are more complex than what we saw during this hour of SVU. I am really disappointed in Benson's just taking the stance that the cops were right. There were lots of ways the cops weren't right, and it would have been interesting to see her struggle with how to lead when she isn't sure she believes in the party line. Instead, she hid behind the phrase "proper police procedures," and her thinking stopped there.
Benson: They were doing what any cop would do in the situation.
Barba: Any cop. Even you?
That was unusual, and I didn't like it.
I'm surprised that nobody in the entire department picked up on the role the media played in this shooting. The rape victim's husband immediately picked Terrence's picture out of a series of mug shots, saying he'd seen it on the news, so this must be the guy. The cops were working off a sketch which was probably released to the media, as well. And of course Reverend Curtis and the Reynolds' advocate used media extensively to promote their message.
It would have been a more compelling story had these issues been addressed and if the various cops had taken different sides instead of everyone supporting their brothers and sisters in blue while Barba is ostracized for being disloyal enough to convene a grand jury against some cops who shot an unarmed man while he was already on the ground and said they couldn't see his hands.
I also didn't know what to make of the last scene. A cop was shot during a traffic stop – was that supposed to imply that because some cops were indicted for manslaughter, criminals felt they could get away with murder? That doesn't exactly send a message that sits well with me.
What do you think, fellow SVU-aholics? Did you think SVU's second attempt at a story about cops shooting an unarmed African-American worked, or was it too heavy handed for you? Were you surprised by the identity of Rollins' baby daddy? Comment below!
Don't forget, you can always watch Law & Order: SVU online if you miss an episode.
Jack Ori is a senior staff writer for TV Fanatic. His debut young adult novel, Reinventing Hannah, is available on Amazon. Follow him on Twitter.