Law & Order: SVU Season 17 Episode 4 Review: Institutional Fail

Jack Ori at .
Law & Order: SVU is often at its best when tackling social issues. 
Following on the heels of Law & Order: SVU Season 17 Episode 3, which dealt with trans bashing and bullying,  Law & Order: SVU Season 17 Episode 4 takes on the severely overworked Department of Child Protective Services.
"Institutional Fail" made some good points, but ultimately fell flat because it focused too much on the wrong issues.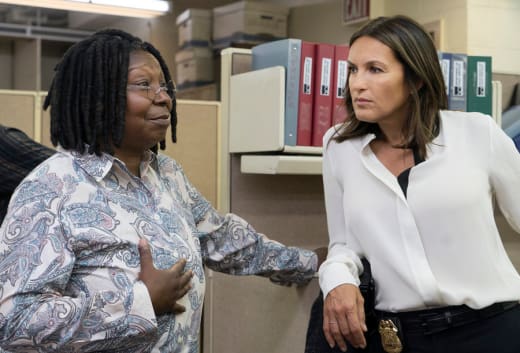 Don't get me wrong. There were a lot of good points to this story, and I enjoyed watching it. I just found Whoopi Goldberg's impassioned defense of covering up severe negligence to be quite disturbing.
God himself could not do this job. You wanna judge me? You wouldn't last an hour in my world.

Grayson
Yes, CPS and other institutions that are meant to protect vulnerable citizens are way over-worked. As someone who is a mandated reporter, I totally got Sonny's frustration when they told him he didn't have enough info to help little Bruno. But there's a difference between letting kids slip through the cracks because you're short staffed and demanding caseworkers cover up negligence.
I could go on about the problems in that speech, but this isn't a political blog – and anyway Goldberg's character conveniently was labeled as having a nervous breakdown and shipped off to Bellevue so that she didn't have to take much responsibility for her decisions.
I found the conflict between One Police Plaza and our heroes to be way more interesting than the moral or political question of the hour.
You're the NYPD's press boy, right? You made it clear I don't work for you.

Barba
I enjoy stories of politics vs. integrity and/or people rebelling against poor leadership for a good cause. I found Dodge to be even more annoying than usual, with his insinuations that Olivia won't get her promotion because she didn't fall in line and his seeming lack of concern for what had actually happened.
This city has blood on its hands. Barba is doing the right thing.

Olivia
Then at the very end of the hour Dodge turned it around with his comment to Rollins. It seemed to me that it wasn't so much that he was uncaring as that he had given up on the idealism that Olivia Benson and her squad often display.
Rollins: I'm okay. That was a tough case.
Dodge: Yeah, well, we can't save 'em all.
I especially enjoyed Rollins looking at her pregnancy bump after Dodge walked off, as if she was questioning what kind of world she was bringing her child into.
I found it ironic, and disappointing, that the neglected child that started the case off more or less disappeared once everyone got on the prosecute CPS bandwagon. The detectives were focused on the case worker and his supervisors, and was surprised that Manuela made a token appearance to complain that she didn't make it to her daughter's funeral and won't get to raise her son.
Manuela: What do ya mean, you got my kids? I'm their mother.
Fin: You tell yourself that?
I would have liked to have seen her face some sanctions for her role in what happened to her daughter as well.
I had mixed feelings about Manuela and her backstory. I hate when television portrays single mothers, especially single mothers of color, as addicts and neglectful parents. I also hate it when addicts are portrayed as borderline evil. I did like that the mother eventually showed some remorse, but it wasn't nearly enough.
Oh my God, what have I done?

Manuela
So what did you think, SVU-aholics? Was "Institutional Fail" successful in bringing light to the issue of problems in CPS, or was it too heavy-handed for your taste? Share your thoughts below!
Haven't seen it yet? No problem. Just watch Law & Order: SVU online so you can get caught up and join in the discussion!
Jack Ori is a senior staff writer for TV Fanatic. His debut young adult novel, Reinventing Hannah, is available on Amazon. Follow him on Twitter.