iZombie Producers Preview Return of Peyton, Blaine as Boss & More!
Jim Halterman at . Updated at .
Liv as a Real Housewife?
That's what happens on iZombie Season 2 Episode 3 when a wealthy housewife is killed and Liv eats her brain to find out who offed her. (And seeing Rose McIver suddenly play high society is fabulous!)
Of course, Major is also getting more and more lost in his zombie-killing job with Max Rager and, finally, Peyton returns in tonight's episode.
With iZombie Season 2 off and running, producers Rob Thomas and Diane Ruggiero-Wright sat down with the press after a recent screening to talk about what else we'll see in the weeks ahead...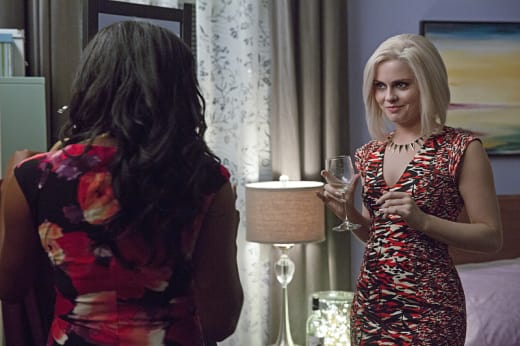 Down The Rabbit Hole: With Major stuck eradicating zombies for Max Rager, things are going to get darker for him before they get lighter. And, shocker, don't expect his Utopium addiction to ease his pain.
"He will have hit rock bottom," said Thomas. "That's the journey that he's going on. He's doing this horrible thing and can't quite stand himself." His friends will start tuning into Major's problem very soon, too, he said. "It's pretty hard to hide. Ravi picks up on it pretty soon."
The Return of Peyton: Don't expect Peyton to be on the sidelines when she returns this week. In fact, she's in the mix more than ever before.
"She comes back in her Assistant DA position and she gets asked by the DA to take over the Utopian Task Force," Thomas previewed. "That puts her right in the thick of the action so it's not just her popping into the apartment to hear how Liv is feeling."
Clive In The Know…Ever?? Our favorite detective may not be at her best since he hasn't quite figured out Liv's zombie ways. Even the writers kind of want him to be more in the know at times.
"We've written scenes that haven't made it in the show where Clive looks at Liv and goes, "'You realize you start acting like the people whose death [we're investigating]?'" said Thomas. "We've written that scene three different times, and it's never made it into the episode."
Peyton + Ravi?: Don't expect Ravi and Peyton to fall into a relationship now that she's back…well, not quite yet. Thomas expressed how much he loves seeing Rahul Kohli and Aly Michalka together, especially when they're reunited in tonight's episode.
"Those two were just so good in that scene," he said. "It's one of those moments where I might rethink where I want it because they're so good together." Also watch for Ravi and Liv to go out in the field together to solve a case. "A zombie Hart to Hart," teases Ruggiero-Wright.
Blaine, Crime Boss: With his powers stripped, Blaine is still trying to find his new place, but it's no surprise it's not anything legit. "Blaine is going to try and become the crime lord of Seattle," Thomas said. "We eventually meet the crime lord of Seattle and he will be a significant role as well. Eddie Jemison is playing the role of Mr. Boss."
More Family Time: Liv is still estranged from her family, but just because we haven't seen them lately doesn't mean we won't be seeing them soon.
"We'll keep coming back to the family," said Thomas. "But much like season one, every three or four episodes, something along those lines."
Ruggiero-Wright added: "There are some interesting, cool developments with the family, though, that you can look forward to if you're a fan of the family."
Rose McIver Can Do Anything: Ruggiero-Wright expressed her wonderment at star Rose McIver's ability to take on any characteristic the writers throw at her.
"Instead of picking brains that are fun, I'm now just gonna pick a brain that I think she won't be able to do and it will be bad for the show but screw it," she joked. "I'm sick of it. Like, she can't be that perfect. I'm going to find her weak spot…"
She's correct, though, as evident by last week's zombie-bro to this week's Real Housewife followed by a country western singer and a basketball coach.
iZombie airs Tuesdays at 9/8c on The CW.
Jim Halterman is the West Coast Editor of TV Fanatic and the owner of JimHalterman.com. Follow him on Twitter.