How to Get Away with Murder Season 2 Episode 5 Review: Meet Bonnie

Whitney Evans at . Updated at .
If you were looking for more Asher, you were rewarded this evening. 
Mr. Millstone was front and center in How to Get Away with Murder Season 2 Episode 5, grappling with the knowledge that his lady love was behind Sam's murder. Would he turn her in? You would think not, but Asher seems to live by a different code them some of the other people in his life. 
The previews really didn't lie this past week, as "Meet Bonnie" was a very twisty and shocking hour of television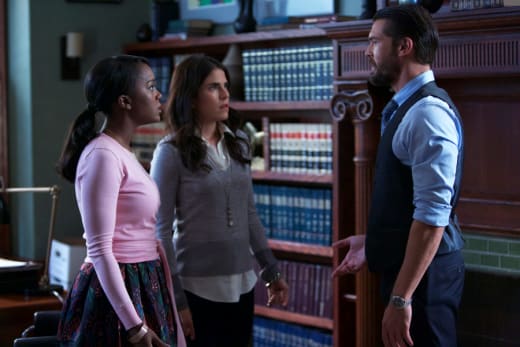 With Bonnie lying to Asher and confessing to Sam's murder, she finally brought Asher into the fold. He may not know the whole truth, but at least he's not completely on the outside looking in anymore. 
Even though his relationship with Bonnie was incredibly strange, it was clear that these two had feelings for one another. That's why it was honestly heartbreaking to watch Bonnie lie to him over and over again. 
Asher: When you came over and we...that was just for your alibi, right?
Bonnie: Yes. That's just how we started, it's not at all how I feel about you now.
Doucheface, as he's so lovingly called by Frank, had two options. He could either turn Bonnie in or stay quiet. At first, I didn't think he would ever turn Bonnie in, but I keep forgetting about this pesky lake fiasco we know nothing about. Asher may be slightly more righteous than his peers, but he's still looking out for himself in the end. 
The only person who's not looking out for themselves appears to be Bonnie. I still think she's certifiable, but tonight we briefly delved into her background and it was devastating, to say the least. 
Clearly Annalise brought the tape of a young Bonnie to Asher in hopes that it would sway him to change his mind and one would have to think it works, given him and Bonnie's murder house meet up in the flash forwards.
If you're keeping score at home, we have now successfully placed Wes, Connor, Michaela, Laurel and Bonnie inside the murder mansion (along with Annalise and Sinclair, of course). And we know Asher was at least on the premises that night. 
I love the ending, which one again paints Asher as a snitch, if you will. He's such a wildcard these days and he's slowly becoming more and more interesting. The one liners are always a treat, but opening up Matt McGorry's range is a wonderful thing.
We are inching closer to learning the truth about the flash forwards and my prediction game is really revving up.
Elsewhere, Annalise was trying to figure out what Nate and Wes were up to. One of my favorite scenes in the episode was Annalise's conversation with Nate in the car. She was trying so hard to get him to crack and he was just not having it. 
Neither was Wes for that matter. At this point, I don't think there's anything Annalise can do to get Wes back on to her side. They're chat, in which Annalise tried again to use her female wiles and persuasion to get honesty out of man, fell completely flat because Wes is a man on a mission. He's trying to find Rebecca by any means necessary. 
It's too bad he's up against the beard. 
Frank continues to prove over and over again that he is one step ahead of everyone. If Wes has any chance of finding Rebecca, he's going to need to beat Frank at his own game. 
Random Notes
There was no case of the week, just Annalise and company trying to get the siblings deceased aunt's testimony thrown out. Even though a tape clearly proved that the aunt was a racist, the means by which Annalise got the tape ended up causing her to lose the hearing. 
The truth is out about Levi, so it's safe to say the road has been cleared for a Michaela/Caleb fling. 
Laurel + Frank = too hot for tv. 
Day drinking is not a good look on Connor. However, confessing his feelings to Oliver was a swoon worthy moment. 
Sinclair is annoying. Like seriously, seriously annoying. 
Will we ever find Rebecca's body? It's beginning to look like no. 
I'm not sure if Annalise's "confession" to Nate did more harm than good. I've mentioned time and time again that it's obvious she cares for Nate, but she also made it very clear that she will protect Wes (and her students) first and foremost. It's not like Nate never knew that she set him up, but actually hearing it (even if it wasn't the real truth) will have an affect on him. 
We are really into the swing of things this season and it's been quite the enjoyable ride thus far. How did you feel about the episode? How do you feel about Bonnie now? What will Asher do? 
Make sure to leave a comment and watch How to Get Away with Murder online right now so you don't miss any of the twists and turns. 
NOTE: How To Get Away With Murder Season 2 Episode 5 will air on October 29 at 10/9c.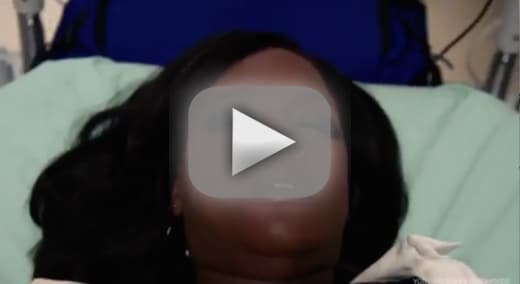 Whitney Evans is a staff writer for TV Fanatic. Follow her on Twitter.