Heroes Reborn Season 1 Episode 6 Review: Game Over
Paul Dailly at . Updated at .
Where do we go from here?
Heroes Reborn Season 1 Episode 6 had all the ingredients of a season finale. It had twists, turns, death and most importantly, the return of an old friend. 
Hiro Nakamura finally set foot in this new world, but there were a lot of hurdles our characters had to go through in order to get there. Thanks to Taylor, Noah and Quentin managed to infiltrate Renautas where they crossed paths with Miko.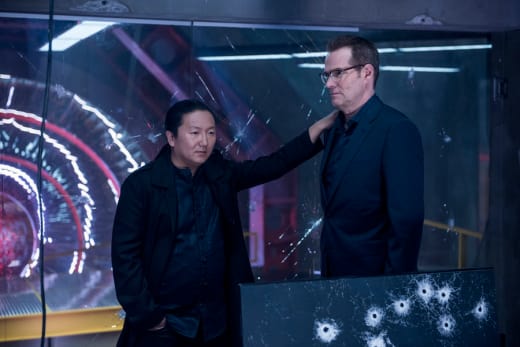 Either Miko is very gullible, or she was very, very desperate. She joined forces with Noah and Quentin in a heart beat and it could have been her downfall. Luckily, us at home know these two are good people, but unfortunately she won't be getting to have a friendship with Quentin since he, like, died. 
Noah: Take it off him
Quentin: Are you sure about that?
Noah: If he leads us into a trap, I'm gonna blow his head off. No clones when that happens.

It was quite the shock and it kind of made me realize that with this being a miniseries we could be saying goodbye to a lot more before the series signs off. The ratings have dropped every week, so I'm not holding out hope for another limited series. I'm treating the next seven episodes as the end of the franchise. It's done, and there better be an ending this time round. 
Back to Quentin's death. He finally got to see his sister, but she's now on team Erica, so there's no hope for her. His meeting with her was a let down. Too much was happening. It'd have been nicer to have them in a more calmer setting, but I get why it was done. 
Here I was holding out hope for a buddy cop show with Noah and Quentin as partners. Guess that won't be happening, either. 
I really don't know what to think about Noah and Hiro going back in time to change what happened. Given the shows track record of messing with time, I'm expecting things to get much worse. I don't think we'll get Molly or Quentin back. 
Noah: Where's Hiro Nakamura? Why does Erica have his sword?
Sidekick: Even if I told you, you wouldn't believe me.
Noah: She has him, doesn't she?
Taylor is continuing to improve as the weeks go on. Her mother's reaction to her video was hilarious. I'm surprised Erica is already on a descent to mediocrity. It's making me think there might be a bigger villain than her just waiting in the wings to terrorize our favorite EVO's. Look for her mother to send agents out for her. This means war.
I'm slowly coming to the conclusion that Hiro is Miko's father or some sort of relative. They both know their way around a katana, so it'd make sense. Ever since Heroes Reborn Season 1 Episode 1, there have been a lot of similarities in her storyline to his. 
Luke and Malina meeting up seemed very forced, but I guess it was meant to happen. He's one of the only people who would know where Tommy is and Malina was probably the only one who could save Luke from a certain death.
"Game Over" was another solid installment of this NBC drama. With Hiro in the mix, it adds a lot of new dynamics and I can't wait to see where it takes us next.
Other tidbits:
Was there any point in Carlos being present in the episode? He got like one minute of screen time. His storyline isn't all that interesting either. 
Tommy and Emily going to Paris was cute and all, but Tommy's actions could have gotten his girlfriend killed. What goes through this dudes mind?
I'm so over Harris and his multiple clones. I wish Noah had followed through on his threat to blow his head off to end the clones. Boring. 
What did you think of the hour? What's coming up next? Are you annoyed that they're toying with time? Hit the comments below!
Note: Heroes Reborn Season 1 Episode 7 airs Thursday October 29 at 8/7C on NBC.
Paul Dailly is the Associate Editor for TV Fanatic. Follow him on Twitter.