Heroes Reborn Season 1 Episode 5 Review: The Lion's Den
Robin Harry at . Updated at .
Okay, now I'm convinced that the world needs saving.
Heroes Reborn Season 1 Episode 5 painted a picture of a serious, terrifying threat to the world and its inhabitants, more so than the original series was ever able to do.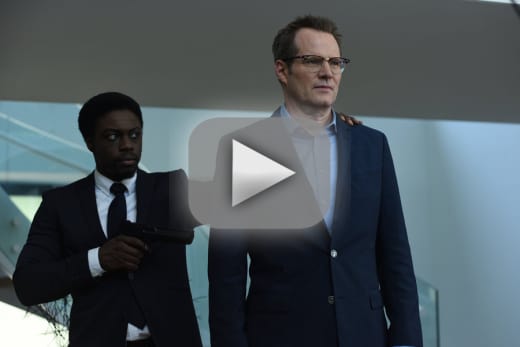 The simulation we saw of Erica's machine was scary. The details are still a bit fuzzy, but it sure sounds like her plan is to destroy the world and everyone on it and start over from scratch.
A villain who believes in the righteousness of her cause is a deadly kind of villain, and Erica is exactly that. She's a person with power and horrific ideology. That makes her very interesting, and very dangerous.
She believes that what she's doing is right, that it is protecting the human species. She believes with all her might that she is justified in harvesting the power of evolved humans and in ending the world as we know it for her own agenda.
What I want to know is what Noah knew about this before he decided to Haitian his brain. It's obvious that he was in deep. Who is he trying to protect? Is the person he's protecting even more dangerous to the world, or is it someone that can help save it?
Speaking of saving the world, Tommy found out that he was adopted, raised by someone that was not his mother. His true history was kept from him until the time would come where he was ready to hear it. Unfortunately, that time came a little sooner than everyone expected.
He learned that he was set apart from the world because it was his destiny to save it. Tommy, overwhelmed by the news, hightailed it out of there.
Right. All I'm going to say about that is this story is a little too familiar, and I sincerely hope The Avatar Tommy doesn't end up frozen in a block of ice in the ocean for one hundred years.
Caspar: You have a destiny. Humanity has one last hope for survival, and part of that lies with you.
Tommy: What does that even mean?
Caspar: You're going to help save the world.
Tommy: No, I'm not.
Moving on to Quebec (yay Canada!!). Erika, the big bad, sent her most trusted mercenary, Harris, across the continent to find The Other Avatar the child that could save the world from her plans. I mean, seriously, they're not even trying. Malina practically airbended her way out of that first confrontation.
That said, The Shadow was insanely cool, and I want to see what happens when she actually touches someone. Though I was sad that Farah went down.
Luke Collins continues to fascinate me. Those scenes at his home, reminiscing heartbroken about his family and his sins, were powerful. The pain and loss he felt at that time was almost palpable. I love the symbolism of his new power being used to destroy his old life.
Luke is one of the most engaging characters on this show so far, and I am really looking forward to seeing how he plans on atoning for what he's done. Also, I really, really do not miss his wife.
I do like that the characters' paths are starting to interact, but I need more. Having Miko and Ren at the house at the same time as Noah and Quentin was great, but I wish it wasn't so fleeting. I'm about ready for all these destinies to start converging.
Which brings me to the weak story of this series, Carlos and his superhero alter ego. While I appreciate the fact that they dared to have a hero that didn't have powers, his story is just too isolated from everything else on the show.
OTHER NOTES:
Quentin mocking Erica was one of the funniest things he's done so far.
Quentin threatening Harris was one of the most badass things he's done so far.
I love that Luke's son was such a huge fan of 9th Wonder.
We need to know more about Caspar, stat.
Does anyone care what happened to Noah's fiancee from the pilot? Has she gone the way of Caitlin?
What did you guys think? Is the threat real enough to convince you? Are you ready for the heroes' lives to start converging? Which story was your favorite this week? Let us know below!
And remember you can always watch Heroes Reborn online.