Heroes Reborn Season 1 Episode 4 Review: The Needs of the Many
Paul Dailly at . Updated at .
RIP Molly.
Heroes Reborn Season 1 Episode 4 forced us to say goodbye to Molly and it really stung. She has been one of the better characters in this reboot and to have her die so soon feels like a bit of a waste, but it should help advance the story better now that the stakes have been raised. 
It was also horrible that she took her own life. I get that she didn't want a life like the one she had years back, but would it have been too difficult for her to give Noah some pointers before she went on over to the Evo afterlife? Geez, girl.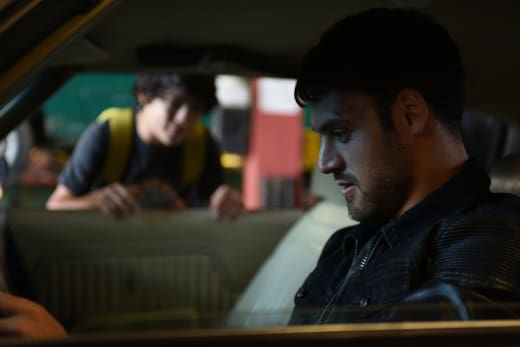 Taylor, who has been a very interesting character thus far, got pretty tedious this week. It was obvious she was going to question her mother's true intentions and find herself on the opposing side. Deep down, Taylor knows that what her mother is up to isn't all that humane, and that's why she'll stick it out with Noah. 
Noah Bennett, the original bagger tagger.

Taylor
Molly's death obviously threw a spanner in the works for Erica's tracking Evo's plan and she is understandably pissed off. How can she go from having all the power to having none? Erica is a smart and resourceful woman, and the introduction of the Shadow proved she's willing to pull out the big guns to get what she wants. Also, how in the hell did she manage to replicate Sylar's power of siphoning abilities from Evos? Genius. 
The Shadow seems like one mean person. I wouldn't want to be Noah or Quentin right about now, but it wouldn't surprise me if this person does turn out to be Quentin's sister. It would be a crazy development to have them fighting one another, right?
I need you to find me that child and I need you to kill it.

Erica
Elsewhere, we got confirmation that Luke's ability activates in the sunlight. This is going to have some significance to the overarching plot of the season. I am glad he managed to pluck up the courage to tell Joanne, and she went on her merry way. Joanne is a terrible character. The further she is away from him, the better. I can't be the only one who shed a tear when they killed the Evo, and the dog went and lay beside it's owner. It was so freaking sad. 
Malina and her trainer, Farah, encountered several obstacles throughout the hour, but I'm intrigued to find out Malina's deal. That's four hours we've watched her travel through the snow. It's high time we got some solid answers, like, now!
"The Needs of the Many" had us witnessing our first major power shift of the show, and parts of it were rather predictable. I hope this episode was just a blip, and we return to the solid drama the past three hours have given us. 
Other tidbits from the episode:
Carlos' story drifted back into mediocrity. This new and enhanced suit storyline reminded me of Arrow and not in a good way. That, and the fact that Leo was kidnapped, just bored the life out of me. 
Tommy sure took his time to pluck up the courage to kiss Emily, but it was a pretty douche move considering how nice Fred's been to him recently. I didn't care much for Tommy being discovered as an Evo. It was predictable. 
Miko was traveling for most of the hour, but I loved her questioning whether she was really alive. I completely understand where she's coming from. It's not every day you're in a videogame. 
Did anyone else laugh at Taylor's observation of Noah being "The original bagger tagger"? 
Over to you, fanatics. What did you think of the hour? Is Molly gone for good? Who is the shadow? What's coming next?
Note: Heroes Reborn Season 1 Episode 5 airs Thursday October 15 at 8/7C on NBC.
Paul Dailly is the Associate Editor for TV Fanatic. Follow him on Twitter.