THIS is how Grey's Anatomy is supposed to be.
So far, this season has done exactly as we hoped it would, reminding us of all the reasons we used to love this show. It's gone back to its roots, with the kinds of stories and the kind of tone we fell in love with way back when.
Heck, Grey's Anatomy Season 12 Episode 3 even reminds us about the fact that Izzie used to exist.
The best move this season has made is putting Meredith back in her old house with a new set of roommates. I love the dynamic between the sisters, and I think that particular situation has lightened things up a great deal.
There are more opportunities for humor and character development, like Amelia getting naked in the car and Maggie spouting off nonsense about aliens, that make the show enjoyable to watch.
It's that relationship that also makes Meredith realize she isn't being paid enough for her new position as chief of general surgery. Why on earth would Bailey treat her that way? Because Bailey has already gotten this whole chief of surgery thing figured out, and she's taking another opportunity to be a mentor. 
She tells Richard (I still have a hard time not calling him the chief) that she's expects Meredith to step up and learn how to demand what she deserves. Which, after some coaxing from her friends and colleagues, Meredith finally does.
This is the sort of thing we've been craving. Bailey is back to doing what she does best, and helping Meredith to grow with all her tough love. Putting both of these characters in that position is definitely another smart move.
Now, there's one character who hasn't gotten a lot of love lately. I know I'm not the only one who is glad to see Alex in the spotlight for a change, both in his personal life and in his professional life. We've been worried about this guy, and for a while, he was feeling a bit like a sidekick or just an extraneous character. 
Finally, he has a worthwhile storyline all his own. No, Jo isn't pregnant like the previews tried to suggest. Instead, she's concerned about the frozen embryos she's just found out about. You know, from back when Izzie had cancer, and there was that whole spontaneous wedding thing.
That's something else this season seems to be doing well already, is threading in old storylines so that we remember past characters and don't forget what's happened before. Of course that's no easy task when you've got twelve seasons and a long list of characters who have died or left, but the attempt is important.
Alex has probably grown more than any other character on Grey's Anatomy. He's become more sensitive, more kind, and more understanding. He realizes where Jo is coming from and tries to make amends. Then, he  suggests they can make a baby and hops toward her with his pants down when she laughs at the idea. That's just a side of Alex we never would have seen before. Hopefully, these two can just be a happy couple for a while.
On the professional side, he's grown a lot, too. With a pep talk from Arizona, he has to make an incredibly difficult decision when it comes to those babies. And he's an amazing doctor and an amazing person as he does what he has to do.
Yes, even though we have a lighter tone these days, there's still room for tears. Nothing does me in quite like sick babies, and that entire situation is heartbreaking. I can't imagine being those parents.
Of course, it wouldn't be Grey's Anatomy if we didn't shed some tears.
What I could really do without is the broken relationship between Jackson and April, which is officially exhausting. It's time to have some sort of resolve for these guys, even if that resolve is just an ending. It's too hard to watch.
Other Thoughts:
A cover to "No Scrubs," now? No, Grey's Anatomy. Just no.
Maggie and the intern! Do all Grey sisters pick up doctors in bars?
What did you think of this episode of Grey's Anatomy? Share your thoughts in the comments below!
Need to catch up on past episodes? You can always watch Grey's Anatomy online right here via TV Fanatic!
And don't miss Grey's Anatomy Season 12 Episode 4, titled "Old Time Rock N' Roll." airing Thursday, October 15 8/7c on ABC.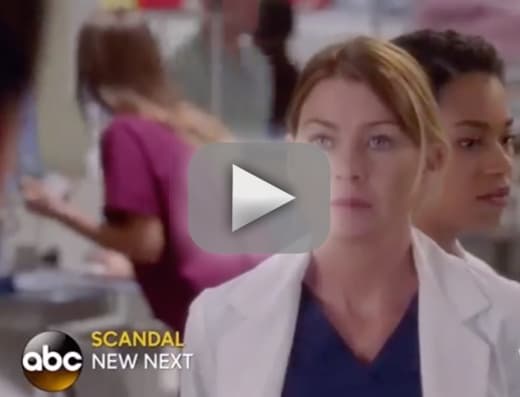 Ashley Bissette Sumerel was a staff writer for TV Fanatic. She retired in September 2017. Follow her on Twitter and on Google+.