All of Salem was brought together to grieve at Paige' funeral, while Chad was still on the run, Ben fantasized about murder and Rafe kept secrets from his sister on last week's Days of Our Lives.
Our TV Fanatics Jack Ori and Christine Orlando are joined by Rockfordfosgte from MyHourglass a Days of Our Lives Fan Forum to discuss Eve's anger, Jennifer's confidence in Ben, and Theresa and Brady's future after this week in Salem.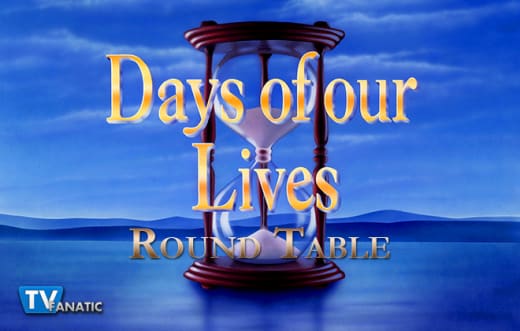 Was it okay for Eve to be so angry with some of the people who showed up for Paige's funeral?
Rockfordfosgate: Eve did have a point when she said everyone there did wrong by Paige because they all did in one way or another. But the funeral was to honor Paige and holding onto the anger and resentment is definitely not who Paige was. All the people were people who Paige loved and they loved her. 
Jack: Eve has the right to feel whatever she feels. She doesn't, however, have the right to treat Paige's funeral as something being held only for her own benefit or to deny other people the right to mourn Paige as well. Theresa managed to take Brady's advice and honor Paige instead of being petty. I wish Eve had too.
Christine: Eve is in an extraordinary amount of pain and gets to feel angry at the world for her devastating loss, but she chose to have a a funeral. She could have made it a private ceremony but didn't. Generally that means that anyone who wants to honor Paige's life and mourn her death can attend. 
Any idea why Jennifer thinks it's okay for her daughter to marry the son of the town drug lord?
Rockfordfosgate: There is some hypocrisy there because Jennifer has come down hard in the past about Chad being a Dimera. But at this point Ben has given Jennifer no reason to think he's anything like his father or anything but a good guy. Jennifer probably has a very idyllic notion that Clyde will be arrested at some point as she seems to not view him as a long-term problem for Ben and Abigail.
Jack: We all know Ben is a mass murderer. But all of Salem thinks he's this great guy who was stuck with a rotten father. In addition, I think Jen is trying to back off and let Abby make her own decisions even though she herself is extremely uncomfortable with the situation.
Christine: Jenn's belief in Saint Ben has become downright comical. It seems the worse she thinks of Chad and Clyde, the higher the pedestal becomes for Ben. I'm really looking forward to seeing Jennifer learn that her daughter's planning on marrying a serial killer. 
Should Rafe tell Gabi about Eduardo?
Rockfordfosgate: I think Rafe is doing Gabi a disservice by not telling her because she's tougher than she looks. She's going to get caught off guard by Eduardo at some point and maybe more willing to give him a second chance because she'll view him as the underdog and be peeved at Rafe hiding it from her.
Jack: Yes, yes, a thousand times yes. Gabi is an adult. Rafe needs to learn to back off and not try so hard to protect her. That's what gets him in trouble and keeps Gabi from being accountable for poor decisions. The one thing Eduardo said that is right is that Gabi should decide for herself if she wants him in her life.
Christine: Rafe needs to realize that Gabi isn't a child but a grown woman, a single mother, and someone who has survived a prison term. If he'd only give Gabi all the fact I'm fairly certain she can handle Eduardo all on her own. 
Why do you think Adrienne told Lucas about her health issues but not Justin?
Rockfordfosgate: Things are still fragile and tentative between her and Justin, so I think Adrienne told Lucas because she doesn't want to guilt Justin into being with her because she might have health issues in the near future. Lucas has been someone who's been around and she's confided in for months. It's hard to turn that aspect off even though they're not dating anymore.
Jack: I don't think Adrienne completely trusts Justin after seeing him with Eve and hearing Lucas' report about Justin/Eve as well. She is afraid he may have another affair so she doesn't want to make herself too vulnerable. She trusts Lucas more and isn't as over him as she may believe.
Christine: I think she's doing both men a disservice. Sharing something so personal with Lucas may be giving him false hope, whether she means to or not and not sharing it with Justin shuts him out and doesn't give him the chance to step up and prove he cares for her. If she truly wants to give her marriage a second chance, she needs to be honest with him about something so important. 
Are Theresa and Brady destined for a reconciliation as a couple?
Rockfordfosgate: Absolutely! Brady is seeing that vulnerable, human side to Theresa that we knew was lurking underneath all the schemes and sarcasm. I think we're going to see a new and improved Theresa and Brady at some point, maybe as an outcome of the Basic Black story.
Jack: It certainly seems that way. It should only happen if they are right for each other. Let's not have any more rounds of Theresa manipulating situations to get Brady in bed, please.
Christine: It would be fun to see Theresa really become a better person and then have Brady chase her for a change. Either way, I'm really enjoying Eve's transformation into someone with goals who can care about others and not only herself. It's been a long time coming. 
Was there anything that disappointed you this week in Salem?
Rockfordfosgate: I'm fairly pleased with the show lately. The stories are engaging and there is real interaction between characters that seems organic and not forced. The only thing that stands out for me this week is that Stefano seemed to have lost his voice as Andre did a lot of the talking in their scenes. I was disappointed that Stefano seemed to take a back seat to all the plotting.
Jack: Daniel's scenes with Jen/JJ were written as if he did not have any relationship with JJ. It made no sense that he was focused only on Jen and didn't try to support JJ, that JJ thanked him for being there for his mother, or that Daniel backed off without a word when nobody wanted to tell him why JJ was blaming himself for Paige's death. Daniel should have been all about trying to comfort and help JJ, because that's what their relationship has been for nearly two years.
Christine: How easily Hope handed over $100,000 to Aiden with almost no questions asked. That's a huge secret to be keeping and Hope is a smart woman. This should be sending up serious red flags about how much she doesn't know about her fiancee. 
What was your favorite quote, scene or story line from the week?
Rockfordfosgate: I loved Eve's fantasy sequences about Paige. It felt like finally the show was paying tribute to Paige as a character. Kassie DePavia (Eve) was amazing in those scenes. Even the editing of those scenes fit perfectly as the fade to black before the Days hourglass intro really opened the show with a somber mood.
Jack: I really liked Daphne telling JJ that Paige died loving him. Eve's fantasies about Paige were also very moving.
Christine: Abigail and Theresa having a civil conversation about dresses, pregnancy and children. I had always hope that the show was going to make Theresa and Melanie friends but it obviously never happened. It's good to see Theresa with someone else similar in age to share things with. 
If you missed any of the happenings in Salem, check out our Days of Our Lives recap and review each week here at TV Fanatic.
C. Orlando is a TV Fanatic Staff Writer. Follow her on Twitter.