Chicago Fire Season 4 Episode 2 Review: A Taste of Panama City

Stacy Glanzman at . Updated at .
Change is in the air around Firehouse 51 as Severide accepts his new role, Dawson requests a transfer, the new candidate has his first case, and Boden's command is in jeopardy. 
Chicago Fire Season 4 Episode 2 gave us quite a bit to process!
Now that pretty much the entire city knows Dawson is pregnant, I just have to hope that Antonio heard it straight from her.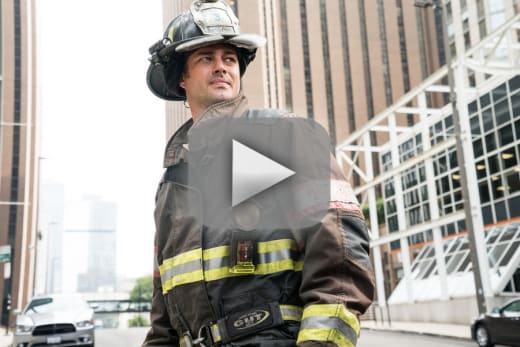 Dawson and Casey agreeing to keep it a secret lasted about twelve seconds before the entire house knew. The news spread like wildfire as even Dawson's new arson co-workers and Hank Voight knew. It was pretty funny seeing the look on Dawson's face when her co-worker congratulated her. 
Seriously though, I hope Voight knows because she told Antonio. I don't think he'd appreciate finding out second hand. 
Dawson's new arson gig could provide interesting storylines, but I get the feeling it won't be long before Dawson starts to miss the excitement of firefighting. 
My one pearl of wisdom for newbies, pace yourself. We're not running into burning buildings here, it's a game of patience.

Duffy
Will Dawson have the patience to make this work for nine months? What about after that? 
I mentioned in my review of Chicago Fire Season 4 Episode 1 that I was not looking forward to the Molly's neighbor storyline, but I have to admit, it's pretty funny so far. I can't be the only one who was hoping Hermann would throw that pie in the lady's face, right? Good for him for having the impulse control to wait until the door was shut. 
An allergy to sugar sounds like pure torture. 
I'm still not sure this is something we need to see dragged out over multiple episodes, but at least we got some humor out of it. These people moved across from a bar. What were they expecting?
I'm really liking new candidate Jimmy so far. He seems genuinely happy to be there and ready to work hard. He reminds me of Mills a little bit. It sounds like his brother may stir up more trouble for him. 
The new captain is absolutely awful. There is nothing at all redeeming about him so far. Severide is trying so hard to make this uncomfortable situation work, and he's just trying to make it as bad as he can for him. I'm counting down the episodes until he's gone. 
Severide isn't the only one with job troubles. Boden could very soon find himself in the same boat, only worse. I think the new captain is upset with him for talking to the man they saved because he wants Boden's job. I also think Severide sees straight through him. 
Is Severide about to enter a love triangle? 
April is back in the picture, and he's still seeing Jamie from his management course. He's not in a serious relationship with either, but that doesn't mean things can't get messy.
Brett and Chili's case was really just an excuse for them to visit the cute baby they saved. Brett is possibly too attached to him, and Chili knows it. We've seen Brett get attached before; it's fairly commonplace for everyone at 51 really. Where will this lead? His family hasn't come to visit him yet. Is she thinking about adopting him if no one claims him?
Casey, with a little accidental help from Dawson, found Katya's notebook and Nesbitt was arrested. I'm glad to see this come to an end, but the messed up timeline between the Chicago shows is starting to get a little annoying. 
If you missed anything, watch Chicago Fire online now and catch up!
Stacy Glanzman was a staff writer for TV Fanatic. She retired in March, 2019.