Welcome to the first Chicago Fire Round Table of the season!
The drama was heavy on Chicago Fire Season 4 Episode 1, as Dawson and Casey reunited, Severide received some bad news and neighbors stirred up trouble for the firehouse.
Below, TV Fanatics Paul Dailly, Elizabeth Harlow, and Stacy Glanzman are joined by super fan Ann to discuss the new characters, Severide's fate and who has Katya's missing notebook...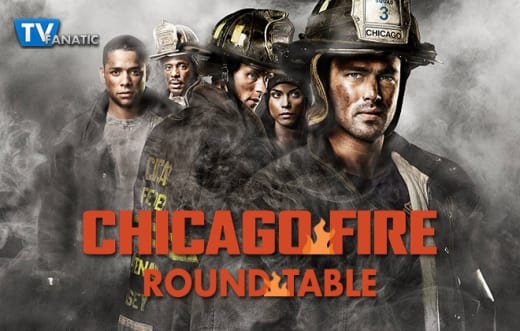 What do you think of new characters Jimmy Borelli and Captain Patterson?
Paul: I wasn't a fan of either. This show has a habit of introducing characters and then cutting them loose without a second thought, so it is difficult to grow attached to them.
Elizabeth: I was willing to give Patterson the benefit of the doubt until he pulled that "mandatory" BBQ crap. As for Borelli, part of his screw up was at the hands of other people, and I was impressed with his apology to the chief.
Ann: I'm with Paul. Not a fan of either one of them. Patterson is looking for a higher position (thus the politics). How can you say it is mandatory to be at a party off shift? Borelli, he is just a new candidate, none of us likes change. We will see on this one. Still not a fan.
Stacy: I did not like Patterson. He's on a power trip and did nothing to try and make things less awkward for Severide. I actually like Borelli. I think they're already hinting at a possible romance with him and Chili. I think that could work.
Will Severide leave 51? How long until he earns back his rank?
Paul: He won't leave. He'll be back in his old job before the show signs off for the holidays.
Elizabeth: I'm with Paul, he's not going anywhere, 51 is his family and I don't see him giving that up...again. However, I could see them waiting until February sweeps to reinstate him to Lieutenant.
Ann: Again I agree with Paul, he won't leave 51. I think they were looking to put that new Captain somewhere, and again politics. If you look at the records, the men who left all left for a reason, not because Severide did anything wrong. Who would replace Kelly? He will have to do the training and in the process will meet his new woman. I think it will be a little rough for him, and he will turn to his "Study Buddy" to make it through. He will come out on top, but it will take a while.
Stacy: I agree with everyone that he will tough it out until he finishes that course and gets his rank back, the sooner the better.
Where is Katya's notebook? Does Nesbitt have it?
Paul: Nesbitt has it, of course. I'm already tired of this storyline. It was already long in the tooth by the Chicago Fire Season 3 finale, so I hope it is all tied up pretty quickly.
Elizabeth: See, I want to believe that Nesbitt isn't actually terrible – I can't help but see him as Daniel from Ugly Betty! I don't like this storyline because it highlights how bad the Chicago family of shows is with franchise continuity, so I'm with Paul on hoping it wraps up quickly. I don't know where the notebook is, under a floorboard in her apartment or something?
Ann: Ahhhh this is a good question. I am not sure that Nesbitt has it. I think Katya put it somewhere she knew Casey would find it, maybe in his tool box. She didn't trust Nesbitt. If I caught that correctly, both Katya and Nesbitt were working for the Feds, but I think Nesbitt decided he could make more money with the foreign entity.
Stacy: I don't think he has it. I think it's hidden somewhere they haven't looked yet, but I have no idea where. I agree with Paul and Elizabeth that I want this storyline wrapped up quickly.
What story line are you most excited for this season?
Paul: I'm most excited about Severide being at the manager class. It looks like he's in for a fun time.
Elizabeth: Well, I'm really curious how Gabby and Matt are going to handle the day to day logistics of a baby (if that doesn't end in tragedy), but I think I'm most looking forward to Chili and Brett cementing their friendship and working relationship. This episode featured a really good glimpse of what's to come.
Ann: Probably for the baby Casey and Dawson are having. I want to see how the firehouse is going to respond to this. I think Severide will play a big part in this storyline. Of course Dawson will not be able to be a firewoman as long as she is pregnant. I would like to see Severide with a woman he can stay with for at least longer than three weeks or so.
Stacy: Severide is my favorite character, and I'm looking forward to seeing him fight to earn back his rank. It would also be great to see him in a stable relationship, and I love Rachel Nichols. I am curious to see how Dawson handles being benched for her pregnancy. I can see her getting pretty antsy.
What was your favorite quote or scene?
Paul: Favorite scene has got to be Dawsey getting back together. It was about time. If they are ripped apart again, then I'm done.
Elizabeth: Tie between what Paul went with and the hospital scene with Brett and Chili. I really liked their story.
Ann: My favorite was, of course, Dawson and Casey at the end, when they look at each other, he says, "Being with you, that makes sense," and then she says, "I'm pregnant." The look on his face was just...I want to say was relief, because she won't be put in danger any longer. He loves her, and she loves him. That was my favorite.
Stacy: I think it's pretty much unanimous. You could see the pure happiness on Casey's face when Dawson told him she was pregnant.
Did anything disappoint you?
Paul: Dawson not wearing a mask in the house next to the one on fire. Protect your child, woman!
Elizabeth: I'm a little disappointed Hermann didn't figure out Gabby's secret! I seriously thought that's what was happening in the equipment room. The man has like eight kids or something, and saw her switch to decaf!
Ann: Yeah, I didn't think they should have railroaded Severide like they did, it was kind of a slap in the face with that new Captain, but that was a disappointing facet, plus they didn't even let him try to explain anything. So yeah, that was a disappointment. It shouldn't have happened that way. Also when the woman Alicia died giving birth, that was so sad.
Stacy: I'm not so sure Hermann didn't figure it out, Elizabeth. He might just be keeping it to himself. I will be disappointed if the new neighbors actually cause problems for Molly's. That whole scene was ridiculous. Scope out the neighborhood before you move in people!
Stacy Glanzman was a staff writer for TV Fanatic. She retired in March, 2019.