Bones Season 11 Episode 4 Review: The Carpals in the Coy-Wolves

Christine Orlando at . Updated at .
I'll be honest, I'm not a fan of football, so the allure of a fantasy football league completely eludes me, but I can understand obsession. (We're all a little obsessed with TV here at TV Fanatic.) 
Still, trading one's wife for a killer fantasy football trade makes even obsession seem like an extreme understatement.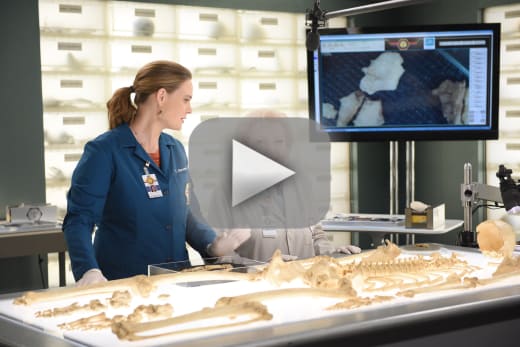 Betty White joined in on the fun on Bones Season 11 Episode 4 as intern Dr. Beth Mayer, who appeared to know everything about everything – even fantasy football. I believe she's the only person who has ever stepped foot in that lab who truly made Brennan feel inferior.
Brennan shouldn't have worried. In four or five more decades she may have just as much life experience as Dr. Mayer…hopefully with a lot less husbands. 
Speaking of husbands, Brennan was killing off Agent Andy in her books, and Booth was horrified. Rightly so. Brennan had based Agent Andy on him. It's not nice to read about your own death, even if it is fictional. 
Was Dr. Mayer correct? Did Brennan kill off Agent Andy because life at home was too peaceful, too boring? 
I'm not convinced it didn't stem from some latent anger she's carrying around concerning her husband. In the past year, Booth lied to her about his gambling habit which led to her paying $30,000 to a bookie who was threatening her and her child. Then Booth kept his interactions with Jared from her which led to Brennan believing her husband had actually been killed.
Killing off Agent Andy because of boredom just doesn't ring true to me, but if Dr. Mayer says it's so, it's hard to argue. She certainly gave Brennan sound advice in this Bones quote…
What you and Booth have is special. Embrace the heat.

Dr. Mayer
I was happy to hear that Booth is now acknowledging his urge to gamble both to himself and to Brennan. Being honest and open with both himself and his wife is probably the best way to combat his addiction and have a healthy marriage. 
Elsewhere, Hodgins was helping out Oliver Wells who had a problem of a personal nature. 
Have you ever noticed how much Wells and Hodgins look alike. It was never more apparent than when they went traipsing through the woods in search of coy-wolf poop to sift through. Who ever said that working at the Jeffersonian didn't have it's up side. 
Although Dr. Mayer's advice about Wells getting out of his own head was probably a good idea, the last thing I wanted to see was Wells getting wild. 
I couldn't believe that Hodgins shot Wells in the hand with the tranquilizer. That dart still had to hit with quite an amount of force. In real life I wonder if that dart would have ripped his hand apart as such close range. Either way, it made me wince just watching.   
Check back on Monday to see what our Bones Round Table Team has to say and then be back next week for our review of Bones Season 11 Episode 5. 
If you can't wait until the, you can watch Bones online here at TV Fanatic. 
C. Orlando is a TV Fanatic Staff Writer. Follow her on Twitter.