Bones Season 11 Episode 2 Review: The Brother in the Basement

Christine Orlando at . Updated at .
Sometimes you really can go home again, and thank goodness that's exactly what happened on Bones Season 11 Episode 2 as Booth's rogue mission wrapped up and gave most, if not all, characters a happy ending. 
Knowing that Booth had to set his own brother's body on fire was horrifying, but it was the only way to keep his cover and save his own life. Kevin O'Donald seemed the only member of the team of mercenaries who was even remotely loyal.
The other two were like a couple of vultures just waiting for Booth to die.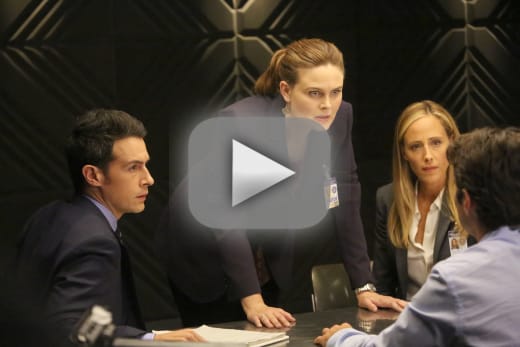 Speaking of vultures, watching them pick apart the bodies being eaten away by the battery acid was seriously gross. 
Agent Grace Miller turned out to be a worse FBI agent than I originally thought. She slept with her partner, then threatened to kill his new girlfriend when he broke up with her. They obviously should have asked to be reassigned to new partners after that. Instead, they didn't trust one another or have each other's backs which is partly why Richard and Chloe were killed. 
I couldn't believe Miller's team missed the severed finger in the freezer. That was sloppy work, but apparently they were not the only ones slipping. 
Miller pointed out that the Jeffersonian wasn't at the top of its game either since Dr. Brennan left and Angela, in this Bones quote, said something that disturbed me…
At the end of the day Brennan knows that she's the one who quit so whatever cases went unsolved, they're on her conscience. They're not on ours.

Angela
I disagree. Yes, Brennan is the best, but I don't believe she should feel any guilt over leaving if that's what was right for her and her family. It's all of the members of the Jeffersonian's job to solve cases. If they went unsolved in her absence, then that's on the people working them, not on Brennan. 
Which brings us to Cam and Arastoo. It was nice to see Cam's history with Booth and Jared brought up and that she was hurting over the loss. 
I was a little surprised at the way Cam and Arastoo's relationship played out. He came to the realization that he was never going to be top dog at the Jeffersonian, and he needed to hone his skills elsewhere. A lot of people suspected that Cam would turn down his proposal over a work conflict, but it turned out that Arastoo never really gave her the opportunity. He's the one who has decided work comes before love. I'm not saying his decision was wrong, I just wasn't expecting it, and it's sad to see Cam alone once again. She deserves someone in her life, too.
On the upside, Hodgins jealousy over Dr. Medsker was amusing, but does he really think Angela's going to fall for any handsome doctor who walks into the lab? I didn't really think twice that the doctor's supposed carpal tunnel brace could be masking an injury, but I loved that he turned out to be a killer. He really was an arrogant ass. 
Hodgins and Angela's glee over taking the kids for the night for a big sleepover had me wondering if there will be a new addition to their family this season. 
Finally we get to Booth and Brennan. If you had any doubt how worried Brennan was about Booth, you just needed to hear her end of this conversation with Cam…
Cam: So you're saying you have faith.
Brennan: I'm saying I can't imagine a world where Booth doesn't come home.
Brennan was simply so relieved that her husband was alive and safe, aside from a healing gunshot wound, that she forgave him for hiding information about his brother from her. However, I do wonder if that will end up being a topic of conversation between them in the future.
Surprisingly, Brennan needed to convince Booth that it was okay to go back to the career he loved and was so good at…
You are the bravest most selfless man I have ever met and as much as I hate seeing you here in pain and suffering, I also know this is who you genuinely are.

Brennan
So Brennan will head back to the Jeffersonian and Booth will return to the FBI. I love it when a show realizes why their fans tune in, and I believe it's to see our core team working together as often as possible. I wish other shows (do you hear me Castle?) would take note of it. 
I have no doubt there will be some bumps along the way, especially as Aubrey has stepped up his role at the FBI, but I also don't doubt that watching them work it out will be fun. 
Check back in on Monday for to see what our Bones Round Table Team has to say about this episode, and then look for our review of Bones Season 11 Episode 3 here at TV Fanatic.
And if you need even more, you can watch Bones online any time here at TV Fanatic. 
C. Orlando is a TV Fanatic Staff Writer. Follow her on Twitter.