Awkward Season 5 Episode 9 Review: Say No to the Dress
Paul Dailly at .
Was prom a success?
On Awkward Season 5 Episode 9, our characters went through several hurdles as they got ready for prom, but the only one remotely excited for it was Lissa. 
Jenna probably had the worst day ever as she went all out to get ready for it, only for her dad to offer her and Tamara red wine. Her dress was ruined and it led to a last ditch effort to try get a new dress, even though all the shops were shut.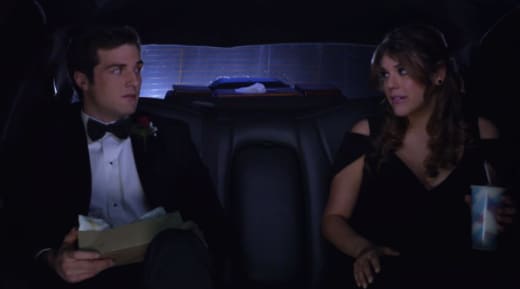 Just when all hope was lost, T managed to get a dress, but it was way too long. I can't be the only one who expected her to give it an amazing makeover, but she ruined it. Jenna was understandably pissed off, but she still went to prom. Was anyone else totally wishing she was going with Matty? I know I was. 
I'm sorry I ruined your emergency dress surgery. I am no Molly Ringwald.

Tamara
Elsewhere, Sadie decided she's had enough of the ridiculous charade she's keeping up with her mother and told her where the door is. The reason we know she made the right decision is because the vile woman didn't even attempt to win her back. The only thing she was concerned about was whether Sadie was going to tell Ted about how much of a bitch she is. 
You are so full of shit, Darlene. I should never have let you back into my life.

Sadie
It showed a great sense of maturity that Sadie kept it quiet. Instead, she said he'd realize what she's really like down the line. This shows us just how much this character has grown since Awkward Season 1. 
She and Matty are best friends, so it was also nice of her to tell him he loves Jenna. She hates Jenna and could just have easily sent him on a path without her, but she thought about his feelings rather than her own and he set out to go get her, but we need to wait until next week to see how all of that plays out!
Tamara got back together with her boring marine boyfriend. She could do so much better than him. Her character has been ruined this season because of the whole fake engagement, so hopefully them taking it slower will result in him being more likeable. 
"Say No to the Dress" was the best episode of Awkward in a while. It had a lot of hilarious moments and it looks like the storyline is finally going somewhere as we get closer to saying goodbye to the high school years.
Remember you can watch Awkward online, right here on TV Fanatic. Get caught up on all the drama now!
What did you think of the episode? Will Jenna and Matty finally get back together next week? What's coming up? Chat with me in the comments!
Note: Awkward Season 5 Episode 10 airs Monday November 2 at 9/8C on MTV. 
Paul Dailly is the Associate Editor for TV Fanatic. Follow him on Twitter.