NCIS: New Orleans Producers Tease New Season, New Dangers, Scott Bakula in a Red Dress
Jim Halterman at .
The various NCIS teams are all back in action this week, including New Orleans.
The latest spinoff in the popular CBS franchise had a strong first season and, with NCIS: New Orleans Season 2 kicking off tonight, executive producers Jeffrey Lieber and Gary Glasberg promise new adventures, romance on the show and, yes, Scott Bakula and Lucas Black in red dresses.
What else did Lieber and Glasberg have to spill in our chat? Let's find out, shall we?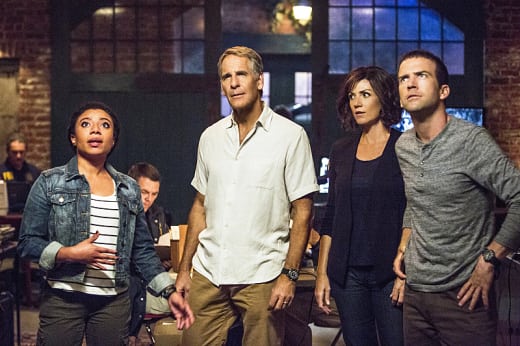 TV Fanatic: What did you learn in the doing the first season that helped you shape the second?
Jeffrey Lieber: I think we learned to fall in love with New Orleans. I spent a little time there before coming on the show and went down there and within five minutes I just stood in the middle of a street and did a slow 360 and thought 'Oh my God! There's 10 seasons worth of stories here behind the doors, behind the windows and in the distance.'
We just slowly fell in love with the city and not from a tourist point of view but from the people who are now down there and spending our time there. We tried to take that momentum and really broaden the size and scope of story but always keep it in that city.
Gary Glasberg: It's funny, Jim, because I had this thing percolating in my brain for awhile and you're always afraid you're going to run out of stories but it's a city that doesn't run out of stories. It's a city that has so many layers to it. It's extremely gratifying when all of a sudden it dawns on you 'Oh my God, we have more than enough to work with here.'
TVF: I've been there so know how special New Orleans is but for the sake of the show, what makes the city unique?
JL: I think New Orleans exists on three different levels for us. The first is there are only a few cities that have the kind of cultural history that goes way back. So, there's a pride to that city, there's an ownership to that city [and] it's a city of 600,000 people but it casts a shadow that is much, much larger.
Second, there's a natural dovetailing between the navy and the military in the city. There are bases down there, the Gulf is there so it's a natural segue between the cultural part of the city and the military part of the city.
And the third part is that from a visual standpoint, it is so highly specific and so highly rich from the French Quarter to the swamps to the Gulf, to the ports and to the parts that were affected by Katrina and have been rebuilt and the parts affected by Katrina and not rebuilt.
GG: The only other thing I would add is diversity…the melting pot that is New Orleans is extraordinary and you literally have every conceivable layer of things to work with.
TVF: Are we getting season-long arcs or mini arcs this year?
JL: We're launching a lot this season. Every character of the seven leads has some kind of long-term seasonal arcs from Pride, who buys the bar in the season opener that is a place where his mother used to sing when he was a child. We'll watch him build it up and bring in some acts to be in the place.
We're going to tell the story with Pride and LaSalle which goes back to the last murder before the storm 10 years ago. With Brody we launch a story about her dead sister and bring her mother in. Each character has these long character arcs so every episode will have movement in that direction.
On the more procedural end, we open the season with a really big case and a really large opening. By the end of the episode, it opens the door to a bad guy who will be a constant irritant in the season.
GG: Jeff did a really lovely job of setting up a situation that puts Pride in danger for the better part of the season and gives everyone plenty to work with as the season progresses.
TVF: Is it safe to say that in terms of the supporting cast that we'll be diving into who they are and their lives a bit more in the second season?
JL: Yes, season one of a show, even one tied to a franchise, inevitably you're trying to figure out who these people are and how they tick. Now we seem to know more about them so we'll go deeper and farther and build more and more relationships that take the family that is this show and expand it as far out as we can.
TVF: How do you approach romance for this show specifically since viewers always like that part but you also don't want it to take over the crime solving element?
JL: I think where romance and characters are concerned in general, we're going to try to push harder and harder for more stories that arc over long periods of time and more stories that bring episodes together. There will be a fair amount of it this season and a fair amount of people starting to find interests in other people and there will be complications. We're going to try as hard as possible to build characters, challenges and stories and hopes and wishes that you know on a week-to-week basis will be there and drive the other half of the story.
GG: With the original show it's all about the chemistry of the people that we bring together on these shows and New Orleans is no exception to that. In delving into Brody's backstory, LaSalle's backstory, now we've introduced Percy…we've got really rich characters with quirks and people you just want to spend time with and we're excited to match them up with others and create the long-standing arcs that we were lucky enough to have on NCIS, as well. Whether it was introducing Delilah to McGee, Tony's various romances or even internally with Tony and Ziva, if you're lucky enough to have that kind of chemistry, you run with it.
TVF: Is there a chance we can have the New Orleans co-workers romance each other?
JL: There definitely is a combo that we're interested in probing, seeing and we're already actively in the process of playing with that.
GG: You start to feel stuff between certain characters, you experiment and you try and you take advantage of some really gifted actors that you have. You keep your fingers crossed and hope for the best.
TVF: With that origin episode, is it just a story told or do we get flashbacks?
JL: We see flashbacks. There's a bunch of flashbacks this season and we see a lot of origin stories but this particular episode between Pride and LaSalle takes place just before the storm. It gives us their origins and the current makeup of the team. It's a rich, amazing episode. That will be the Thanksgiving episode.
TVF: It's early in the season but is there a particular episode you're excited for fans to see at this point?
JL: There a ton, actually, and I know that's what I'm supposed to say but that's the truth. There's an amazing episode with a big event that happens at an air show. I just saw photos of all of our cast in red dresses for a thing called The Red Dress Run including Scott Bakula and Lucas Black. Any episode that has Lucas Black and Scott Bakula in a red dress makes me happy.
The opening episode is just scope-wise and size-wise bigger than anything we've ever done. The episode where we get Pride and LaSalle's origin story is this deep, rich, fascinating thing. To say there is one [episode] would be to underestimate the amount of things we're excited for people to see.
NCIS: New Orleans Season 2 Episode 1 airs tonight at 9/8c on CBS. 
Jim Halterman is the West Coast Editor of TV Fanatic and the owner of JimHalterman.com. Follow him on Twitter.