Fear the Walking Dead Season 1 Episode 4 Review: Not Fade Away

Sean McKenna at . Updated at .
With the government showing up on Fear the Walking Dead Season 1, it makes sense that the people within the established safe zone would be pretty quick to trust.
After all, they are there to help, right?
Of course, I'm sure most viewers have seen plenty of other shows and similar scenarios to see the warning signs and know that something is definitely amiss, and the military may not quite be the saviors they appear to be.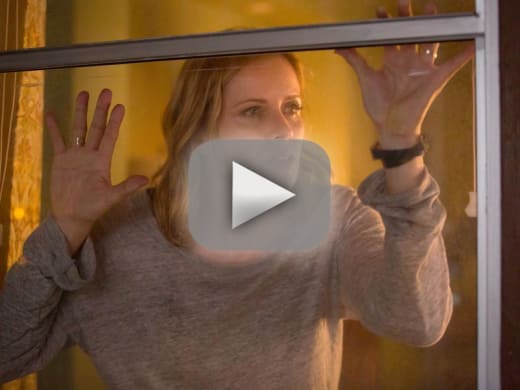 I mean, what's up with this "hospital" that all the sick people keep getting carted off to on Fear the Walking Dead Season 1 Episode 4? It better not be like when your parents tell you your dog was sent to live on a farm…
And while Madison running away from the safe zone (I swear I thought it would be Chris) just seemed like a dumb thing to do, she was able to get a glimpse at some pretty horrific stuff. That includes people not looking sick but still riddled with bullets anyway.
She definitely knows something is up, and it's just too bad that Travis is busy playing Mr. Nice Guy to see it as quickly as her.
Granted, his breakdown at the end of the escalation of events and him witnessing that light off in the distance, accompanied by some gun flashes, may be a better push to get him to work with Madison.
Because let's face it, we all were Alicia when she told them to stop fighting because it was so ridiculous. I wish Alicia was there when Madison played the stupid blame game on Liza. C'mon, Madison. Liza isn't the one to blame at all, and it seemed like a silly way to drum up some more drama for the family.
Because as things are seemingly good inside the safe zone, the family is falling apart.
I worry about Alicia, especially since she's still grieving and hope that her cutting into herself doesn't put her on the top of the list for next walker. That would be such a waste for her character.
I still find Nick to be interesting, and it's great that he hasn't been able to kick his drug habit yet. That would have been far too easy for sure. In fact, the most shocking and tense moment of the night was when the military took Nick. It was a definite surprise, as was that smackdown before escorting him away.
Is Nick in danger of being killed off? Or will we get to find out just what is going on inside the hospital?
If anything, it's the fact that the episode seemed very tame and much slower than normal that may have gotten me much more amped up over those final moments. It was like, finally, something is going down.
We got some more time to see the characters in this new environment, including Ofelia getting cozy with that one soldier (but was she using him for meds?) and Lt. Moyers taking control of the area in a very authoritative way. Will he wind up being some big villain for the show?
I also like that we are getting the military presence. It feels like something fresh that can be explored, and I'm curious to know how much the government actually knows about what's going on.
But this was a much less engaging episode than I had hoped considering how things seemed to get going in Fear the Walking Dead Season 1 Episode 3. I even found myself wondering when we might get another scene of the family playing Monopoly.
While we did get some time to focus on the characters coping with their new world inside the safe zone, some a bit better than others, I really perked up when Nick was taken. Because things may have been previously calm, but they are looking to ramp right back up all over again.
What did you think of "Not Fade Away"? Is Nick in trouble? Sound off below, and be sure to watch Fear the Walking Dead online right here at TV Fanatic!
NOTE: Fear the Walking Dead Season 1 Episode 5, "Cobalt," will air on Sept. 27 at 9 p.m.
Sean McKenna was a TV Fanatic Staff Writer. He retired in May of 2017. Follow him on Twitter.