The bidding for Basic Black began, Hope was blindsided by Aiden's proposal of marriage and Patch was back in Salem, much to Kayla's shock and dismay this week in Salem.
Our TV Fanatics Jack Ori and Christine Orlando are joined by Vanessa from MyHourglass a Days of Our Lives Fan Forum to debate who should run Basic Black, if Hope should have accepted Aiden's proposal and what was their favorite Steve scene this week on Days of Our Lives.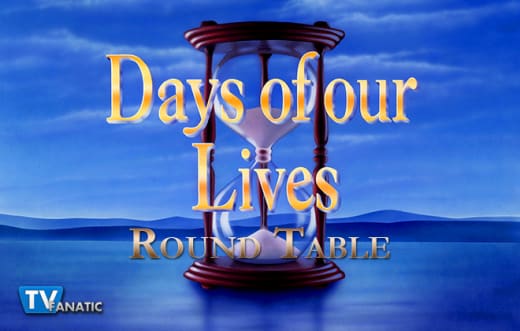 Now that he's back, what was your favorite Steve scene this week?
Vanessa: I liked when he went to talk to Victor about Bo.
Jack: I loved his confrontation with Victor! Steve isn't going to rest until he finds out what's going on with Bo. I liked how he wouldn't take no for an answer and how he saw through those letters (that Victor should have seen through too but that's another story.)
Christine: We're all in agreement then. I loved Steve and Victor. They have such history together. They know each other's dark sides and don't have to hide them. I love that we may get Steve and Victor working together to find Bo. This story has me excited. 
Do you think Abigail actually loves Ben?
Vanessa: I think Abby loves Ben but she's not in love with him. It's obvious in the way she forced that laugh with Audrey the Midwife, but she's in love with Chad.
Jack: I think she thinks she does. But she and Ben have always had more of a friends-with-benefits relationship than a real romance in my opinion.
Christine: She cares about him and she thinks she should love him but she's definitely not in love with him. That said, she's putting on a heck of a good face with Ben now they she believes she's carrying his baby. I just wonder how long that will last. 
Theresa trying to buy Basic Black? Ridiculous storyline or wonderful potential?
Vanessa: I think it's ridiculous, Theresa needs to spend time with her son before making any business ventures.
Jack: Great potential! I like seeing her be excited and motivated although I don't think she is ready to run a company herself. And she has a backstory! 
Christine: Both. It's ridiculous to think that she has the background to be anything more than entry level…but this is a soap opera. On the flip side I'm thrilled that she has goals that don't include chasing a man or getting revenge. This is definitely a step in the right direction for this character. 
Who do you want to see run Basic Black?
Vanessa: Nicole, no, hesitation. She has experience with Titan and I just want her to win.
Jack: Toss up between Nicole and Kate. I want to see Nicole succeed and be happy but I am disappointed she won't be doing anything investigative.
Christine:  I'm hoping that Kate, Nicole, and Theresa all team up to run Basic Black. I'm wondering if that's the plan Brady will come up. That could be a lot of fun if done well. 
Were you surprised that Hope said no to Aiden's proposal?
Vanessa: Marriage is a big step. So I can't say that I was surprised at Hope's refusal, no matter how much she denies it she still loves Bo.
Jack: Yes, very. There's no reason for her to be so hesitant considering that their relationship is so similar to a marriage anyway. The only reason I can think of is we're supposed to root for her to say no, which I don't like.
Christine:  I completely understand her saying she needs time to consider it. She just got out of a decades long marriage with the love of her life, plus she has a daughter to think about. Marriage is a huge step and even if I didn't know something was off with Aiden, I'd still think he was rushing things by proposing. 
What, if anything, disappointed you this week in Salem?
Vanessa: Justin is being an jerk. I understand that all the evidence is pointing towards Chad but he's just being a hypocrite when it comes to Chad being a Dimera's. While Rafe is actually using his brain until it came to Rafe telling Eric that Chad was the only suspect.
Jack: More mysterious phone calls with Aiden. It would have been a richer story for Aiden and Hope to be working together and Aiden discovers Bo has been held captive. Also, while Kyle/Clyde/JJ was exciting, Kyle's sudden demise was anticlimatic and disappointing.
Christine: Eric being such a jerk with Chad. Was he this judgmental when he was a priest? 
What was your favorite quote, scene, or storyline from the week?
Vanessa: Abby's line in front of Ben "I believe him." I squealed so loud when she did that. After being verbally attacked twice in the same day, Chad needed to hear it.
Jack: I really liked seeing Maggie be Theresa's mentor. Also, Steve and Victor both had some great lines in their exchange and I'm eager to see where it goes next.
Christine: There was so much greatness this week but Maggie trying to help Theresa was a real highlight. Theresa needs someone who will be honest with her but encourage her as well, despite all she's done. Now that she's living under the Kiriakis roof and has a child, Maggie is the perfect person to help Theresa figure things out.  I've been waiting for this for a long time. 
Want to talk more about what's happening in Salem? Check out our Days of Our Lives recap and review here at TV Fanatic and take our poll about who should run Basic Black.
C. Orlando is a TV Fanatic Staff Writer. Follow her on Twitter.