Bellamy Young Teases Scandal Season 5, An Independent Mellie
Jim Halterman at .
Quick, someone go out and buy Mellie some fried chicken.
As you probably recall, at the end of Scandal Season 4, our favorite First Lady won her Senate seat. However, due to some damning information Fitz gathered, he then kicked Mellie out of the White House and -  shocker! - Olivia Pope was soon by his side.
How will she react on to being on her own? Will she be able to find something stronger than a bucket of extra crispy chicken to ease the pain?
I recently chatted up Bellamy Young and grabbed some insight into what we'll see when Scandal Season 5 kicks off tonight...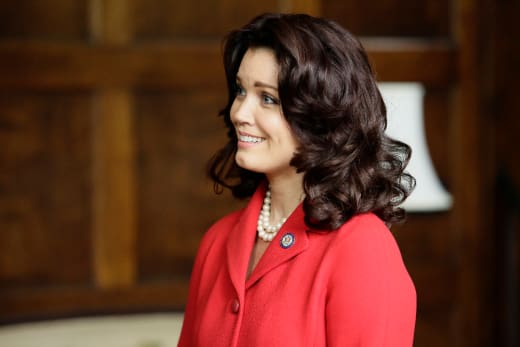 TV Fanatic: Going into the new season, what is Mellie's emotional state?
Bellamy Young: I think we were all relieved that we are starting up almost immediately from where we left off in the finale. You know Shonda. She can go back in time, forward in time. But there was so much in that season finale, so much left to explore. So that's where we are.
Mellie has just been kicked out. It's the best of times and the worst of times. She's just won her place in the Senate, has been kicked out of the White House and knows in her heart that Miss Olivia Pope is going to move right in. So we get to jump right in to that horrible, horrible moment. It's not an easy time for Mellie but it makes for great TV.
TVF: Is there something to the saying, be careful what you wish for?
BY: Absolutely. And actually when I was trying to arc out my episode…that's really exactly what that end point was for me. Sometimes winning feels like losing.
TVF: And there were still some nice moments between Fitz and Mellie last season…
BY:  I know! I love that!
TVF: So it did hurt a bit more when he pushes her out.
BY: And she asks so little, she really does! Just a crumb of kindness and she can live for a month. She doesn't ask to be his lover but she just wants to be partners because they're great partners. It was gutting the way he drew her out at the end of the season. I was so shocked at the table read and it was hard to hear those things he said to her.
TVF: But it was nice for Mellie to find her voice in a lot of ways with the Senate run. Do you think we'll see a different Mellie this season because of that?
BY: Yes. It's interesting. If things keep going as they were at the end of last year, Mellie will really have to find herself alone. She'll be on her feet alone and that will be a new thing for her. She's lived her whole life, in her mind at least, in a partnership and support so it will be interesting to see where it goes.
I have no way of knowing but it will be very interesting if that's the road she goes down, really finding herself a single, working mother. It will be very interesting to change the rhetoric a bit.
TVF: Do we see her new digs? Where she's living?
BY: We get to see her office. I can say she has a beautiful new Senate office.
TVF: Does Mellie have an assistant in her new role?
BY: I took Rachel from the White House with me. Sweet Molly Baker, who has always played Rachel.
TVF: Who is Mellie leaning on through all of this? Does she have anyone?
BY: Without saying too much, I can say that Mellie finds herself alone at this moment. It's a sad start of the season. Last season was a sad start for her, too.
TVF: What were you doing on your hiatus?
BY: I did two movies and I put my album [Far Away So Close] out. It's on iTunes.
Scandal Season 5 Episode 1 airs TONIGHT at 9/8c on ABC.
Jim Halterman is the West Coast Editor of TV Fanatic and the owner of JimHalterman.com. Follow him on Twitter.