Tyrant Season 2 Episode 9 Review: Inside Men and Outside Women

Elizabeth Harlow at . Updated at .
Paranoia strikes deep. 
On Tyrant Season 2 Episode 9, Jamal's instability has combined with substance abuse to create a perfect storm of suspicion. He's so obsessed with finding who may have betrayed him that he can't actually accomplish anything.
Meanwhile, Barry had to deal with the fallout of exposing himself to Molly and manage a rebellion all at once. He's still struggling to find the balance between duty to his country and duty to his family.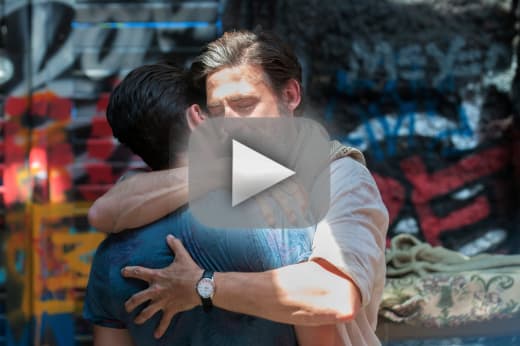 Barry finally came clean to Molly, and she wasn't too happy with his revelation. You can't blame her for her reactions, as there wasn't really a good reason for Barry's behavior. Even if there was no way to get back to his family at the time, letting them think he was dead was an extreme solution. 
Jennifer Finnigan played the entire spectrum of emotion to perfection. From her shock at the first phone call to the relief and acceptance after Sammy escaped the Caliphate, I was right there with her. The rant of righteous indignation was Molly at her finest.
Somebody needed to call Barry on his crap, and who better than his wife?
I forgot to tell you, Barry, how badly you've destroyed me, how badly you've damaged our family, and that you're a horrible person. Since you've called, I've actually had moments where I found myself wishing you were dead. Truly dead. Gone.

Molly
The way that Jimmy just left was disappointing. I'm not dying for him to interfere in Molly and Barry's relationship (they have enough problems without involving him) but I was left wondering what the point of the character was. It was a waste of Jake Weber. 
Sammy continued to grow up tonight. Some of the old, entitled "poor me" attitude remains, but he actually showed concern for other people which is nothing short of amazing. His outrage on Molly's behalf was refreshing, but it was his connection to Ru'A that stood out to me. 
She wasn't family, or a potential romantic partner (despite her interest in him); she was simply another young person fighting against the injustice of the Caliphate. Even after Abdul's death, Sammy was only interested in the resistance movement because of his own loss. But now he's seeing the bigger picture, and realizing his own insignificance.
It's okay to laugh. Life's already awful enough.

Ru'A
While Ru'A's death served to bring Sammy into the fold of the Red Hand, Munir and Kasim's deaths were just two more lives lost to the sociopathic ideology of a theocratic extremist militant group. There was no greater meaning in their deaths, just the execution of a traitor and a brother wracked with guilt. 
Speaking of both sociopathy and guilt ridden brothers, Jamal was in rare form tonight. I'm really struggling to follow his logic lately. He was willing to give up Ma'an (ignoring the likelihood that the Caliphate would use it as a base to wage war on the rest of Abuddin), and then ordered Rami's death.
He's obsessed over God being angry at him because of the way he treated Barry, but having his own son killed isn't going to cause any problems with the deity? 
Of course, Rami could stand to work on his diplomacy skills (surprising since he worked for the UN). The extent to which he bungles interactions with his father is mind boggling. He crossed the line from impolitic to downright rude, and his case of foot in mouth disease may have turned fatal. 
Yes, I defied you, and you should thank me for it, because this nation is hanging on by a thread. And all you can do is talk about who ordered what and who defied who. For God's sake, you old drunken fool, stand down. Let me do my job, and maybe, just maybe, I'll be able to save yours.

Rami
It's like he's the one person in the world who has never had to deal with an infuriatingly inept superior before. I'm afraid that Jamal's (quite predictable) order to have Rami killed is going to go horribly wrong and end with Ahmed's demise instead. I hope I'm wrong; I'm just starting to like him.
Ahmed might be the incompetent son, but he's turned into a real sweetheart. He really, truly loves Nusrat. Right now, their relationship is something out of O. Henry, and I just hope that they can find a way to stay together. 
I don't want you to fight for me. I just...I just want it to be over. Really.

Nusrat
However, it must be said that this story arc is done a disservice by the incomplete development of Abuddin's culture. I can't help but sit and think up alternatives to an annulment. Creating a detail rich world in which to set your story only enhances storytelling, and Tyrant's cop out takes away from an otherwise great show. 
I'm looking forward to the last four episodes. Next week should see the attempt on Rami's life, and I can't even imagine what the fallout from that will be. Leila looked pretty distressed in the preview, leading to my worry for Ahmed's safety. Nusrat was pretty chummy with her brother in law this evening, so I'd expect further developments on that front as well. 
I'd like to see some more development on our characters with the Caliphate, as they've sort of stalled out. Abu Omar has been the quiet observer of Rashid's grief and rage instead of head psycho in charge. Seeing more of his story, and Jane's would be really interesting.
The big questions for the last four episodes are how much longer can Jamal go on the way he has and how much longer can Barry hide himself from the world at large. I don't think either question will be answered next week on "Zanjir," but we're closing in on them as the season wraps up.
Watch Tyrant online and share your thoughts in the comments!
Elizabeth Harlow was a staff writer for TV Fanatic. She left the organization in October 2018.