I'm not going to keep complaining about how this show has rushed us through the story, whisking us through history in the span of just a few episodes with little chance for character development or attention to detail.
I'm coming to terms with it. Sort of.
Instead, I want to focus on on the reasons Rene is still my favorite character, the way Louise finally seems to come out of her shell, and the significance of gender roles on The Astronaut Wives Club Season 1 Episode 9.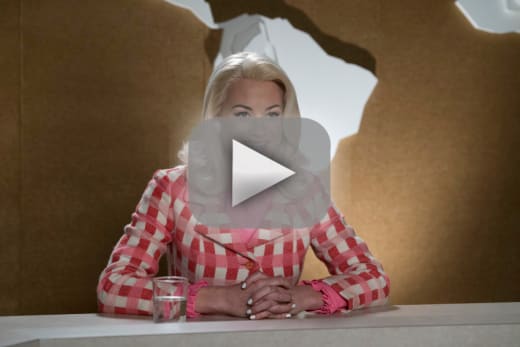 Marge makes it her mission to help Harriet divorce her cheating husband, which only continues to show how gender roles were so clearly defined in that time period. It's frustrating and offensive that this woman is trapped in a marriage, and even her lawyer tells her divorce is a bad idea. Adding to that, Deke insists that Marge convince Harriet to let it go for the sake of keeping up appearances.
Still, Marge and Harriet keep their stand, and Harriet gets the divorce, even if it is only because her husband wants to marry another woman.
There are a few themes that have stood out throughout this series, and one is how much the astronaut wives have had to sacrifice for their husbands – often, their own identities. They've spent years now focusing on supporting their husbands and maintaining a "perfect" image for the media.
Louise has maintained that image better than anyone, but it's made her character insufferable to watch. That is, until now. Alan's motivation and drive offends her, making her believe that she and the children aren't enough to keep him happy.
But despite his disease, Alan is willing to risk a surgery that might just mean he could have a shot at going to the moon. That drive actually makes me appreciate Alan even more – he's one of few characters who has given me the chance to change my opinion for the better.
And Louise is another. She's been difficult to crack and far too perfect. Leave it to a flat tire and a bit of culture shock to change things. While staying with a group of hippies (I could have watched an entire episode of that, by the way) Alan encourages her to swing on the rope swing with him, breaking her ever so slightly out of her shell. She even genuinely laughs, then tells Alan to have that surgery.
Then there is Rene. I was worried we wouldn't see much more of her, but she's still spending time with the wives, and she's continuing to find her own place in the world.
Her ambition is extraordinary. We see her working on Bobby Kennedy's campaign, which makes complete sense for her character. Then, when he is assassinated (something else I wish we could have spend more time on), she finds it difficult to move on.
It's hard to go back to writing about the world when, for a minute, I was actually a part of shaping it.

Rene
Luckily, there's another theme that stands out, and it's one of friendship. Annie sets up an opportunity for Rene to do something spectacular, and then encourages her to go through with it. Rene, with her poise and confidence, gets to call the Apollo 8 mission. And she does it in style. We can all learn a little something from Rene Carpenter.
Other Thoughts:
I know I said I wasn't going to complain about how fast the story is moving, but I feel slighted that we don't get to see more of Betty as she deals with the loss of her husband.
Susan's fear for her husband not only includes the possibility that he could die, but also that he would be lost in space forever. All things considered, I think she copes with it well, and I'm glad we get the chance to rejoice with her when everything goes according to plan.
What did you think of "The Dark Side"? Share your thoughts in the comments below!
Need to catch up on past episodes? You can always watch The Astronaut Wives Club online right here via TV Fanatic.
And don't miss next week's season finale, The Astronaut Wives Club Season 1 Episode 10, "Landing."
Ashley Bissette Sumerel was a staff writer for TV Fanatic. She retired in September 2017. Follow her on Twitter and on Google+.