Pretty Little Liars Season 6 Episode 10 Review: Game Over, Charles
Paul Dailly at . Updated at .
Cece Drake, you absolutely crazy bitch!
On Pretty Little Liars Season 6 Episode 10, we got the reveal we've been awaiting for five years, and it surprisingly lived up to the hype. I'm not going to sugarcoat it, it was a bit rough around the edges, but it all made sense and for the first time in ages.
I feel like I've gained something by watching the show for this long (and no, it's not patience). We have solid answers and the show is heading off in an exciting direction!
Back to those pesky answers. Here I was thinking that Wren was A and he and Melissa were in cahoots. How wrong I was! Marlene King wasn't lying for a change, right?! So... Cece is ChArles and Sara is Red Coat/ Black Swan. I would have liked if Red Coat and Black Swan were two different people, but for storyline purposes, it all kind of fell into place. 
Sara is probably the most craziest person on the show. She's managed to fool everyone over the past ten episodes, even up to the last minute. I couldn't believe my eyes when she was setting up the bomb. This will hurt Emily A LOT. I have to give props to Ems for knocking her out cold. Bitch had it coming to her. 
It was a neat trick having the liars in the vault watching it all unfold. It was brilliant way to tell us at home the story. We were on the same page as the liars throughout. We also got further proof that the DiLaurentis family are a twisted bunch. Sure, Charlie tried to kill Alison, but bear in mind that this is a kid who was treated like the worst type of being.
Mr. and Mrs. D created this monster and they deserve to pay for it. But we never found out who killed Mrs. D. Although we saw Charles find her dead. I suppose they need to keep some things under wraps to tide them over the next few seasons. 
Bullying the girls really was a game that no one could give up. Cece even tried to give it up when the liars thought they killed A off in New York, but she just couldn't leave them alone. I feel like now that we've seen it all go down, it makes sense that Cece is the masked individual.
In the flashbacks there were a lot of subtle hints that I know I never clocked onto when I first watched the earier episodes. They could have made anyone the bad guy, but they really went all out to cover their tracks and ensure they weren't throwing pretty little plot holes at us. 
The hour signed off with a five-year time jump which showed Alison writing Mrs. Rollins on the board and the gals running in exclaiming that, "He's here!" It was an interesting conclusion that's rebooted the show in a lot of ways. I couldn't help but think that this would have been a perfect way to end the show, but I'm intrigued to see who this new big bad is and if Ali is really married. 
"Game Over, Charles" was a solid effort that course corrected the series. It shows that the powers that be can throw curve balls our way without them feeling forced. All of the reveals tonight felt very natural, and it made a lot more sense than some thought it would. See you in January, liars!
Other important reveals from the episode:
Bethany killed Mrs. Cavanaugh while trying to cover up for Charles. Come on, we all knew it wasn't a suicide. There are no suicides in Rosewood. Just a lot of murder. 
Mona's shoes are the best. I wonder if she made them when she was A? Mona killed Bethany thinking it was Ali. Through flashbacks, it's clear Mona was very unwell, and I kind of take back every bad thing I've said about her. 
Mrs. D paid off Wilden to cover up Cece hitting Ali when she thought it was Bethany. Confused yet? Join the club!
Mona appeared dead last season because A used serum on her, much like she did to Jason and Mr. D tonight. What happened to them? Did they survive?
Hit the comments with you're take on the finale. Did it live up to your expectations? Look out for a bumper edition of the Pretty Little Liars Round Table later this week!
Remember you watch Pretty Little Liars online right here on TV Fanatic. Get clued up now!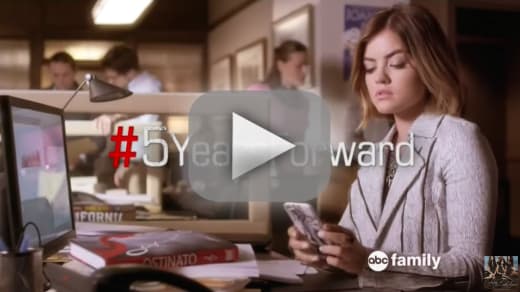 Paul Dailly is the Associate Editor for TV Fanatic. Follow him on Twitter.