Wayward Pines Season 1 Episode 10 Review: Cycle

Stacy Glanzman at . Updated at .
So much for wrapping it all up in a nice, neat, little bow for us. 
Instead, Wayward Pines Season 1 Episode 10 left us with a mind blowing ending that I'm guessing most of us did not see coming. 
So what happened? Who survived? Let's discuss!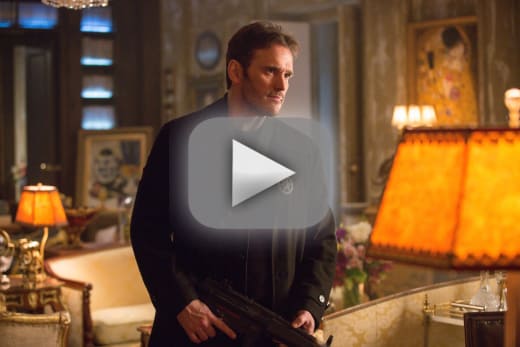 Obviously we have to start with that ending. That. Was. Crazy. 
After finally bringing the town together and letting everyone in on the truth, after taking down David Pilcher, after everything that we went through with these characters all season, the town ended up exactly where it started. 
Nothing has changed. Pilcher is dead and Pam was supposed to make it all better. Her speech to Kate was so promising. 
If we are going to survive we're going to have to make it better. No more lies, no more surveillance, no more reckonings. If we work together, I believe it is possible. I believe we can succeed. We have to. This is it. This is all that's left. This is the last of humanity.

Pam
So what happened? I think it's safe to say those awful, brainwashed kids who found their ark somehow managed to take over the town. How did they do it? Unfortunately, we'll probably never know. 
So many questions have been left unanswered. When Ben wakes up, we know Amy is alive and a nurse, but we don't know what happened to anyone else. Is Pam or Theresa still alive? I'm guessing Pam was most likely killed in the First Generation's hostile takeover. 
Why did they leave Ben alive, and why choose this time, three years later, to wake him up? 
Okay, that's out of the way, we can move on to the rest of the episode. There was plenty of action and suspense leading up to that crazy ending as the town attempted to save themselves from the abbies who left all kinds of death and destruction in their wake. 
Theresa and Kate were both pretty badass in their one-on-one battles with abbies. Theresa's not an agent, so she gets bonus points, but watching Kate beat the crap out of hers was pretty awesome. 
I really enjoyed watching these two women put aside their differences and actually manage to form a bond with one another. It's a good thing too, because in the aftermath of this battle, they need each other. 
This is, of course, because they both lost their husbands. That's right, our hero Ethan sacrificed himself to ensure everyone else's safety. I can't say it was too surprising, but it certainly was emotional. Watching him grab Ben's hand and tell him to go on, we knew it was over for him. 
He wasn't the only to make the ultimate sacrifice, though Megan Fisher's death didn't make nearly as much sense. Ethan stayed behind to set off a bomb and take the abbies out with him. What exactly was the point of Megan staying behind in the bunker?
I know she said she needed to stay in case others arrived, but no one was coming. Also, she didn't even try to make a run for it when it was clear the abbies were about to get inside. She obviously just wanted to die. Was anyone a little disappointed we didn't actually get to see it? 
Her husband is not about to win any chivalry awards any time soon. He could have at least offered to switch places with her and stay behind so she could ensure the First Generation made it to safety. Did he have something to do with the town reverting back to Pilcher's ways? Would things have been any different if Megan had survived? Did she redeem herself by telling them how to get to the mountain chamber, or was it not enough? 
Pam was a rock star as she desperately pleaded with David and the guards to save everybody. I would have liked to see how she ran the town. Melissa Leo was easily my MVP of the season. 
What did you guys think? Are you disappointed with the cliffhanger ending knowing there may not be a second season? I suppose we can all pretend everything after Ben wakes up didn't happen, and the town lived happily ever after with Pam in charge. As frustrating as it was to see everything end up back where it started, I still enjoyed the finale. 
If you missed any of the action, you can watch Wayward Pines online any time and catch up! 
Stacy Glanzman was a staff writer for TV Fanatic. She retired in March, 2019.