UnREAL Season 1 Episode 8 Review: Two
Paul Dailly at . Updated at .
It's about freaking time!
On UnREAL Season 1 Episode 8, Rachel and Adam finally gave in to temptation and got hot and heavy behind the scenes of Everlasting. It may have been the best moment of the episode, but there were a lot more pivotal moments that led to it. 
Chet really had me fooled. When Cynthia showed up, I was so sure we would find out that he didn't really quit her. This is Chet. The dude has many secrets and can't seem to remain loyal to one woman. After he gave up $50 million without any complaints, his love to Quinn was well and truly proven, but it didn't stop him sabotaging it for the last time.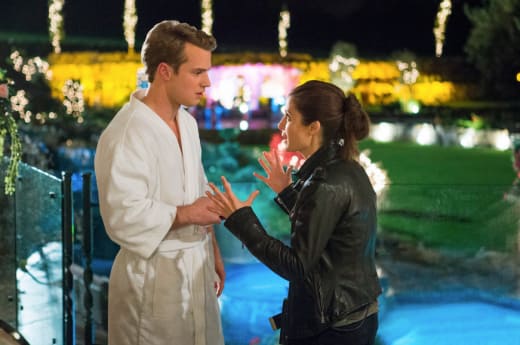 Yes, Quinn's gone through some tough times with him, but witnessing him get relieved by a barely legal production assistant was the last straw for her, and I couldn't be happier. She needs to cut him loose and do things for herself. She rushed into that engagement. I don't care if they've been together for years and years. He should have been on probation before they even spoke of marriage. 
I've enjoyed Constance Zimmer's portrayal of Quinn to date and tonight was no different. The raw emotion we witnessed as Quinn hugged Chet in those final moments was nothing short of amazing. What will she do next? Will she go after his money? Does he even have any left? 
Brad, the obnoxious network guy, popped back up to let us know the show's ratings are on a roll, and he wants Adam to marry Grace and for the two of them to front a spin-off series. This won't be happening with Grace. Out of the three remaining gals, she has to be the most annoying. It didn't take her long to run her mouth, and that's what will ultimately cost her the prize. She doesn't care who she hurts as long as she gets what she wants. 
You are literally insane if you think I am going to marry a girl I met 3 weeks ago.

Adam
I'm rooting for Anna or Faith to win. The two of them have been the best contestants on the show and have brought a lot to the table. With Anna, she is easily manipulated, but I do like her scenes with Adam and Rachel. Faith has been on the back burner since we found out about her sexuality. It would make more sense if Rachel pursued Faith for the role as his wife because Adam would probably feel more comfortable with it, as he won't be forced to get between the sheets with her. 
Rachel must be stupid to think that Quinn would allow Chet to hand over the reigns of the spin-off to her. She is being manipulated by Chet, and she doesn't even see that. If she's such a good manipulator herself, she should have been able to see what he was up to, but that's really my only negative this week. 
Jeremy got what he deserved in the end, and I don't see Rachel getting frisky with him in the truck anytime soon. Rachel realized her true feelings for Adam when he and Anna shared chemistry while filming. You could see the emotion in her eyes, so I'm really happy they finally went there, but it will only make things more complicated in the grand scheme of things. 
I do hope that Lizzie isn't quick to take Jeremy back, because he's screwed her over for the last time. I have read a lot of comments noting that the show is getting too soapy and over the top. This is part of the show's DNA and I'm loving it more by the week. 
Other tidbits from the episode:
Jay has officially left the building, but will he return for UnREAL Season 2? I sure as hell hope so. He might have been an opportunist, but he was really hilarious in his final few weeks. 
The mud fight between Faith and Adam was amazing. The two of them just have so much fun with each other now that they know their deepest, darkest secrets. 
Quinn offering up her office to Chet and Cynthia was a pure power play. She wanted Cynthia to know she was no longer borrowing her husband – he was hers. 
"Two" was another solid hour for this freshman series. I know I must sound like a broken record, but it really is the best show on the air just now. The concept alone might be putting people off, but if people actually gave it a chance, the sharp writing and stellar acting would have the world hooked. 
Remember you can watch UnREAL online, right here on TV Fanatic. Get caught up now!
What did you think of the episode? What will Quinn's next move be? Will Rachel and Adam be able to forge a relationship?
Note: UnREAL Season 1 Episode 9 airs Monday July 27 at 10/9C on Lifetime.
Paul Dailly is the Associate Editor for TV Fanatic. Follow him on Twitter.