Rene wasn't a character I thought I'd be rooting for, but on The Astronaut Wives Club Season 1 Episode 3, she lets the world (and the audience) get to know her in a whole new way.
And she's freakin' fabulous.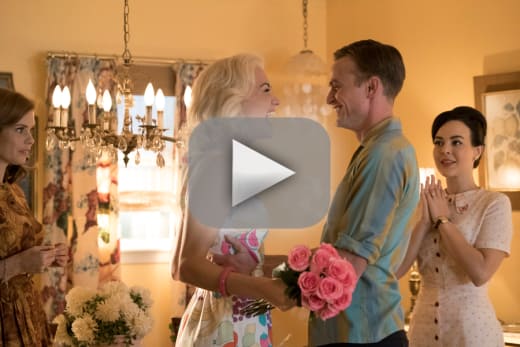 For starters, she refuses to try an be someone she isn't. On The Astronaut Wives Club Season 1 Episode 1, Rene makes an early impression as someone who plays by her own rules when she shows up to a photo shoot wearing a dress that is quite the opposite of what she was asked to wear.
She's also the one who wears an outfit to match her dessert, and it all makes her seem like she's trying too hard for the attention.
In this episode, that very same trait is what makes us fall totally in love with her. She isn't about to lie to the press about prayer, even though that would make her life so much easier.
What she tries to say is that it's a complicated answer, but the reporters bombard her with questions about her faith, which considering the time period, is an especially controversial issue.
She has her beliefs, and I have mine. It's a thing called mutual respect.

Rene
Her response that she isn't going to be praying for her husband causes all sorts of problems, but she takes matters into her own hands. Rene is already upset about the way Scott is portrayed in the most recent magazine article, so what better option than to write an article herself?
This is a woman who isn't afraid, and who is ready to take control when she needs to. Good for her.
And again, this is all based in history, so of course I'm dying to get my hands on the real article, which sounds like it very tastefully alluded to the reason that prayer question isn't an easy one.
As Rene tells Annie, while worrying over whether or not Scott will return safe and sound, she had a son who died in his sleep at six months old. She has lived every parent's nightmare, and somehow, manages to still go on.
Thankfully, after a bit of panic wondering if Scott would ever be found, Rene gets the call that her husband is fine and will return home in a few days. They celebrate later with champagne in the bathtub, and Scott talks about his experience in an emotional way.
Being up there... it felt as close to heaven as I was ever gonna get.

Scott
That's also the moment when Soctt encourages her to talk about their son in her article, and more than that, to allow her to let people see who she really is.
Other Thoughts:
Annie Glenn singing in the beginning of this episode is beautiful.
Louise and Max? It definitely seems like that's going to become a thing.
I love that Marge just calls up The White House to speak with the president. It doesn't work, but hey, it's worth a shot.
What did you think of this week's episode of The Astronaut Wives Club? Share your thoughts in the comments below!
Need to catch up on past episodes? You can always watch The Astronaut Wives Club online right here via TV Fanatic!
Ashley Bissette Sumerel was a staff writer for TV Fanatic. She retired in September 2017. Follow her on Twitter and on Google+.