Well, that was unexpected.
As witnessed in Proof Season 1 Episode 7, it turns out that God really does work in mysterious ways, even when it comes to ghosts.
The way Sophie encountering a ghost at an old church brought Cat back to God was a nice touch. The season is just as much about Cat's journey to forgive herself for what happened with Will as it is finding proof of life after death. Or maybe that is the proof that we live on after we die, the way we're remembered.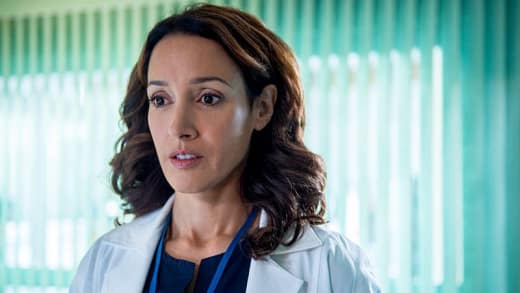 To be honest, I was a little bit let down that Ivan Turing wasn't featured in "St. Luke's" after the dramatic turn of events in Proof Season 1 Episode 6. Not only were the interactions between Ivan and Cat a lot to behold, but leaving him on the cusp of undergoing major brain surgery with no word seems a little harsh. 
Nonetheless, the hour redeemed itself with a beautiful storyline of familial relationships and the difficulty of fathers and daughters understanding one another, especially when they are so similar in nature. It was never difficult to imagine Cat and her father butting heads. They are both stubborn perfectionists. Still, it hurt to hear him assume it was Cat who caused the end of her marriage.
I don't know what causes parents to believe their own children to be the cause of what ails them in situations like that, but I'm familiar with the feeling. It's not a lack of love; I'd say it's quite the opposite. Some sort of whacked out self-coping/protection mechanism gone wrong. I don't know. But kudos to Len for setting dad straight, because it can't be easy to jump off the white steed when you're sitting high above.
When you think that Cat was in the accident with Will so shortly after Len cheated, her marriage fell apart, and then her father believed her to be at fault for all of it...well, it's no wonder she has felt so alone and guilty for the last year. 
It never even dawned on me the priest in the church might have been an apparition, but Cat was the only person who saw him. Why would a priest go to a church at night to perform an exorcism on his own. And wouldn't he merely call it a blessing? Exorcism is a tad dramatic for something you're doing alone in an abandoned church for a sale to go though. He was speaking Cat's language.
Faith in ourselves. For some of us, that's a hell of a lot harder than faith in God.

Priest
Of course he had the perfect thing to say. He had known her all her life, had been sharing special conversations with her since she was a little girl. He knew about her father and appeared to her again at a time when he knew she would find herself at a crossroads in her relationship with him.
If only we could all run into a guardian like that in our lives. Just look out for the sliver of light flashing before your eyes. It's not trying to blind you, but to point out to you the special affinity that person has with the other side.
Cat probably feels closer to her father now than she ever has in her life. She never knew his parents abandoned him for marrying outside of his race, or that she was never acknowledged. She never knew the pain he was in for choosing his family. Sometimes you love something so much you're afraid to get too close; until the possibility you could lose them looms apparent.
I can't wait to see more of Cat's journey and for Ivan Turing to pop back into the picture on Proof Season 1 Episode 8. What did you think of this installment? Are you satisfied with different types of proof or do you want more on life after death? Drop me a comment.
Don't forget you can watch Proof online if you haven't had a chance to see all of the series to date as of yet. 
Carissa Pavlica is the managing editor and a staff writer for TV Fanatic. She's a member of the Critic's Choice Association, enjoys mentoring writers, cats, and passionately discussing the nuances of television and film. Follow her on Twitter and email her here at TV Fanatic.