Humans Season 1 Episode 4 Review: 1.4
Paul Dailly at . Updated at .
If last week had you thinking Humans was slowing down, then you're clearly mistaken. 
Humans Season 1 Episode 4 rolled on with twists from start to finish. We're now at the halfway point, and it looks like a war could be on the horizon. 
Niska's storyline helped me come to that conclusion, but when you're watching a show about the rise of robots, a storyline involving a war between the machines and the humans is pretty much guaranteed.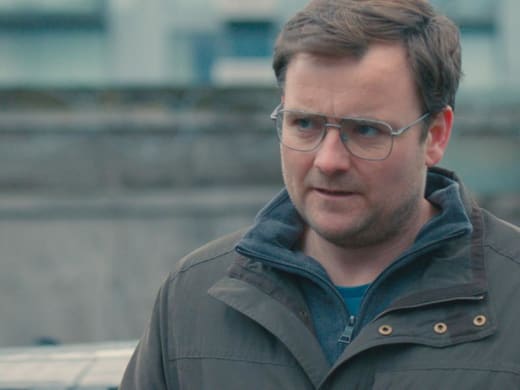 Niska has overtaken Anita in terms of being the strongest character on the show. Her journey has been a shocking one, and I keep expecting her to catch a break, but that won't be the case unless she meets up with all of her friends and reconnects with them. There has to be a reason why none of these synths are sharing information. 
Back to the war talk, it is disgusting that the humans have venues in which you pay to attack robots. These robots are very smart, and although they can't feel physical pain, some of them feel emotional pain. I don't think Niska and her band of misfits are the only ones who are smarter than the others. 
I loved how she went all the way and stood up for her kind, but I hope it doesn't lead to her demise. 
Anita's plot with the Hawkins family got considerably more difficult. Laura can easily look very sketchy, and I fully understand why Joe would think that she's cheating. She constantly seems a little more reserved than he'd like. As much as I agree with him, he should NOT have slept with Anita. That was just darn wrong on so many levels, and I hope that she doesn't remember it. 
It's a little fitting how adamant Joe was to keep Anita, yet after he did the dirty deed with her, he happily sent her packing. It should be interesting to see if Anita comes clean about this down the line. 
Leo is now closer than ever to catching up with Anita, but I can't help but wonder where the story will go once he gets her. Will the Hawkins still bare any significance to the ongoing plot, or will we be saying goodbye to them? 
As much as I have hated Mattie, I see Leo using her hacking abilities in the future, and she will somehow change her perception about the synths. 
Pete's hatred of Simon cost him his relationship and I'm not surprised. It must be a little frustrating that something manufactured was much better looking than him. He must have felt really insecure, but at the same time, his other half may have been more inclined to stay with him if he actually trusted her. 
There we have it. Another one down and just four more left. Humans Season 1 has been solid thus far, but I have the feeling that there are going to be many shocks as we concluded the season. 
Remember you can watch Humans online, right here on TV Fanatic. Get caught up now!
What did you think of the episode? Will Niska be able to reunite with Anita? Hit the comments below.
Note: Humans Season 1 Episode 5 airs Sunday July 26 at 9/8C on AMC.
Paul Dailly is the Associate Editor for TV Fanatic. Follow him on Twitter.