Beauty and the Beast Season 3 Episode 8 Review: Shotgun Wedding

Samantha McAllister at . Updated at .
Red gummy bears can make any situation better!
On Beauty and the Beast Season 3 Episode 8, Julianna makes a daring escape which put a huge wrench in Cat and Vincent's plans to get married. It was extremely disappointing to build up to this wedding and have it fall apart so quickly.
Even Cat was over the entire thing by episode's end and you can't blame her for having such a negative attitude towards going after people who aren't even after her and Vincent. 
Let's not waste anymore time and discuss "Shotgun Wedding."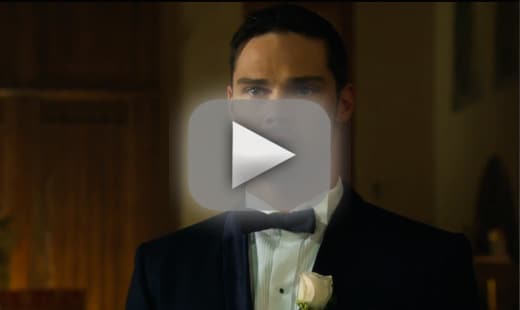 Was anyone else getting irritated with the priest asking if they had anyone else in their party? Obviously they didn't have anyone else because they would have said something.
You just knew Julianna would wake up during the rehearsal for the wedding, but Vincent should have told Cat the news instead of trying to keep it a secret. 
Vincent: You're saying we keep this from Catherine?
Tess: Yeah I am. At least until after the wedding, which is what, ten, eleven hours from now? Why ruin it for her? Why ruin it for you?
JT: It's your call big guy.
Vincent: Catherine is gonna kill me if she finds out about this and blows up in her face, right?
JT being confused about why Tess broke up with him is baffling. While JT truly cares about Tess and does love her, he never backed her up and supported her. JT's world really does revolve around Vincent, and Tess saw it. You can't blame her for being upset about how JT drops everything for Vincent, but Vincent doesn't do the same for him. 
JT: What did I do?
Tess: JT, this is not the time, OK.
JT: But I don't know what I did wrong.
Tess: You weren't there for me JT. I just wanted you to care about what I was going through and you didn't.
JT: Because I was trying to save Vincent. What was I supposed to do?
Tess: You were supposed to be there for me too. Did Vincent put his relationship on hold with Cat when you needed saving? No. He never does.
Why didn't they provide a few more security guards to watch Julianna's room to prevent her from escaping? Julianna was not only a cunning and manipulative woman, but she was also a murderer. A few more guards probably would have prevented her from getting out of her room.
JT's speech at the party was cringe worthy. Why would he think it was a good idea to talk about second chances at a wedding rehearsal party? Thank goodness Tess cut him off because JT would have continued to dig himself into a bigger hole. 
Enlisting Heather's help in trying to keep the Julianna news from Cat was so dumb. Heather is probably the last person I'd trust trying to keep an eye on Cat. You can't blame Cat for being enraged by everyone working together to keep her in the dark – if looks could kill, Tess would have been dead. 
Cat throwing a beaten Julianna into Vincent's arms was by far the best scene ever. This is why you need to tell Cat important information and not keep her in the dark. The icing on the cake was definitely when JT shot a tranquilizer at Julianna – it's one way to shut a person up quickly.
You can't just shoot people at weddings!

Heather
Vincent's heart was in the right place, and he really did think he was doing the right thing by keeping Cat in the dark, but he needs to understand they both need to be honest with each other. Cat was right, if she had kept the information about Julianna from Vincent he would be just as upset.
You just knew Liam was going to show up and ruin Cat and Vincent's big day – maybe they should have heeded Julianna's warnings. 
In the end, JT was finally there for Tess when she needed him the most and was able to provide a comforting shoulder to cry on. Vincent admitted the entire situation was his fault. In a shocking twist, Cat informed Vincent she was done going after people who aren't after them.
Vincent: We gotta stop this guy Liam first.
Cat: OK we are not stopping Liam.
Vincent: We got to. We got to at least try, Catherine.
Cat: You don't understand. I am done Vincent. I am not doing this anymore.
Vincent: What do you mean?
Cat: I don't even know what I was thinking. This is never ending and it just keeps getting worse. Liam could have easily killed us today. So why are we going after him when he's not even coming after us? Why should we have to keep risking our lives, our friends lives, Heather's? Who says this has to be our fight? It's not. It's over, I quit.
Do you think Cat is really done? Do you think they should go after Liam before he causes any more damage? Will JT and Tess get back together?
Don't feel bad if you missed out! You can watch Beauty and the Beast online via TV Fanatic anytime. Just make sure to come back to let us know what you think.
Next week on Beauty and the Beast Season 3 Episode 9, Vincent, JT, Tess and Heather try to make Cat see she can't give up on going after bad people because she has a higher purpose. Will they be able to convince her or will she give up altogether? Make sure to tune in Thursday, August 6 at 8/7c. 
Samantha McAllister was a staff writer for TV Fanatic. She retired in November 2018.