UnREAL Season 1 Episode 4 Review: Wife
Paul Dailly at . Updated at .
Can you really copy a reality show that is ever so similar to pretty much every other reality show on the planet?
The copyright storyline was thrown our way on UnREAL Season 1 Episode 4, which found Chet stooping to new lows in order to annoy Quinn. But will she really go one step further than him and get her own back?
I certainly hope so! Chet really needs brought down a few pegs. The guy has conned his way to the top by stealing an idea from Quinn and Bill and has since raked in billions of dollars. That might be a bit of an exaggeration, but that's what the episode stated!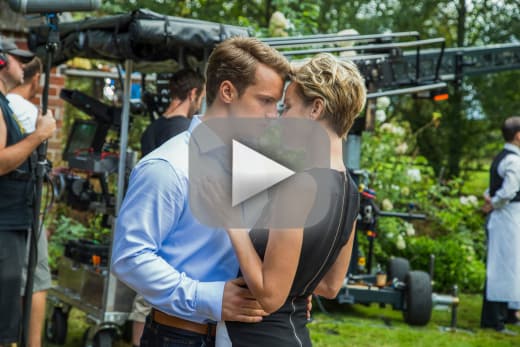 Quinn continues to excel as the strongest character on the show. The layers are being pulled back on her character by the week, and Constance Zimmer is turning in an Emmy-worthy performance. 
Honestly, I really liked Jay until this hour, but he has now proven himself to be nothing more than an opportunist, and if Quinn has her way, he won't be associated with anything Chet steals makes for much longer. 
I get that, in his line of work, you would certainly find ways to move up the ranks quickly, but he has been with Quinn since day one on the show and stuck the knife in her back as soon as Chet actually noticed him. He'll be regretting that right about now. 
I have come to the conclusion that everyone has an ulterior motive on this show, and it sure makes for some good TV. 
Adam's vineyard in Napa that was referenced on UnREAL Season 1 Episode 1, popped back up as it was being used as one of the filming locations as part of his contract. 
The place was nothing short of a disaster, and it gave us at home some insight into how the shows are run when there are budgetary concerns. I didn't have any doubt that Rachel would continue to jump for gold and find a way to get the goods. 
She really sold Adam well to the investors, and it got me thinking that she must hold a torch for him. I get that they are both using each other, but her feelings run much deeper than that. The was proven when she drank a bottle of wine after witnessing Adam getting between the sheets with Kelly, while Kelly's husband and Chet ogled them. 
Yes, that was very creepy, and I couldn't believe what I was seeing, but this show really is pushing the boat out to shock us. Will Rachel take this revelation to Quinn, and could it be what ultimately makes Quinn go public with the look book and end Chet's reign of terror?
With all the drama away from the cameras, you'd be forgiven for forgetting about the drama on Everlasting. Athena was branded NeNe Leakes and it was right. She didn't want to win. She knew that there was no future for her and Adam, so was settling for final four and all of the publicity that comes with it. 
Did anyone else laugh out loud when she was eliminated? She was less than impressed, but what does she expect? There are far more deserving women on the show. What does winning actually mean? There's no way Adam is ready to settle down. He likes to live life on the wild side.
"Wife" was another solid episode of this Lifetime drama. I'm a little concerned that the ratings have continued to drop. This could be attributed to Lifetime gifting us with the first four episodes, so I hope that there will be an uptick for UnREAL Season 1 Episode 5. 
Remember you can watch UnREAL online, right here on TV Fanatic. Get caught up on all the drama now! Will Quinn leak her look book and get Chet in trouble? What will become of Rachel and Adam? Hit the comments.
Paul Dailly is the Associate Editor for TV Fanatic. Follow him on Twitter.