UnREAL Season 1 Episode 3 Review: Mother
Paul Dailly at . Updated at .
Will this show ever stop for us to catch a breath?
UnREAL Season 1 Episode 3 went full steam ahead and showed us how the game could be changed by adding Adam's friend Roger into the mix.
Did anyone really think that Roger wouldn't cause any drama on for Everlasting? He has got to be one of the most tedious characters to date. He even gave Britney a run for her money. That said, he was needed as a plot device to show us just how cutthroat the fight for Adam's heart could get.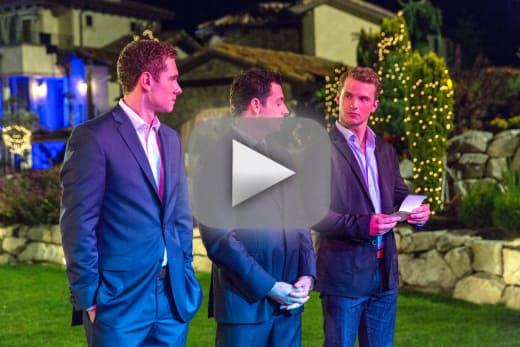 At this stage, these women know just how rigged the game is and are using it to their advantage. Adam is not any of their endgame, he's just another stepping stone to get them to were they want to be in the public eye.
In case you haven't guessed already, everyone is using each other for their own personal gain on this show, and it's making for some first class TV while our favorites have wound down until the fall.
As much as Shia thinks she can run the show, she must take two steps back and evaluate what went wrong under her command, because she couldn't run a bath, never a mind a freaking show.
"Mother" was a good title for this episode. Quinn has been more of a mother to Rachel than her real mother. Just look at the way she grabbed her at the beginning of the hour. Sure, you could say that it was harsh, but it's the reality check that Rachel needed to keep her grounded.
Quinn might have all eyes on the money, but she took a chance by even letting Rachel return in the first place. Yes, she owes the show a debt, but she probably helped the show reach new heights in terms of media coverage with the blame for the destruction of the set being put straight onto a contestant.
Rachel's parents were not the nicest bunch. I do believe they have they have her best interests in mind, but she needed help, and they tried to exploit that by attaching some strings to the loan she wanted off them. That's not the best way to treat a mentally unstable offspring who is desperate.
Some might call it tough love, but they should have taken a bit more time before adding the terms to the loan. Don't expect to see Rachel running back to mother dearest any time soon.
Quinn's relationship with Chet took some unexpected turns, right? The dude is addicted to drugs and needs help, but will Quinn stick around and support him? I don't think so. She obviously feels a little emotional because of the way his wife spoke to her, but she kind of deserved it.
As a character, Quinn is one of the best developed on this show, so I hope that she sticks to her guns and stays away from Chet. He doesn't deserve her. He keeps filling her head with false hope, and it isn't fair on her, either.
So there we have it, another episode of the best show on TV this summer has come and gone. The show is moving along at a brisk enough pace to keep me glued to the screen. The character development here is second to none. The characters are some of the best you'll find on TV at the moment. Don't expect to find any one dimensional characters here.
Remember you can watch UnREAL online, right here on TV Fanatic. Get caught up on the drama now!
Paul Dailly is the Associate Editor for TV Fanatic. Follow him on Twitter.