What a fantastic ending!
On Stitchers Season 1 Episode 3, we got another piece of the puzzle in regard to the stitcher program – Kirsten's mom was also a part of the team. The revelation that Kirsten's mom was involved came out early on, but it set up the entire episode perfectly – especially the surprise ending.
Let's not waste anymore time and discuss tonight's episode, "Connections."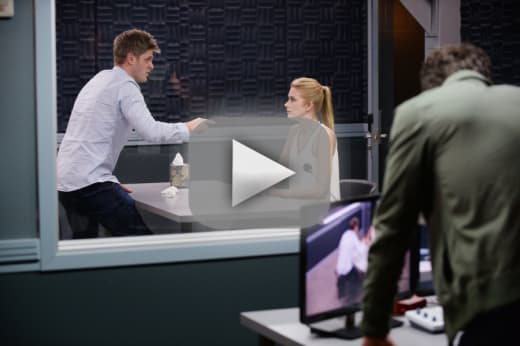 Kirsten confronting Maggie about what she knows about her mom made complete sense. Maggie seems to know a lot more then she's letting on and you have to wonder what's going to happen when it all comes to the surface.
Maggie's response about being a woman of power was spot on, and you can't help but appreciate her bad-ass personality. 
[talking to Maggie] Gosh! Some days you are just dripping with information and then other days, you don't know anything.

Kirsten
Of course Kirsten couldn't let go of the Maggie thing, but why she'd go to Cameron for information is beyond me. Maggie isn't going to let the people working for her know her secrets. Kirsten is going to have to dig a lot deeper to get to the skeletons Maggie is hiding.
Linus continues to be my favorite character on the show – just watching him trying to talk to Camille was hilarious. The poor guy really has no clue how to talk to women. Cameron needs to help the man out and give him some pointers; though he didn't seem to have a problem talking to Camille last week on Stitchers Season 1 Episode 2.
Cameron: You really gotta learn how to speak to women.
Linus: What? I speak to a woman every night.
Cameron: Yeah, your mother.
Linus: What's your point?
It was so odd, yet extremely fun, watching Camille and Kirsten get along and work together on a project – this was probably one of my favorite scenes. You even got a chance to see Kirsten be more social with Camille when Camille was asking questions about Linus.
Camille hitting on Linus and inviting him, and Cameron, over for dinner was hilarious. I absolutely love these two together.
The main story tonight involved a woman named Lily Ross who was kidnapped and murdered. It was crazy watching Kirsten going through Lily's memories in the beginning and having them jumble around due to the blunt force trauma to the Lily's head, but it gave us a better look at how the stitcher program isn't smooth sailing and complications will arise. 
Detective Fisher was convinced it was the husband, Scott, who killed Lily, but like Kirsten said he wasn't asking the right questions. I understand why Detective Fisher didn't delve into the question Kirsten wanted him to ask, but there had to be a way around it instead of what he wanted to do, which was wait for a trial to start. 
Speaking of Detective Fisher, why would he leave someone like Kirsten alone in a police interrogation viewing room? You knew she'd find a way to get into the room and talk with Scott about Lily. Kirsten should have just lied to the guy and said she was some type of psychic and that's how she knew about the private memories between him and Lily. It would have been so much easier. 
The second time Kirsten was stitched into Lily's mind, you got a better look at what she was seeing, and it showed Scott wasn't the killer. Kirsten should have taken Cameron along with her when she went to talk to Scott because things turned from bad to worse rather quickly. At least Cameron was there for her after she was done having a disastrous talk with Scott and was able to help her out with her plan, even if it meant draining the US Government of money. 
There was a little more story given what happened to Marta and it made a lot more sense for Cameron to be worrying about Kirsten. It's sad to think Marta wasn't able to separate her emotions from the person she was stitched into, and I'm really hoping we get more back story, or possibly a flashback episode, to exactly what happened to Marta. 
Marta is in this condition because she couldn't separate her emotions from the sample she was stitched into.

Maggie
In the end, Kirsten and Cameron were able to apprehend the person who killed Lily, and Cameron was able to show off his skills. The biggest reveal came when it showed Maggie was a lot closer to Ed then she has let on, and Marta is officially awake and out of her coma. 
What did you think of, "Connections"? How great are Linus and Camille? On a shallow note, how sexy is Detective Fisher?
Don't feel bad if you missed tonight's episode. You can watch Stitchers online anytime via TV Fanatic, just make sure you come back here to let us know what you think.
Samantha McAllister was a staff writer for TV Fanatic. She retired in November 2018.