Penny Dreadful Season 2 Episode 6 Review: Glorious Horrors

Henry A. Otero at .
There were several disturbing encounters on Penny Dreadful Season 2 Episode 6.
Ms. Putney realized The Creature wasn't exactly alive, while both Mr. Roper and Inspector Rusk came down hard on Ethan. Of course, Sembene face to face with a transformed Ethan in the final moments of the installment was a shocker.
However, the blood soaked ballroom takes the prize as one of the most ambitious and visually stunning (yet disturbing) scenes of the series so far.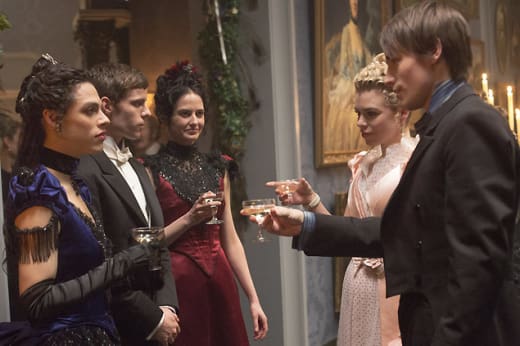 First off, I'm thrilled Dorian finally joined the rest of our cast this week. I'm not sure why, but he's always been the most disconnected of all the characters. While I'm enjoying the Dorian/Angelique storyline, I just wish Dorian were more central to the story.
It was interesting to catch up with our couples the morning after. Lily was so happy humming and fixing breakfast, but I think Victor realized their love affair is doomed. I'm dreading the moment Caliban learns the truth about them. Angelique and Dorian were happy as well; only this gentleman can afford to throw a massive ball for his lady friend. I still think he's partly attracted to the attention. 
Of course, the creepiest moment was when Evelyn snipped Sir Malcolm's hair and crawled back into bed.
Sleep tight dear, you're going to have a challenging day

Evelyn
I'm not sure why the Sir Malcolm fetish surprised me. The man has clearly been under Evelyn's spell for a while, so why does she need the doll? How nasty was that tiny beating heart? The showrunners are not going to let us forget babies power those awful things.
At the wax museum, Lavinia Putney realized Mr. Clare wasn't exactly alive. However, it was  Mr. Putney's announcement of a new attraction that caught my attention. He's hired others to build this mysterious new thing. Is Caliban the centerpiece of the display?
Mr. Roper's visit with Ethan was strange. Is it me or did he hint that he remembers Ethan's transformation? I think threatening the people he cares about is probably the right way to go. If it comes down to Roper scalping Vanessa or Ethan turning himself in, I'm sure Ethan will leave willingly.
There wasn't much talk of the relics this week, but Vanessa and Victor were studying them when Dorian arrived. Again, I'm thrilled Dorian reconnected with the others and I'm hoping he sticks around. Vanessa was still a bit awkward around him until he mentioned Angelique.
Seems the world is filled with romance these days.

Vanessa
When Vanessa brought Sir Malcolm his invitation, he was debating whether or not to shave his beard. I have to agree removing the beard knocked ten years off Timothy Dalton. I had a feeling when Ethan declined Vanessa's invitation to the ball there was a full moon coming.
Wasn't it a bit cliché that Ethan returned to the scene of the crime, so to speak. I mean, he has the authorities after him and where does Inspector Rusk find him? That's right, staring directly at his own handiwork. I guess curiosity got the better of him. Though Rusk has no real proof, I'm betting he and Mr. Roper team up to take Ethan down. Chances are our American Werewolf in London is heading home by the finale.
The ball was an impressive affair. I loved the period costumes, the waltzing and music. Seeing Dorian's ballroom flooded with guests was a nice change of pace. Again, didn't Dorian and Angelique's grand entrance seem a tad too theatrical? Tell me he didn't love the applause and attention.

My favorite moment – aside from Vanessa's vision of course – was watching Lily and Dorian remember one another.
Dorian: Do you like the room?
Lily: All those paintings looking down make me a bit nervous.
Dorian: I have the strangest sense we've met before. Do you think that's possible? In some other life time?
I'm curious to find out what happens when all Lily's memories begin flooding back. Will it be when she sees Ethan? While Lily and Dorian had an important connection, it's Ethan she was in love with. Love is going to turn to hate when she remembers Victor killed her. I can't wait.
Naturally, when Vanessa arrived at the ball everything went to hell in a handbasket. Her face-to-face with Evelyn wasn't as memorable as I expected, though she has made the connection between Sir Malcolm's behavior and Evelyn. It was nice to see that Mr. Lyle cares enough about Vanessa to offer her an escort home. Poor Mr. Lyle, he's playing with fire and I'm afraid he's going to end up burned at the stake.
Again, if Evelyn controls the Vanessa voodoo doll, why did she feel unwell as Hecate and the others closed in? I'm sure I'm missing something regarding those dolls or dark magic in general. Anyway, the blood downpour inside the ballroom was phenomenal. It was the Carrie prom scene turned up to eleven. Can you imagine how complicated it must have been to film that scene?

In the end, Ethan had Sembene chain him in the cellar as he transformed. Ethan finally shared his secret with someone. What are the chances he'll break free and kill Sembene? I hope that's not how Penny Dreadful Season 2 Episode 7 kicks off.
What did you think of "Glorious Horrors"? Is Sir Malcolm lost to Vanessa? Will Ethan get caught and sent back to America? Was Vanessa's vision a premonition of things to come? Your turn fellow Dreadfuls, please sound off in the comments below.