DVD/Blu-Ray Releases: Teen Wolf, Justified, Glee, Walking Dead Journals & More!
Jim Halterman at .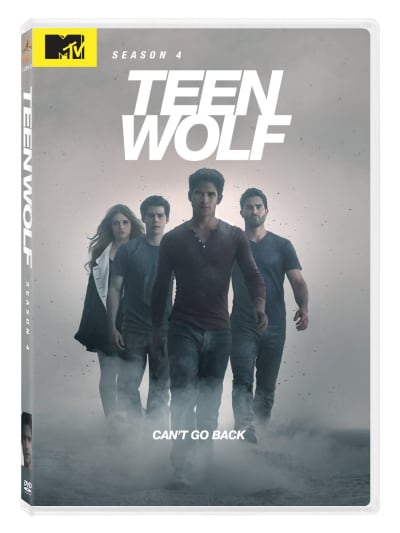 Teen Wolf: Season 4: What didn't the fourth season of the MTV have in a chock-full group of episodes showing just how far Scott, Stiles, Derek and Lydia have come on their journeys. We also got some new faces in Malia (who would become Stiles lov a release do not disappoint as we have a Shirtless Strikes Again feature, Visual Effects feature, gag reel and 'The Beasts Of Beacon Hill.' Available NOW.
Justified: The Final Season: The ride that was FX's long-running drama series, based on the Elmore Leonard characters, wrapped up recently and you can relive the final episodes now. Besides stars Timothy Olyphant, Walton Goggins and Joelle Carter, the final season also featured great guest stars like Mary Steenburgen, Jonathan Tucker, Sam Elliott and more. Blu-ray exclusive features include Direction the Show: Adam Arkin, Dutch Speaks, Deleted Scenes and (also on the DVD), Hollywood to Harlan featureette. A must-have for anyone who was a fan of this complex, thrilling series.
Glee: The Final Season: Love it or hate it, Glee made an impact on television with highlighting outcasts instead of the popular kids and made stars of Lea Michele, Chris Colfer, Jane Lynch, Matthew Morrison and Darren Criss. And, sure, the stories may not have always worked and the show may have loved itself a bit too much for its own good at times but you can't deny the music almost always impressed and the series also weathered real life drama like the death of star Cory Monteith and controversial storylines. The final season includes all 13 episodes of the sixth and final season including features Glee: The Final Curtain, Glee Music Jukebox and a Looking Back Video Yearbook.
The Walking Dead Journal Books: Can't get enough of the AMC hit drama? Well, Insight Editions recently released these super cool ruled journals with a variety of covers featuring your favorite Walking Dead characters. I chose Rick and Michonne but Daryl is also an option as is one lovely looking zombie. And if you're particular about your journals (like I am), here's some more info on them: Insight Editions deluxe journals are made with the finest materials and manufacturing methods to create a luxurious line that is tactually rich, scuff and fingerprint resistant and elegantly designed. Find your cover (or covers - I couldn't just pick one either!) and find yours right here. 
The L Word Box Set: If you like your drama to be a bit more, um, gay, then dive into the Showtime lesbian series that ran for six seasons. Starring Jennifer Beals, Laurel Holloman, Leisha Hailey, Kate Moennig, Pam Grier and Mia Kirshner, the series focused on a group of lesbians living in Los Angeles and seeking happiness in career, family and, of course, relationships. Every episode of the series is here but, alas, the one question that is still not answered by creator Ilene Chaiken (who is now exec producing Empire) is 'Who Killed Jenny?' *sigh*
Orange Is The New Black: Season 2: Just in time for the third season of the Netflix jail drama to kick off on Friday, you can get the second season on DVD or Blu-ray. And, like all good home entertainment releases, this one is full of excellent extras like audio commentaries on select episodes, featurettes like 'Back Before The Potato Sack' and 'Orange Peeled.' Get your copy now!
Beauty and the Beast: Season 2: With the third season finally airing starting this Thursday, it's just enough time to binge the second season of the story of Kat the Beauty (played by Kristin Kreuk) and the Beast (hunky Jay Ryan). This season dove more into the mythology of how Vincent became the Beast and if there's any way to rid him of his destructive ways. While there are bad guys to be fought (like Kat's father), the core of the show is the romance element and the show delivers. Get your copy today and start your binging! 
The Duff: Oh, Robbie Amell. The actor (cousin to Stephen) first came to our attention for his starring role on the now-defunct The Tomorrow People and then rebounded by a juicy role on The Flash this past season. But, in the  midst of all that, is a big screen film that he stars in along with Parenthood's Mae Whitman, Bella Thorne, Bianca Santos, Skyler Samuels, Community's Ken Jeong and Mom star Allison Janney. There are plenty of fun extras in the DVD and Blu-ray release but, seriously, don't you just want an excuse to freeze frame on the oft-shirtless Amell? (I thought so).
Jim Halterman is the West Coast Editor of TV Fanatic and the owner of JimHalterman.com. Follow him on Twitter.