Orphan Black Season 3 Episode 7 Review: Community of Dreadful Fear and Hate

Lindsay MacDonald at . Updated at .
After such a heavy episode last week, Orphan Black Season 3 Episode 7 delivered a much funnier and lighter tone.
While focusing on Alison for an entire episode was a nice change of pace, it also felt a bit like a snag in the Castor plot, since Dr. Coady and all of her clones disappeared for the entire evening.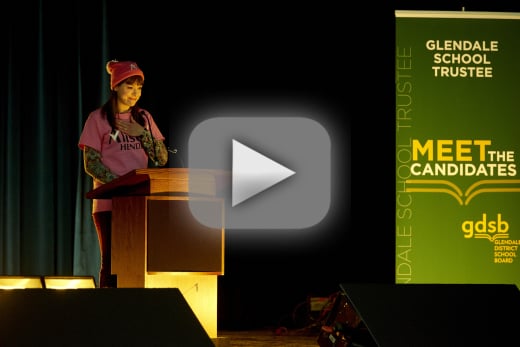 It's been a while since we had a good old clone club switcharoo, so watching Alison and Cosima juggle speeches and photo ops was a great call back to early Orphan Black days. Was I the only one worried that someone would rip that pink beanie right off and see Cosima's dreads? 
Felix, too, got some much deserved attention. He's always at his sassiest when he's mingling with Alison and her army of suburban housewives.
You need bangs. Bangs that say unhappy, sexless marriage. That's them.

Felix
Now that Felix is in on the drug dealing secret, will he shake some sense into Alison, or let it go on?
Felix could never be accused of being the moral compass of the group, but he has ended up pulling Alison back from the ledge a few times. I'm not sure how he'll deal with his bestie's little side business, but as long as it gets us more Felix and Alison time, you won't hear me complaining!
The highlight of the evening? Alison coming out to her mother as a clone, and Mrs. Hendrix brushing it off as complete bologna – even though Cosima was standing right in front of her! She takes denial to a whole new level. 
One mystery we can count as slightly unlocked is the code in Duncan's book.
Rachel and Scott – and odd but strangely fabulous duo – seem to be working together, slowly but surely, to decode the hidden meaning inside. Whether it leads to a cure for Cosima or a way to kick Castor's butts, we'll have to wait and see. 
Rachel: My father... our secret language.
Scott: He didn't leave it for you though, did he?
It was entirely predictable, but entirely believable that Rachel would keep the knowledge to herself. Someone so used to being in control would surely jump at the chance to get back in the game. Her willingness to share the information with Sarah did come as a bit of a shock. After their last run in, it would stand to reason that Sarah would be the last person she'd want to see.
We're well past due for a confrontation between those two clones, though. Bring it on!
Finally, I'd be remiss if I didn't criticize this hour a bit for essentially cutting Sarah and her grief out of thepicture entirely.
After losing a character like Paul, the audience was left reeling and upset, and I can only imagine that they were eager to see the fallout of their beloved hero's death. Unfortunately, Sarah and her grief were almost nonexistent all night. She had one emotional scene with Mrs. S – intercut with Alison's speech about family – but otherwise she was mostly off screen. 
It's easy to see why such an Alison-centric episode followed up an extended Sarah-centric arc. You don't want to be too heavy for too long, as it tends to get uncomfortable. But sweeping Paul's death under the rug tonight felt equally uncomfortable.
Major character death is a big deal, and watching how the rest of the characters react to the loss is half the fun in losing them anyway. 
As much as I love Alison and her bright and cheery neuroses, Paul's memory definitely got a little cheated tonight. 
We can only hope that as the season comes to and end, we're not gearing up for another death. Cosima's illness is, in fact, back with a vengeance, and time might be running out for her!  
What did you think of this Alison-heavy episode? Will Cosima ever be cured?
Be sure to watch Orphan Black online to catch up on all the clone club shenanigans!