Orphan Black Season 3 Episode 4 Review: Newer Elements of Our Defense

Lindsay MacDonald at . Updated at .
Say it with me, everyone. Mark LIVES! 
I admit, those sneaky Orphan Black writers had me fooled last week when Mark appeared to be dead, killed execution style by Gracie's mother.
But Orphan Black Season 3 Episode 4 opened with him alive and well – okay not exactly well – and on the run!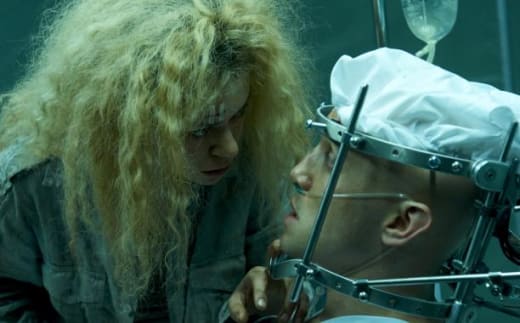 The best of the best for this episode came in the form of Mark and Sarah's team up to seek out the original Castor DNA.
Sure, the parts where she was digging around in his leg for bullets was gruesome and bloody, but after? They actually had some sibling vibes flowing between them for a while. The relieved half-hug they shared really got to me, okay!
Mark: Stick it in fast, it will hurt less.
Sarah: God, you must be one hell of a first date.
Gracie's story appears to be taking a turn of its own now that she is no longer pregnant with Helena and Henrick's test tube baby. I hate to say I'm happy about such a devastating turn of events, but frankly, that subplot was totally freaky and needed to die. 
Now that Gracie has been cast out though, where will she go? Perhaps back to Mark if she can find him? Or somewhere even more interesting?
I've complained that Alison hasn't played enough of a part in the clone shenanigans recently, but those complaints come to an end tonight. Her recent run in with her old flame – who also happens to be her new supplier – is way juicier than any clone club fiasco she's had before. 
Oh my god! Is everyone else's life this chaotic?

Donnie
Her new partnership with Donnie might be put to the test as her far more debonair partner in crime enters the picture. I'd hate to think that Alison and Donnie might be on the rocks in the future because I love seeing them as a unified front, but a little drama in Alison's life always leads to great TV. 
Back at the Castor base, Helena made two successful escape attempts. If you don't count the fact that she didn't actually escape.
Instead, she took a look around Castor HQ and made a few discoveries of her own. I have to say, the best part of Helena's story arc this season has been the creepy talking scorpion on her shoulder. The fact that she, too, is voiced by Tatiana Maslany is just icing on the cake. How many characters does that girl play now? 
Cosima didn't have much of a role to play, other than finding out that Henrick successfully created another clone via in vitro pregnancy with his wife. Though the baby died, that original Castor DNA still exists in its corpse, meaning that the boy clones finally have a chance at fixing their defect. 
Too bad for Sarah that her newfound partnership with Mark depended on her bartering the DNA for Helena. Now that Rudy has the baby bones, she might have just earned herself a one way ticket to Castor HQ. 
Rudy: You know we don't leave loose ends.
Mark: No. No we don't.
My last point comes in the form of terrifying conjecture...
Is anyone else very worried that Cosima keeps mentioning how well Kira's stem cell treatment is working on her disease? We've seen her fluctuate between perfectly healthy, a little coughy, and strangely self-reflective so far this season. The constant reminder that she's doing better and feels healthy seems like a red herring.
Could Cosima's sickness be back sooner than expected since she never received the bone marrow treatment? 
Are you happy that Mark is alive? How did you like the brother-sister team up this week? Let us know down in comments below! 
If you missed out on the fun, be sure to watch Orphan Black online via TV Fanatic.