Orphan Black Season 3 Episode 3 Review: Formalized, Complex and Costly

Lindsay MacDonald at . Updated at .
Who else is still reeling from that shocking and violent ending?
These Castor clones are dropping like flies, and I can't help but feel a bit sad about it. Gracie and Mark weren't exactly a heartwarming couple, but you couldn't help but root for those two crazy kids, even just a little.  
Unfortunately, Orphan Black Season 3 Episode 3 was the swan song for Mark.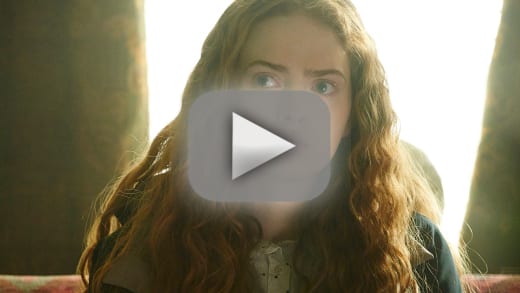 I understand the need to cut down on Castor clones to free up time for other stories, really I do. Truthfully, I'm a little pissed at how insignificant Alison and Felix seem so far this season, so less Castor means more them right?
But another part of me thinks that maybe we're killing off these new clones a little too quickly. Their existence was such a huge discovery, and it was supposedly the entire premise of this third season. But now two of them are dead, and all we're left with is Rudy and Styles.
I'm sure there are more that can be fished out of that mysterious Castor base in the desert, but I worry that too much turnover too soon is going to turn the audience off of this Castor business. It's hard to get invested in characters that die off every week.
We haven't actually seen the body yet, so maybe I'm jumping the gun. Still, what are the odds of Mark surviving an execution like that?
Thank goodness our Leda clones seem to be sticking around. Let's do a roll call, shall we?
Sarah: Our favorite sassy Brit is back into the detective gig with Art, tracking down Mark and Gracie with the hopes of finding Helena.
I found their conversation about Beth particularly touching. Many fans have suspected that Beth and Art might have been a little closer than partners, so it was nice to hear it confirmed. It's still unclear if their relationship crossed that line -- especially since Beth was supposed to be with Paul at the time -- but there's always a chance we'll hear more. 
Alison: For the third week in a row, Alison was kept mostly in the background.
Don't get me wrong, I love Alison and Donnie's new drug dealing venture, and how that's been tied in with her campaign for school trustee. It's classic Alison, complete with all the controlling neuroses we love to see from her.
But Alison never seems to get in on the big plot business like Cosima and Sarah do. Mostly because she doesn't seem to want to, and that's fine. But keeping one of your best characters in the suburbs while everyone else makes a play at original clone DNA and secret bases seems a little... unfair? 
Alison's venture into Dyad to play Sarah while Sarah was playing Rachel was brilliant. More of that please!
Cosima: This little science nerd seems to be making the most progress of the group, so she gets a gold star for this episode.
Dependable as always, Cosima digs through Seth's brains for clues about his defect and how it could be used to help her research into the Leda defect. In a stunning turn of events, Cosima discovers some shocking similarities in the Castor and Leda DNA.
The boy clones are our brothers.

Cosima
Who else called that? Were any of you totally blown away? 
It certainly wasn't obvious that the boy clones and their brothers would end up related to the girl clones and their sisters, but I had an inkling. The search for the original DNA donors just got a whole lot more interesting though. Now that we know we're looking for a brother and sister pair, the odds of finding them together just went way up. 
As I've said before, Felix remains totally underutilized this season.
Felix: Can't you just like, look away?
Art: It's a dead body not a bag of weed.
Felix: Well, look away, and it too will go up in smoke.
His quippy attitude aside, I'd love to see Felix act as more than a way-station for clone shenanigans. It might be wishful thinking, but a good critic can indulge in the far-fetched dream every now and again.
What do you want to see more of in this season of Orphan Black? Hit me up in comments below! 
If you want to catch Mark's tragic death again, be sure to watch Orphan Black online via TV Fanatic!