Nashville Season 3 Episode 22 Review: Before You Go Make Sure You Know

Amanda Steinmetz at .
Tears, tears and more tears! 
Nashville Season 3 Episode 22 managed to amp up the drama by including bedside vows, a snow globe thrown, a car windshield broken, a public coming out, and an arrest.
Before we get into the review, let's all give our thanks to the TV Gods for Nashville's renewal. Season 4, here we come!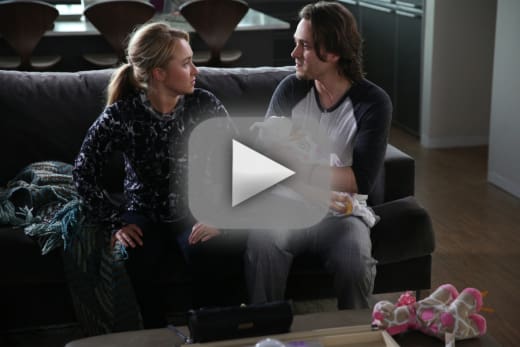 Despite all the crying done on this show, Avery gave everyone a run for their money.
Jonathan Jackson just broke my heart.
I don't blame Avery for walking out. Juliette could have hurt him, but more importantly, she could have hurt Cadence when she threw that snow globe.
Avery: You're sick, Juliette, and you need help. I'm begging you, see a doctor, get treatment. Please.
Juliette: Treatment? Like at a hospital? No. No, I can't. I can't. I have to go out on tour. God, Avery, you just don't get it. I need this. I need this.
Avery: More than you need us?
Juliette is setting herself up to lose everyone she cares about. Not only has she shown a complete lack of interest in raising her daughter, but she also fired Glenn, hired Jeff, and signed with Luke's label. 
I hope it doesn't take too long next season for Juliette to get help, but her decision to go on tour will only make things worse. 
The emotions piled on more as Deacon kept dreaming he would die. 
As much as I would like to see Deacon and Rayna married, I'm glad they didn't make it official before he went in. Besides, their informal vows were way more romantic.
I'm crossing my fingers that Deacon makes it through the surgery.
Now don't you dare go and leave me a widow.

Rayna
I predict two scenarios. Either Beverly dies or Deacon flatlines, but is revived. 
Rayna really stepped up to the plate in this episode. She managed to keep her cool after Beverly's little speech about being the hero. 
Beverly is just awful, and I hope we won't have to deal with her next season. 
On a happier note, Will FINALLY came out publicly. Thank you Nashville writers. It's about damn time! 
Good riddance to his father. Will can never be truly happy is he can't be himself. 
Kevin also helped to push him in the right direction when he said he couldn't have a closeted relationship.
I can't wait to see how this will affect his career going forward. I'm sure there will be some obstacles, but maybe he'll get a whole new fan base.
Now onto more troubling matters...
Layla and Jeff have officially become the most dysfunctional couple!
There is so much manipulation going on here, it's pretty much emotional abuse.
He's trying to isolate her, tell her what to say, and keep her self-esteem just low enough that she won't feel too good about herself. 
Even if Jeff was honest when he said he did those things because he didn't want to lose her, he's still extremely messed up.
Look, you're right, all right?! I am a son of a bitch, but I had to be! Don't you get that?! I couldn't lose you, Layla. I can't.

Jeff
Jade abandoning him all those years ago must have done a number on him, but that doesn't excuse his behavior. He'll only end up pushing Layla away with his possessiveness.
That contract Jeff had her sign gave him power of attorney. Power of attorney! Seriously?!
Layla needs to come to her senses and figure out a way to get out of that contract. At least she got to mess up his car a little bit. 
Teddy managed to not help the Feds implicate Tandy, but that meant getting arrested.
I love how Rayna and the girls didn't even notice when he was being arrested on TV. 
I'm not sure where his storyline goes from here. Will we see him in prison? Will his lawyers somehow get him out of it? 
There's also the little matter of Highway 65 being financed by corrupt money. That will surely come into play when we return in the fall.
Finally there's Gunnar and Scarlett who can't seem to stay away from each other, and I don't like it. 
Caleb is good for Scarlett. Although, I will say moving in together is a bit fast. Even though I'm not a fan of what Kiley's done since her introduction, I'd be curious to see her and Gunnar give it a go. 
I know Gunnar and Scarlett are supposed to parallel Deacon and Rayna, but I just don't think they are good together. 
Favorite Performance of the Week: Normally I would give this to Juliette for her fierce performance, but I can't. I was too distracted by my disappointment in her to fully enjoy the performance. Therefore, I will give this to Scarlett and Gunnar. I may not want them to be a couple, but that doesn't mean they don't make beautiful music together.
So over to you guys! What did you think of the finale? Who do you think flatlined? Will Juliette eventually have a mental breakdown? Can Will's career survive coming out?
Sound off below, and don't forget you can catch up on the entire season all summer long when you watch Nashville online via TV Fanatic! 
Amanda Steinmetz was a staff writer for TV Fanatic. She went into retirement in June of 2027. Follow her on Twitter.